L'abbiamo aspettata per più di tre anni. Un'attesa lunga e sofferta come fu quella dei cristiani che attendevano il ritorno del Papa da Avignone. E alla fine anche noi, fedeli a Pio XIII, siamo stati soddisfatti. The Young Pope, la serie di Paolo Sorrentino, torna a scuotere le mura del Vaticano e le nostre coscienze nelle vesti di The New Pope. E lo fa senza deludere le aspettative maturate in questi anni, anzi. Torna riempiendo i nostri occhi di bellezza, con una narrazione visiva che potremmo definire magica se non fosse così fortemente carnale.
A metà strada tra il trascendentale e il terreno, The New Pope raccoglie l'eredità di The Young Pope arricchendo il racconto con una narrazione concreta, dai temi sorprendentemente contemporanei.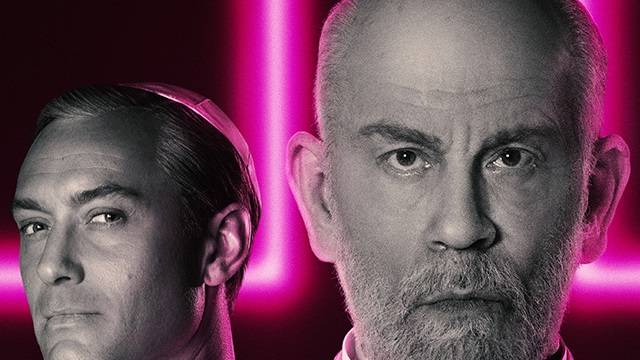 In queste prime due puntate del sequel di The Young Pope, Sorrentino porta avanti una narrazione che non lesina su stacchi con singole immagini apparentemente senza contesto. Eppure tutte cariche di un intenso simbolismo se analizzate assieme al racconto. In The New Pope infatti il maestro sembra voler scavare ancora a fondo nelle radici più marce della Chiesa cattolica dando largo spazio a temi legati alla trasgressione sessuale e agli intrighi politico-economici del Vaticano.
Ne abbiamo un sostanzioso assaggio fin da subito, con la suora che lava con amore e quello che sembra un barlume di malizia il corpo di Pio XIII. Ne abbiamo uno ancora più chiaro nella sigla. Alla camminata di Lenny Belardo sulle note di Jimi Hendrix ora abbiamo un gruppo di giovani novizie che ballano sinuose sfiorandosi in modo sensuale all'ombra di una croce a led.
Tutte immagini che parlano da sé, salvo poi ricevere conferma per bocca dei protagonisti. The New Pope è il racconto di un'istituzione vecchia di duemila anni, che ha maturato nei secoli una quantità di ombre, significati e nemici.
E così mentre Lenny Belardo lotta tra la vita e la morte (qui potete leggere dov'eravamo rimasti), in coma dopo il fallimento del terzo trapianto di cuore, il Vaticano si destreggia tra scandali sessuali e minacce dall'estremismo islamico. Urgenze che rischiano di far collassare l'impero. A sorreggere pazientemente il suo peso, con l'abnegazione di un santo – senza esserlo affatto – Sua Eminenza il cardinale Voiello. Ritroviamo così un Silvio Orlando che ci regala il meglio di sé nei panni di uno stagionato Segretario di Stato. Forte non solo di un sano cinismo e delle giuste amicizie, ma di qualcosa in più. La capacità di captare più di ogni altro le conseguenze dei fenomeni.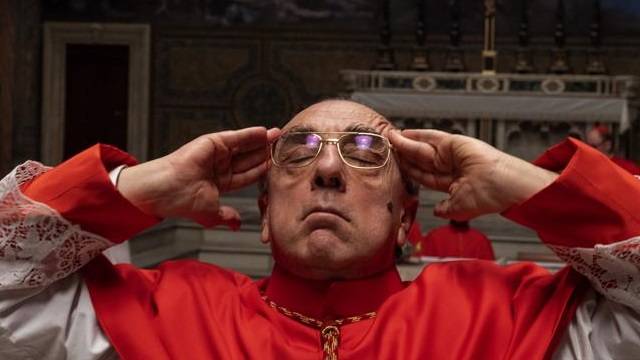 Come la pericolosità dell'idolatria, fosse pure dello stesso capo della Chiesa. Non più amato ma adorato come un santo. La consapevolezza che è nella millenaria ripetitività delle stesse procedure che risiede il potere del clero. E la capacità di convivere con sé stesso. Sorrentino gli dedica nel primo episodio una riflessione personale che ricorda tanto lo storico monologo "sull'uso del potere" di Toni Servillo nel film Il Divo. Parole che sanno di una difesa che nessuno può ascoltare.
"Ma cosa ne sa quella ragazza del mio lavoro e del suo significato? C'è chi si serve di Dio in contemplazione e chi contemplando le proprie azioni. Io sono quello. Mi ha sempre visto come un topo di fogna. Non comprenderà mai che c'è bisogno anche di quelli come me per preparare il terreno fertile alla Santità."
Come sempre, nelle sue opere, Sorrentino dà voce a quei protagonisti della realtà che potremmo definire "deprecabili". Ai cinici, ai depravati, agli ipocriti. Dà spazio al loro punto di vista per mostrarci ciò che hanno in comune con noi: la debolezza dell'essere umano.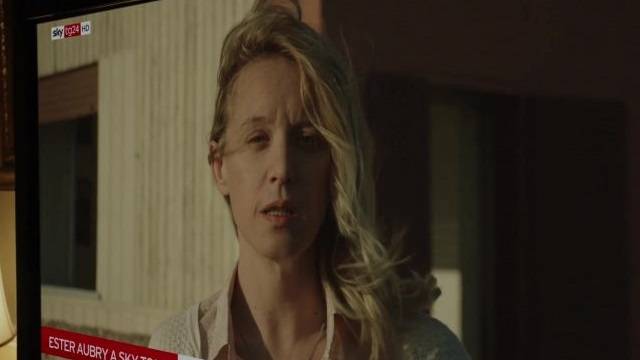 E The New Pope si presenta come una lunga parabola sulla debolezza di chi, pur volendo vivere il più vicino possibile al divino, resta imprescindibilmente legato all'umano. È così per lo scaltro Voiello, ora più che mai alla mercè della sua ambizione. Per Ester, instancabile credente legata per volere o necessità al più materiale denaro. Ed è così per il Cardinale Gutierrez, che ha conosciuto il significato peggiore dell'amore come un qualunque uomo di poca fede. Ma Sorrentino non racconta l'umana debolezza degli uomini di Chiesa per giustificarli del marcio che avvelena l'istituzione. La racconta per onestà intellettuale, senza risparmiare alcun contraccolpo.
Gli accordi, gli intrighi, gli incontri segreti, le più intime preghiere, deplorabili o meno, avvengono sotto gli occhi feroci di Dio e degli uomini dipinti da Michelangelo nella Cappella Sistina. Le riprese che alternano gli sguardi dei santi ai peccati dell'alto clero sono solo uno degli innumerevoli tocchi di classe del regista. Assieme alla volontà di spostare il dibattito su temi terribilmente attuali raccontati con l'elezione – pilotata da Voiello – di Tommaso Viglietti, ovvero Francesco II. Primo grande errore di Sua Eminenza.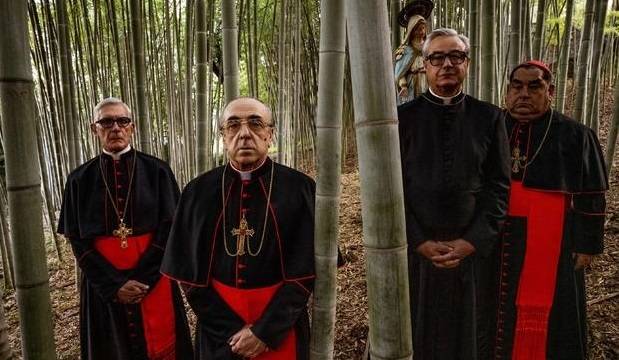 Coraggiosa è la scelta di un plot twist attorno al primo nuovo papa che lo vede acquisire all'improvviso la consapevolezza del potere. E sorprendentemente di volerlo utilizzare per riportare il Cristianesimo alla sua missione originale. Da dov'è partito Pietro.
Inutile pensare che il povero confessore del Vaticano, ritrovatosi Papa, potesse vivere fino al secondo episodio. Così The New Pope attacca il materialismo del clero più ferocemente di quanto non ne attacchi altri vizi. Perché, se proviamo un minimo di empatia per quei clericali che hanno amato o per altre ragioni tradito il loro voto di castità, non riusciamo a provarne altrettanta di fronte ad altri peccati. Come gli sguardi preoccupati dinanzi al programma del nuovo papa francescano, sostenitore di un ritorno alla povertà. Le lacrime che accompagnano la perdita di anelli e croci d'oro seguite dall'avidità con cui i cardinali se ne riappropriano dopo la sua morte.
Ma se il primo episodio tocca tematiche legate ad antiche polemiche in merito ai paradossi della Chiesa – con un ritmo sorprendentemente avvincente – il secondo episodio rientra a pieno titolo nella poetica sorrentiniana cui siamo abituati. Con la presentazione del cardinale Sir John Brannox riscopriamo la delicata flemma, il simbolismo e il racconto per immagini del regista.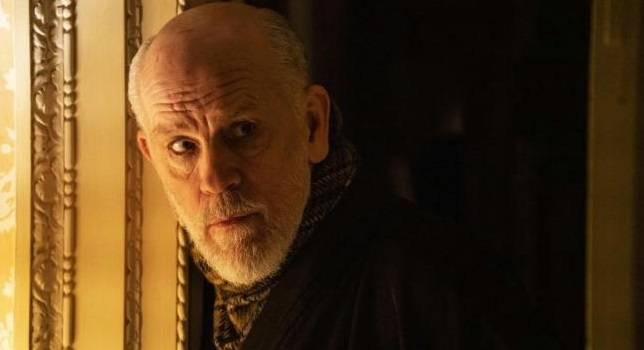 Qui The New Pope alterna a immagini di lussuria quasi grottesca, immagini legate a sentimenti più profondi, ma non meno viscerali.
La stessa presentazione di quello che sarà il vero nuovo papa di questo sequel è accompagnata già di suo da un'aura di mistero. E di dolore che sembra vibrare nell'aria. Quello insopportabile di due anziani genitori, i suoi, che non hanno mai superato la morte dell'altro figlio. E il suo di dolore, quello che traspare dalle parole misurate di un contenuto lord inglese. Intanto, nel silenzio del parco che circonda la sua tenuta, assistiamo alle ennesime macchinazioni di Voiello e del suo entourage. Divisi tra l'utilità e l'amorevole ricordo di Pio XIII. Presenza spirituale che accompagna ogni dinamica di questo secondo capitolo della storia.
La figura di Sir John Brannox è introdotta volutamente con un potente simbolismo. L'abito scuro con cui si presenta a Voiello il primo giorno sembra voler mostrare tutte le ombre di un uomo di chiesa afflitto da dolori terreni. Per di più tentato dai suoi visitatori a sedere sul trono del Vaticano. Mentre l'abito bianco con cui conclude l'episodio rappresenta la parte più pura di chi crede nell'amore che la fede, la religione e la Chiesa stessa possono dare.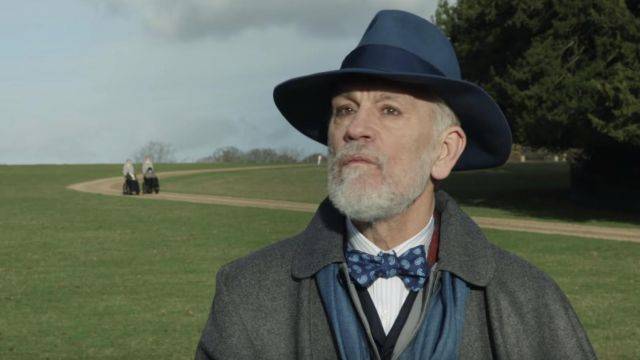 In mezzo c'è lui, Sir John, l'uomo delle mezze misure. Acuto osservatore, colto, equilibrato, in armonia con le attuali necessità della Chiesa Cattolica.
A metà strada tra il conservatorismo ambiguo di Lenny Belardo e l'estasi ribelle di rinnovamento di Tommaso Viglietti. Interpretato da un monumentale John Malkovich, Brannox è fragile come il più ferito degli uomini. Eppure non malleabile, non manipolabile. Con i piedi saldamente fermi sulle fondamenta delle istituzioni clericali. Con le dita che scorrono angeliche su un'arpa che ci lascia quasi in estasi. In attesa di vedere come sarà il Vaticano sotto la guida di un lord che dalle grigie terre inglesi viene a respirare l'aria di quella Roma che Voiello definisce tanto diversa.