Una delle svolte più felici di questa gloriosa epoca televisiva che stiamo vivendo è il coinvolgimento sempre maggiore di attori del cinema in prodotti televisivi. Laddove un tempo le serie tv venivano snobbate da attori abituati al red carpet della notte degli Oscar ora ne vediamo sempre più interpretare ruoli nei nostri show preferiti. Gli esempi sarebbero molteplici ma forse uno di quelli che più ha segnato il 2020 è stata la partecipazione di John Malkovich alla serie di Paolo Sorrentino: The New Pope. Seconda stagione di The Young Pope, che godeva già di un altro grande nome: Jude Law.
Sorrentino insomma non ha esitato quando si è trattato di puntare al sole nel casting della sua prima opera televisiva, rivelatasi un capolavoro sia nella forma di The Young Pope che in quella di The New Pope.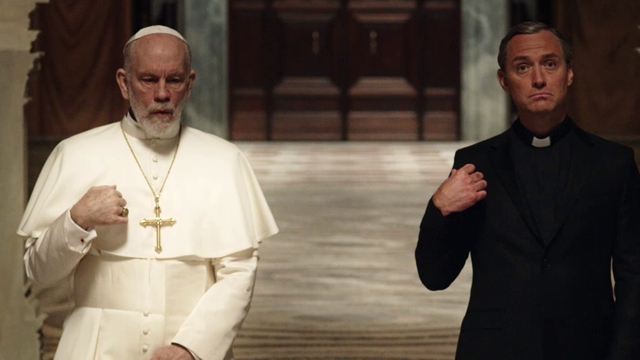 Ma se la prima è stata forte di un personaggio carismatico e meravigliosamente scritto, come quello di Lenny Belardo, la seconda lo è – tra le altre cose – di un incredibile John Malkovich. O meglio, senza nulla togliere alla bravura di Jude Law nel ruolo del giovane Papa, il personaggio di Lenny Belardo è talmente trascinante da godere quasi di vita propria. Mentre quello di John Brannox, per quanto finemente scritto, rischiava più facilmente di sfiorire nello scontro con Belardo o con un personaggio come Voiello.
E se questo non è accaduto non lo dobbiamo solo alla magistrale opera registica e creativa di Paolo Sorrentino, ma soprattutto a lui, a John Malkovich. La novità di cui l'opera di Sorrentino ha goduto maggiormente. Colui che forse più di tutti ha contribuito alla consacrazione di The New Pope all'Olimpo dei migliori show degli ultimi anni. Verrebbe spontaneo chiedersi come sia possibile che un attore sia fonte di tanto magnetismo. Di così incredibile capacità di fondersi con un personaggio che sembra esser stato scritto per lui nel momento stesso in cui l'attore ne ha vestito i panni.
Vien da chiedersi cosa passi per la testa di un uomo dotato di un tale talento. Di quella capacità di amalgamarsi al personaggio interpretato eliminando i confini fisici e spirituali tra questo e se stesso.
Forse una simile domanda fu parte dell'idea che ispirò Charlie Kaufman quando scrisse per l'appunto Essere John Malkovich.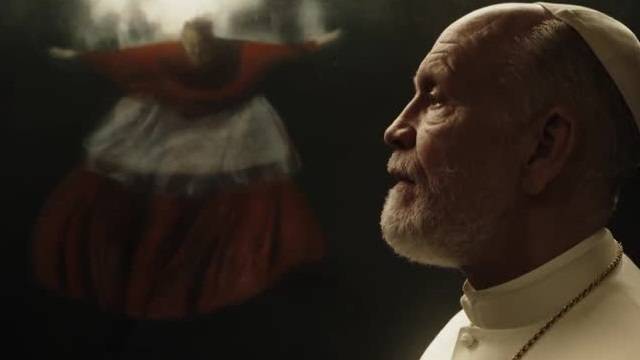 Ma cosa significa davvero Essere John Malkovich?
Il film diretto da Spike Jonze utilizzava la mente dell'attore come pretesto narrativo per un viaggio ai confini della realtà e delle passioni umane. Per noi appassionati di cinema, serie tv, e in questa fattispecie dell'opera conclusasi da poco (qui la nostra recensione del finale di stagione), è una domanda tecnica più inerente all'emotività di un artista che sembra rendere oro tutto ciò che tocca.
Come la maggior parte delle domande di questo mondo, la risposta non è unica. Essere John Malkovich è poesia. È una condizione che va ben oltre la scontata caratterizzazione di un talento naturale. È corpo che si fonde con la mente, con la scrittura, con le immagini e le parole. Il connubio di un dono naturale, un'espressione unica nel suo genere e una voce in grado di regalare brividi senza eguali.
Non a caso la stessa sceneggiatura The New Pope ha omaggiato il grande attore americano. Proprio all'inizio della stagione infatti, durante un dialogo privato, Sofia Dubois confida a Sir John Brannox come il suo attore preferito sia proprio John Malkovich.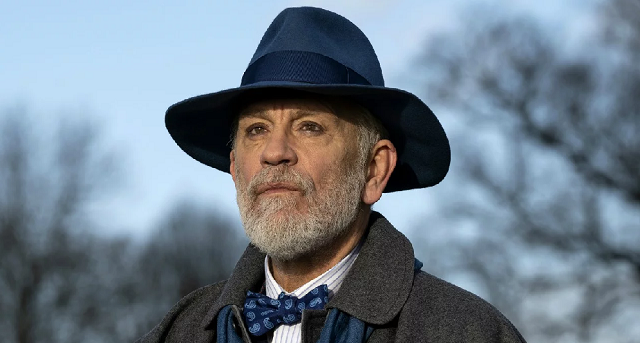 Una battuta che sottolinea con forza l'amore di Sorrentino per l'attore. La sua convinzione che la personalità e le capacità attoriali dell'uomo si sposassero perfettamente col personaggio scritto. Un individuo spezzato, sopraffatto da traumi e paure che lo hanno reso debole. A lungo incapace di trarre vantaggio dalla sua fragilità, di considerarla una forza. John Brannox, con la sua arpa, gli abiti eleganti, la matita nera e l'isolamento nel castello di una grigia Inghilterra è un uomo decadente. Come decadente è la poetica di cui trasuda John Malkovich.
Oltremodo capace di interpretare ruoli di grande profondità psicologica. Di calarsi non solo nelle vesti ma più profondamente nello spirito e nell'anima del personaggio portato in scena. Un talento naturale che si mescola con gli innumerevoli anni di teatro che hanno preceduto il suo successo a Hollywood, nella fredda Chicago, con la compagnia da lui fondata e che mai ha abbandonato o dimenticato, neanche quando le luci della ribalta hanno illuminato il suo cammino.
Essere John Malkovich è calma apparente ed emotività debordante. Che trasudano da un'espressione, dal contegno dei movimenti, da una cadenza vocale capace come poche di calibrare la climax di un monologo.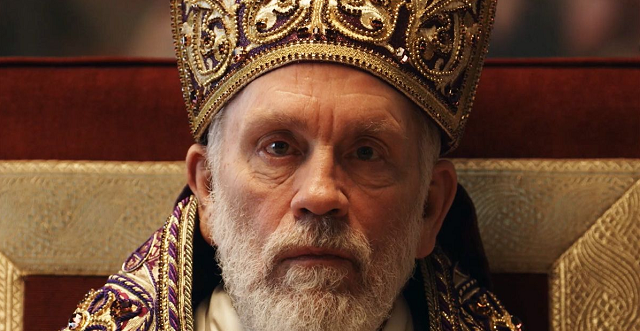 In The New Pope abbiamo assistito a innumerevoli esempi della sua capacità di usare il tono della voce per dar corpo a un'interpretazione in modo superbo. Lo abbiamo visto interloquire con tranquillità e deferenza. Con amore e passione quasi carnale. Con sicurezza e avanguardismo. Con il sottile sarcasmo che dà corpo a un perfetto british humour. E con rabbia. Con la forza e l'intensità di una furia trattenuta troppo a lungo.
In 10 cose inquietanti dette da John Malkovich ci rendiamo conto del mirabile controllo di cui l'attore è capace quando si tratta di calibrare il suo tono di voce per uniformarlo a un'interpretazione. Nello sketch in collaborazione con David Letterman abbiamo modo non solo di cogliere questa caratteristica – e di ridere dell'impassibilità di John Malkovich – ma anche di comprendere quanto l'attore potrebbe rendere inquietante qualsiasi cosa detta da lui, se solo volesse. Anche la parola torrone (Nougat).
Essere John Malkovich è controllo. È potere e capacità di portare i sentimenti di chi ascolta nella direzione voluta.
Ma è anche ironia, abilità di spiazzare, capacità di guardarti negli occhi e farti quasi sentire a disagio. Anni fa l'attore, interrogato in merito al fascino della sua voce rispose sorprendentemente di odiarla. O perlomeno di odiare ascoltarsi dall'esterno. Il modo in cui descrive il come e il perché riesce a provocare nello spettatore un'ilarità che nessuno immaginerebbe pensando allo stoico contegno vocale ed espressivo dell'attore durante l'intervista.
Ecco perché essere John Malkovich è qualcosa di cui possiamo parlare ma che non potremmo mai comprendere. Perché per farlo almeno una metà, bisognerebbe esser nati effettivamente come John Gavin Malkovich. Un onore spettato a uno solo nel mondo, a lui, che è stato per noi tante cose e molti volti, ma nessuno di essi davvero migliore del suo stesso volto.