Poche ore ormai ci separano dall'attesissimo passaggio di testimone da The Young Pope a The New Pope, la serie tv targata Sky e HBO. La prima stagione aveva ottenuto grandi consensi in Italia e all'estero dove ha ricevuto ben due nomination ai prestigiosi Emmy, mentre Jude Law è stato nominato ai Golden Globe per la sua ottima interpretazione. Paolo Sorrentino ha deciso di realizzare un prodotto per la tv coraggioso e spregiudicato. Lenny Belardo è un protagonista enigmatico, affascinante, arrogante e sensibile allo stesso tempo. Un uomo che ha fatto infuriare gli ambienti cattolici e conservatori che hanno accusato la serie di dare un'immagine caricaturale della Chiesa. La regia è quella tipica dei film d'autore per i quali Sorrentino è stato tanto spesso esaltato. E che dire delle ambientazioni raffinate, dei costumi sfarzosi e del cast di alto livello che hanno contribuito a rendere lo show un vero gioiellino?
Con The Young Pope, Paolo Sorrentino ha vinto una scommessa, realizzando un prodotto ambizioso e a tratti lento che ha bisogno di tempo per essere digerito e apprezzato dal grande pubblico.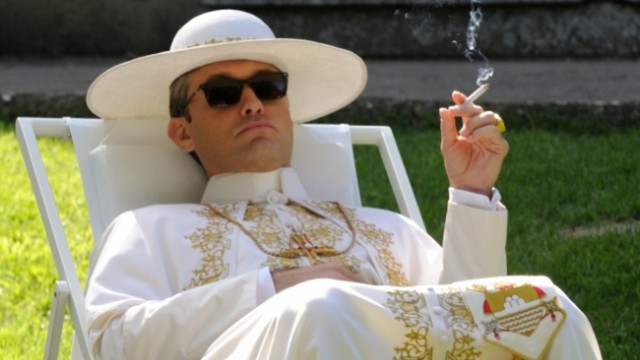 E non vediamo l'ora di vedere cosa ci aspetta in The New Pope, la nuova stagione che andrà in onda domani, venerdì 10 gennaio su Sky Atlantic. Nei nuovi episodi entrerà in scena un nuovo personaggio, John Brannox, un ricco e colto inglese che sarà interpretato dal pluripremiato John Malkovich. L'uomo sarà eletto pontefice, mentre il suo predecessore è in coma, e dovrà risolvere molti scandali scoppiati al Vaticano e competere con l'immagine di Pio XIII che è venerato dai fedeli come un santo. Ritorneranno tutti i protagonisti della prima stagione ma a questi si aggiungeranno due guest star d'eccezione: Sharon Stone e Marylin Manson. Quest'ultimo aveva sempre affermato di essere un fan della serie.
Ma dato che è passato qualche anno da quando The Young Pope è stata trasmessa in tv, è opportuno ricordare dove eravamo rimasti.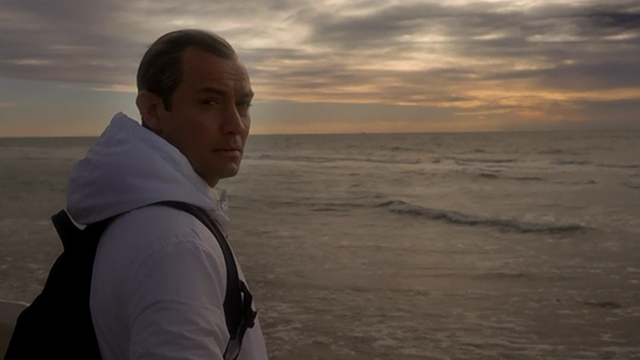 Nella prima stagione Lenny Belardo è stato eletto a sorpresa pontefice dal collegio cardinalizio, prendendo il posto che sarebbe spettato al suo mentore, il cardinale Spencer. I prelati speravano di poter manovrare questo giovane e inesperto ragazzo americano a loro piacimento. Ma Lenny si rivela un uomo ingestibile e provocatorio fin dal suo discorso di insediamento e dalla scelta di affidare alla donna che lo ha cresciuto in orfanotrofio, Suor Mary, il ruolo di segretaria dello Stato Vaticano. In questo modo indispettisce il cardinal Voiello che aveva sempre ricoperto quel ruolo e che non sa cosa aspettarsi da questo pontefice che vuole instaurare un culto rigido che avrebbe allontanato i fedeli dalla Chiesa. E infatti il duro e reazionario discorso di insediamento di Pio XIII e la scelta di non apparire mai in pubblico, facendo leva sull'assenza per intensificare il suo culto, sconvolgono l'opinione pubblica.
Ci siamo dimenticati di Dio. Voi, voi vi siete dimenticati di Dio. Voglio essere molto chiaro con voi. Bisogna essere più vicini a Dio che agli uomini. Io sono più vicino a Dio di quanto sia vicino a voi. Io non vi sarò mai vicino. Questo lo dovete sapere. Perché tutti noi siamo soli davanti a Dio.
Angelo Voiello, agendo nell'ombra (qui vi spieghiamo come), cerca di denigrare il carismatico Lenny Belardo e ricatta quindi il suo confessore affinché gli riferisca i suoi più oscuri segreti.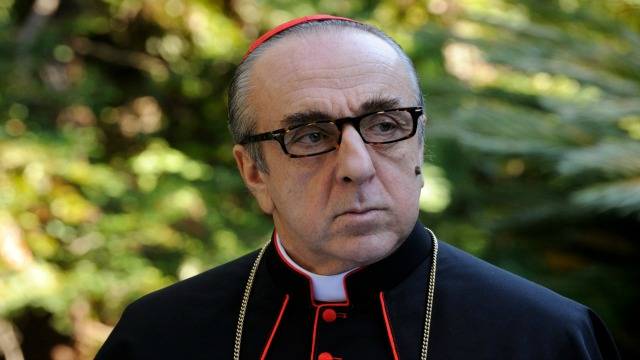 Il cardinale è mosso dal migliore degli intenti, preservare il prestigio e la forza della Chiesa e per questo è pronto a tutto per realizzare il suo scopo. Scopre ben presto che il passato di Lenny Belardo non nasconde alcuno scheletro nell'armadio e che a Gutierrez confessa i suoi numerosi dubbi, arrivando addirittura a dire di non credere in Dio. Lenny è in realtà un uomo dalle mille contraddizioni che talvolta si sottomette a Dio e altre volte lo ingiuria e tenta di affrancarsi da quella dipendenza che nutre verso l'Onnipotente, salvo poi tornare a chiedergli perdono in ginocchio. Il suo animo agitato spera di colmare attraverso questo assoluto amore per Dio il vuoto che sente da quando i suoi genitori lo hanno abbandonato.
Dato che Voiello non può ricattare in nessun modo il pontefice, decide di costruire uno scandalo ad hoc: costringe la moglie di una guardia a sedurlo e scatta delle foto del loro incontro. Ma Lenny non cede alla provocazione e anzi offre sostegno alla donna che desidera ardentemente partorire un figlio. In questo modo riesce a far cambiare idea a Voiello che consegna le foto a Suor Mary e comincia a fidarsi di più di questo giovane papa. I due uniscono le loro forze, infatti, per minacciare Tonino Pettola, un bugiardo pastore che dice di vedere la Vergine tra le sue pecore. A questo punto Lenny riesce finalmente a compiere il suo primo miracolo ufficiale, facendo generare alla devota Esther il bambino tanto desiderato.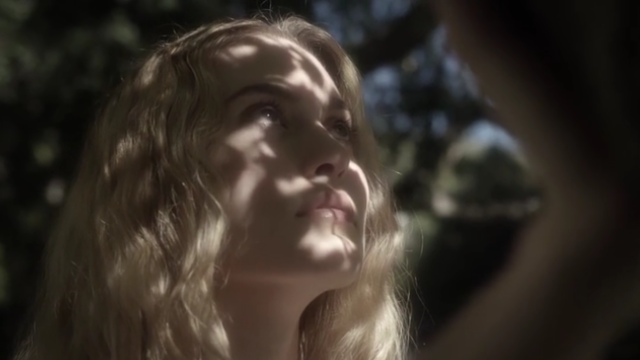 Ben presto i dubbi che sconvolgono l'anima di Pio XIII diventano troppo insistenti e comincia a meditare di rinunciare alla sua carica.
Riesce a farlo desistere dal suo proposito la sua cara Suor Mary che arriva anche a ingaggiare degli attori che fingano di essere i suoi genitori per placare la sua sete di risposte. E quando poi il suo amico d'infanzia, Andrew Dussolier, viene assassinato in Honduras la situazione peggiora e Lenny si rifiugia a Castel Gandolfo per riflettere sul da farsi. Su consiglio dell'addetta al marketing, intraprende quindi un viaggio pastorale in Africa per ammirare i villaggi di carità diretti da Suor Antonia. Qui scopre un'amara verità: la suora sfrutta i bisognosi per il proprio tornaconto, privandoli delle risorse di cui hanno bisogno. Disgustato dalla situazione che ha conosciuto, pronuncia un ispirato discorso sulla pace che conquista l'opinione pubblica:
Siamo tutti colpevoli. Siamo tutti colpevoli della guerra e della morte. Sempre. Così come possiamo tutti essere colpevoli della pace. Sempre. Io ve lo chiedo, ve lo chiedo in ginocchio: sono pronto a morire per voi, purché voi diventiate colpevoli della pace.
In una scena indimenticabile Lenny si ferma a pregare in un autogrill per chiedere a Dio di risolvere il problema di Suor Antonia e ne provoca la morte. La popolarità di Pio XIII era già alle stelle dopo il discorso pronunciato in Africa, ma cresce esponenzialmente quando vengono pubblicate delle lettere in cui Lenny parla a una sua vecchia fiamma. Queste lettere indirizzate al bagliore della sua gioventù fallita avrebbero dovuto infangarlo, ma lo rendono più umano agli occhi dei fedeli. Dietro all'enigmatico e rigoroso Pio XIII c'è un ragazzo che si sente incompleto perché non ha mai provato il primo amore, quello per una mamma e un papà.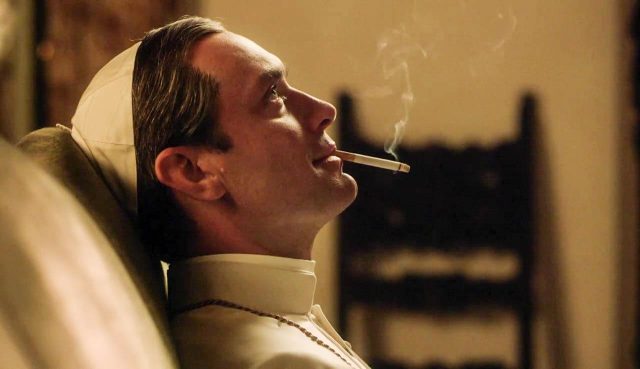 Nel frattempo lui è riuscito, grazie all'aiuto del fedele Gutierrez, a smascherare il cardinale Kurtwell che negli Stati Uniti si stava macchiando del peggiore dei crimini, abusando di alcuni giovani. Pio XIII lo riceve in Vaticano e dopo averlo messo davanti alle sue responsabilità lo trasferisce in un desolato paese dell'Alaska. Ormai il suo mentore è morto e Lenny decide di mandare Suor Mary in missione in Africa, ritenendo che fosse questa la sua vera vocazione. Lenny si ritrova quindi per la prima volta senza alcuna guida, sostenuto solo da Gutierrez e dall'ambiguo Voiello, in un momento in cui lo aspetta un impegno importante. Nell'ultimo episodio di The Young Pope decide di apparire per la prima volta in pubblico e di celebrare la messa natalizia in Piazza San Marco a Venezia, pronunciando un discorso con il quale commuove tutti.
E allora i bambini le chiesero "Chi è Dio?". E Juana rispose "Dio sorride". Soltanto allora tutti capirono. E adesso io prego tutti voi: sorridete. Sorridete. Sorridete! Cosi… sorridete! Un giorno io morirò, e allora finalmente vi potrò abbracciare tutti, uno a uno. Sì, potrò. Sì, io ho fede che potrò!
Lui che si era fatto conoscere come il Papa del rigore e del fanatismo, si è mutato nel pontefice del perdono e del sorriso. Si è aperto all'amore grazie all'affetto incondizionato del bambino di Esther, alla bontà e alla fedeltà di Gutierrez, alla gentilezza di Suor Mary e riesce a trovare ciò che, a causa dell'abbandono che ha subito, gli è sempre mancato. Ma a cambiarlo è stato anche il dolore che ha conosciuto in questo breve pontificato (la morte del suo amico, la sofferenza vista in Africa, i soprusi di suor Angela e dell'arcivescovo Kurtwell). Ha finalmente capito che Dio non è solo un dittatore da temere e adorare, ma è soprattutto amore, conforto e perdono.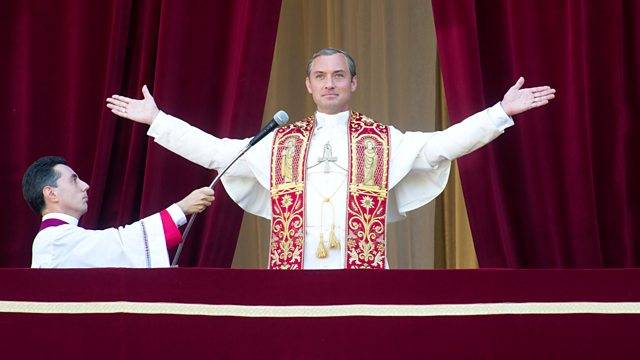 In Piazza San Marco tra le persone che erano accorse per ascoltare l'omelia, scorge anche i suoi due genitori. Si scambiano uno sguardo e poi loro lo abbandonano un'altra volta, costringendolo a subire di nuovo il trauma vissuto anni prima. Dopo aver pronunciato le ultime parole, ha un mancamento e sviene dinanzi alla folla attonita.
Grazie al trailer della nuova stagione sappiamo che Lenny non è morto ma è in coma, circondato da una folla di fedeli pronto a santificarlo non appena esali il suo ultimo respiro. Ma non sembra voler lasciare il Pontificato al nuovo Papa e tutto lascia immaginare che tornerà in vita per riprendere possesso del Vaticano. Ci riuscirà?
L'appuntamento è al 10 gennaio su Sky Atlantic per guardare i primi episodi dell'attesissimo sequel The New Pope.
Siete pronti a farvi affascinare di nuovo da Paolo Sorrentino?