Lo aspettavamo da molto, quel momento in cui The New Pope avrebbe riunito due papi nella stessa stanza. E non due papi qualunque. Non a punto della storia. Da una parte il papa che è stato. Santo, guru, Messia, Gesù reincarnato come solo un uomo che è tornato dalla morte può essere. Dall'altro il papa del presente. Fragile pezzo di porcellana. L'uomo delle mezze misure. L'uomo del popolo. Da una parte la miccia che innesca il fuoco dell'idolatria e del fanatismo. Dall'altra il calore della benevolenza di chi si sente finalmente accettato.
L'episodio finale di The New Pope è una complessa messa in scena in cui l'aura di santità di di Lenny Belardo danza e abbraccia quella di umanità di John Brannox.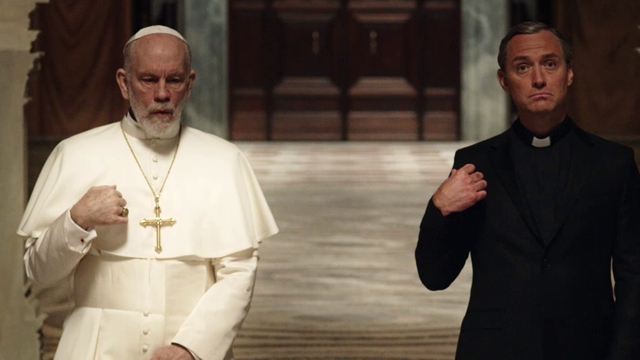 A dividerli un prologo dinamico in cui Sofia Dubois, mostra per l'ultima volta gli artigli della leonessa ch'era in lei prima di conoscere Sir John. Come da copione – diligentemente studiato dall'infallibile Voiello – i giornalisti le rivolgono le domande attese. Ma non è ancora tempo di svelare al mondo l'arcano. È importante conservare la verità per istillare il dubbio, quello che in mano a persone come quelle che indossano una tunica, diventa un'arma.
Nel frattempo reindirizzare su Giovanni Paolo III l'interesse e l'attenzione del mondo cattolico diventa cosa non solo utile ma necessaria. La divulgazione delle sue foto da giovane punk inglese degli anni '70 lo pone su un altare che nessuno aveva calpestato prima, neanche Lenny. Quello dei paladini della diversità, dell'inclusione, dell'accettazione. Di coloro che a etichette ed emarginazione rispondono con un semplice ma potente NO. Lo stesso che lui pronunciò per ben 14 volte a Lourdes.
No. È l'espressione di quel rifiuto che risospinge indietro secoli di conservatorismo ed esclusività innalzando la fede a dono per soli eletti e puri di spirito in armonia col mondo.
NO è il prologo di una lettera di accoglienza urlata da Giovanni Paolo III a chiunque, come lui e milioni di altri nel mondo, si sia sentito il pezzo che non combacia col resto del puzzle. Come qualcuno che Dio ha dimenticato di amare. L'Angelus che consolida l'affetto del mondo cattolico e non per Giovanni Paolo III ha la potenza di una pentola a pressione che esplode. La maestosa interpretazione di John Malkovich ci proietta direttamente nella mente dell'oppresso, del diverso, dell'emarginato.
L'ovazione che segue suggerisce l'idea di un uomo in grado di tener testa ai sentimenti che è in grado di suscitare il papa ormai emerito. Ma Sorrentino mette in chiaro le cose contrapponendo a questa incredibile scena la successiva: l'incontro tra papa Giovanni Paolo III e Pio XIII. E nella Cappella Sistina l'uomo del popolo, amato da esso, torna a essere l'uomo delle mezze misure, al cospetto di chi è tornato dalla morte e dal paradiso.
È qui che Lenny Belardo ci spezza il fiato per la prima volta. Quando si pone al di sopra dell'attuale Santo Padre riprendendo una verità sul fratello defunto che nessun altro avrebbe potuto conoscere. The New Pope ci riporta così tra le fitte trame del mistero che rappresenta Lenny Belardo.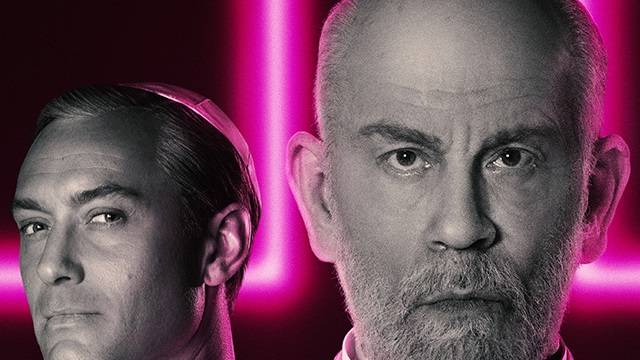 E per dieci minuti riviviamo bellezza e paradosso di The Young Pope. Conservatorismo ambiguo e progressismo estremo mano nella mano nella figura di un uomo che si mostra ufficialmente ai cardinali con la solennità di un'antica divinità scesa in terra per dare un messaggio. Per rivestire un ruolo che solo lui può mettere in pratica. Torna lo sfarzo e l'arroganza, la sicurezza e la guida di Pio XIII come di un maestro che dirige la sua orchestra. Persino John Brannox è ormai ai piedi di cotanta santità. Dalle mezze misure torniamo alla mancanza dei mezzi termini.
E se Malkovich poco prima ci aveva regalato il più struggente e umano dei monologhi, Jude Law ci regala ora un'impagabile espressione di potenza, forza e carisma. In un piano sequenza strepitoso, degno di considerarsi tra i più incredibili dei virtuosismi registici di Paolo Sorrentino, assistiamo all'ascesa di un essere sempre più diviso tra umano e divino. Possessore di un inspiegabile magnetismo.
Se Giovanni Paolo III sa coinvolgere le masse, Pio XIII le ispira e le trascina. Senza tralasciare il clero nel mezzo, zoccolo duro di una Chiesa che non può sopravvivere solo grazie al suo capo e ai fedeli di Piazza San Pietro.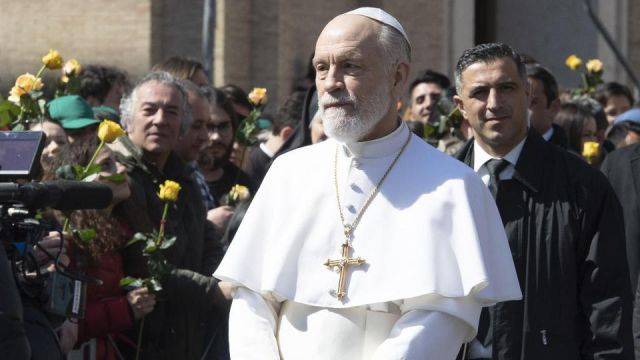 Ed ecco che senza dubitare o controbattere, tutto il Vaticano – papa in carica compreso – si prostra alle direttive di chi non lascia spazio a conversazioni quando si parla di chi più gli sta a cuore: i bambini. 6 in questo caso, quelli rapiti a Ventotene assieme al loro maestro Don Antonio, apparentemente dalla minaccia islamica presente da inizio stagione. In quello che sembra il culmine di un'escalation di violenza e minacce alla fede cristiana iniziata con il massacro di Lourdes.
A cotanto ardire Pio XIII, capo di uno stato millenario, risponde con una dichiarazione di guerra per bocca del papa ufficiale. Ma la veemenza del giovane papa emerito non sembra sposarsi con le strategie dell'intelligence internazionale, cui ora sappiamo appartenere Bauer. E se nel confronto tra questi e Voiello Sua Eminenza sembra perire inizialmente sotto i colpi della geopolitica, il suo interlocutore non ha ben chiaro forse che dietro la toga si nasconde un uomo che ha passato la vita a informarsi.
Voiello riesce dunque a placare almeno parzialmente le preoccupazioni di Bauer salvo poi esser avvicinato da questi e dal braccio destro del Califfo per una rivelazione che rappresenta il vero colpo di scena di The New Pope.
Non sono stati loro. Lourdes, San Pietro, Ventotene. Nessuno di questi atti di violenza è stato voluto da alcuna fascia dell'estremismo islamico. E se in un primo momento né Voiello né Pio XIII sembrano credere a tale versione la verità appare a poco a poco sempre più accettabile in quanto logica. Una scena rivelatrice per la quale risulta impossibile non fare una menzione d'onore a Silvio Orlando. Strepitoso non solo in lingua madre ma in inglese e persino in arabo.
Avviene così, a seguito di questa dinamica la rottura tra papa Giovanni Paolo III e il Vaticano. Con l'ennesima valanga che si abbatte su di lui. Un fragile pezzo di porcellana, incapace di sostenere questo peso e i molti altri che lo hanno schiacciato in passato. Prende respiro per esercitare un'ultima volta la funzione di leader che non era destinato a essere, per poi gettare la spugna e riconoscere in Lenny l'uomo di cui la Chiesa ha bisogno. Quantomeno per navigare nel complesso mondo di oggi. E nell'altrettanto complessa relazione che si instaura tra un pastore e il suo gregge.
Una relazione troppo intensa perché un uomo come lui, desideroso di cadere nell'oblio, possa sostenere.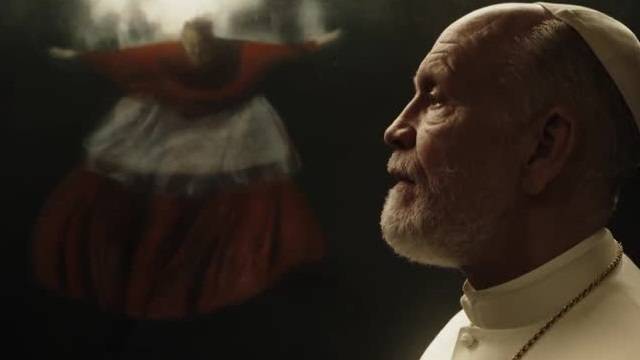 Si chiude così il percorso del protagonista di The New Pope, con l'ammissione serena e consapevole della sua essenza, ma con una consapevolezza in più. La visione della fragilità come della sua forza, non della sua condanna. Torna al suo castello pronto – chissà – ad abbandonare vecchie abitudine che sopperivano a mancanze che ora non ha più. Con un lieto fine inaspettato. Completato dalla presenza di Sofia e dall'accoglienza da parte dei suoi genitori. Un gesto in grado di trasformate lo sguardo cupo e spento di John Brannox in un'espressione illuminata da una tenerezza che non avevamo mai visto.
Ora che Sir John ha trovato la sua pace Pio XIII torna in scena per gestire l'emergenza di Ventotene come solo lui avrebbe potuto. È il momento del silenzio e della tensione per The New Pope. Della solennità con cui il giovane papa torna a mostrarsi al mondo in cammino verso i bambini. Si completa così il colpo di scena iniziato con la soffiata del Califfo. Con la scoperta che dell'identità dei rapitori, ossia le sentinelle in piedi fedeli a Pio XIII capeggiati dalla donna in rosso. Affiancata da Esther, ormai anima corrotta dal percorso culminato con l'incidente a casa di Attanasio.
Nessuna parola. Solo lo sguardo distrutto e amareggiato di Lenny. Deluso dalla realtà e forse spaventato dall'onda d'urto dell'idolatria che circonda la sua figura. E gli sguardi increduli e adoranti di chi si aspettava una salma e invece si è ritrovato dinanzi il proprio Cristo in vita, pronto a condannarlo.
Finisce così l'incubo. E con esso quella che forse era la vera missione di Lenny Belardo. Pacificare gli estremismi e i fanatici proliferati sul suo cammino. Consegnare un ultimo messaggio per ricordare ai fedeli cos'è la fede.
Non qualcosa da capire, men che meno da spiegare. Ma una realtà da abbracciare. La fede in Dio, in Cristo o nella Chiesa è come la fede nella vita o in persone come Lenny Belardo. E spesso anche nelle opere di Sorrentino. È fatta di domande che non hanno una risposta. E in ciò risiede la sua essenza. È un mistero che si decide di accettare senza conseguenze.
E con questo messaggio Lenny decide di consegnarsi alle persone. Di abbracciarle toccarle, guardarle negli occhi. Come se questo potesse in qualche modo consolidare il messaggio che la sua esistenza e la sua voce volessero dare ai cattolici.
Con il tocco pop che ha caratterizzato The Young Pope e The New Pope, il cammino di Lenny Belardo si conclude ai piedi della Pietà di Michelangelo danneggiata dai fanatici. Passando per le amorevoli mani di chi lo considera un santo, è proprio lì che va a morire Pio XIII. Pronto a lasciare il mondo come il Cristo che lo sovrasta tra le braccia della Vergine per tornare al paradiso da cui era emerso.
Hanno rappresentato la grandezza dell'essere umano e del fedele. L'uno con la sua umana fragilità, l'altro con un'inspiegabile santità. Ora John Brannox e Lenny Belardo sono usciti di scena. The New Pope si conclude con l'elezione di un ulteriore papa. Ma dopo la grandezza, è necessaria la mediocrità per ristabilire l'equilibrio. Così è arrivato finalmente il momento per Voiello di indossare la tunica bianca.
Una svolta che lascia spazio alla possibilità di una terza stagione, chissà. Che d'altra parte avrebbe invece perfettamente senso così, con questa conclusione. In cui nell'ordine caotico della poetica di Sorrentino ognuno ha avuto una sua chiusura. Sir John il suo lieto fine. E Pio XIII la sua eredità viva nel mondo. Nel miracolo regalato ai Lindegard, in attesa di un bambino. Nel perdono: quello concesso a Esther. E al figlio innocente che porta il nome di Pio, accolto nella casa che fu di Pio XIII. Con una scena di chiusura che ancora una volta ci porta a dire "Grazie, maestro Sorrentino".
Dopo tutto è solo un trucco.