# #
The Magicians accoglierà, tra le fila dei suoi personaggi, uno strano essere metà pavone e metà umano, anche chiamato The Great Cock.
La terza stagione di The Magicians è ormai alle porte e sarà composta da tredici episodi. In perenne equilibrio tra trash e fantasy, la Serie ha riscosso un discreto successo, arrivando a conquistare una nicchia di fan che non disprezzano la saga, ma neanche la osannano.
# #
La Serie, tratta dai romanzi di Lev Grossman, tradotti anche in Italia (il più famoso ha come titolo "il mago") vede come protagonista l'attore Jason Ralph nel ruolo di Quentin Coldwater, un giovane dalla mente brillante che si iscrive al Brakebills College per Pedagogia Magica, una segreta università di New York specializzata in magia. In quel luogo tanto mistico quanto ordinario, tutto cambia e quando lui e i suoi amici scoprono presto che il magico mondo fantastico che leggevano da bambini nei libri è reale, si rivela un grave pericolo per l'umanità.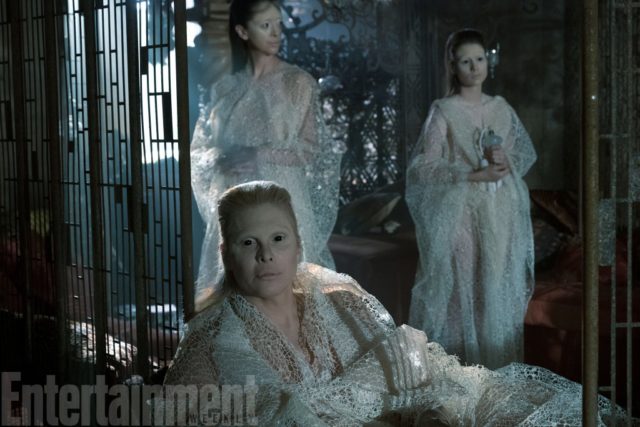 # #
Questa terza stagione vedrà per l'appunto Quentin e i suoi amici concentrarsi sulla ricerca della magia. Inoltre, il magazine Entertainment Weekly ha condiviso una nuova immagine della terza stagione che sta per arrivare, che rivela il ritorno dell'attrice Candis Cayne nel ruolo della Regina delle Fate.
La Serie Tv targata Syfy non smette di stupire con le sue sempre più stravaganti nuove particolarità che vanno ad aggiungere un tocco di magia sempre più strabiliante. La creazione di questo nuovo personaggio è presentata nella featurette inedita, che mostra il lavoro necessario a trasformare l'attore Faran Tahir in un mezzo pavone. Tra trucco, parrucca e vestiti, l'attore ha impiegato la bellezza di cinque ore prima di essere pronto per il set.
Il risultato non sembra male, anzi, promette abbastanza bene. Voi che ne pensate?