Questo inverno abbiamo assistito alla nascita di The Magicians con un pilot molto promettente, che ci ha fatto ben sperare per il futuro della serie. Dopo il 16 dicembre tutti parlavano di questa nuova scuola per maghi, ma poi cosa è successo? Perché nessuno parla più di The Magicians?
Analizziamo il fenomeno.
La serie è l'adattamento della trilogia "The Magicians" di Lev Grossman, il primo dei volumi è stato pubblicato nel 2009 e dovrebbe corrispondere a questa prima stagione, ma purtroppo la storia è stata profondamente modificata, fan di Shadowhunters e Shannara siete in buona compagnia! Un errore piuttosto grave, soprattutto dato che si tratta di una serie prodotta da una canale non particolarmente influente, Syfy, e che non ha potuto godere della stessa pubblicità di molte altre. Nel 2011 era stata infatti la Fox a comprare i diritti della serie ma dopo averli scartati, nel Syfy si è fatto avanti. Uno dei punti focali della visibilità di una serie tv è il passaparola: di fan in fan, dai lettori dei libri ai neofiti, le chiacchiere tra gli spettatori possono sancire il successo o la morte di ogni serie.
Ma se perfino i fan della trilogia storcono il naso davanti alla serie quale possibilità ha di emergere?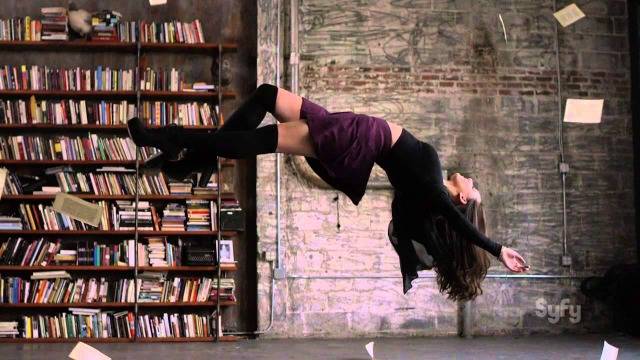 Eppure la serie non era stata affidata a mani inesperte: i due sceneggiatori che si sono occupati della trasposizione hanno infatti collaborato anche alla realizzazione di Supernatural e Aquarius.
The Magicians non è una serie eccelsa, ma non ha nemmeno ricevuto stroncature eccessive dalla critica. Rimane in questo limbo passivo e indifferente, non si prende rischi, gli attori sono ben lontani dall'essere famosi professionisti, ma non sono nemmeno irrecuperabili.
Ma allora perché ci troviamo qui a parlarne? Che senso ha avuto dedicare il mio tempo a guardare una serie mediocre sotto tutti i punti di vista?
Semplice, io sono una potterhead.
Ma se pensate che The Magicians sia "Harry Potter per i nostalgici" siete su una strada completamente sbagliata, il suo successo è stato pensato e studiato per poter sfruttare le fangirl.
Il protagonista stesso è un fanboy: Quentin Coldwater è un ragazzo timido, normale, impacciato, che ha vissuto la sua adolescenza con il naso tra i libri per allontanare tutti i problemi che lo affliggevano. Si è appassionato talmente tanto a "Fillory e oltre"che spesso si è completamente chiuso alla realtà, sognando di avere un'altra vita che lo staccasse dalla monotonia e dal grigiore della sua esistenza, senza avventure, senza quel qualcosa che lo facesse sentire speciale.
Se una cosa del genere non vi è mai successa almeno una volta nella vita chiudete pure questo articolo, questa non è la serie fatta per voi.
Fatto? Bene, ora che siamo rimasti solo noi "books geek" parliamoci chiaro: a Quentin succede quello che noi abbiamo aspettato per tutta la vita, i suoi sogni si realizzano.
Scopre che tutto il mondo che ha sempre e solo immaginato esiste veramente, e di essere davvero speciale: è un mago, e per questo motivo, durante un giorno uguale a tanti altri, si trova catapultato a fare un test d'ammissione al "Brakebills College for Magical Pedagogy".
"Che invidia!" penserete voi, e invece no miei cari: il sogno di Quentin si trasforma ben presto nel peggiore degli incubi.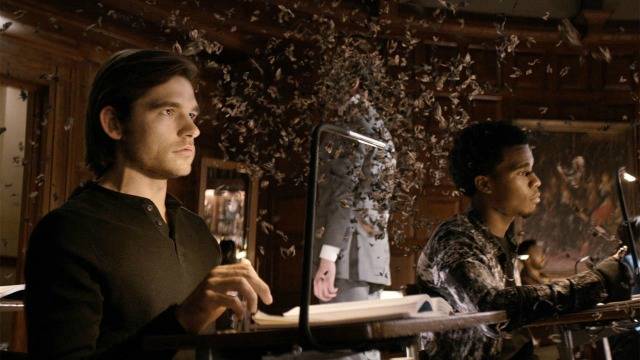 La protagonista dei libri di Fillory è molto simile a Lucy di Narnia: abita in una casa enorme con i suoi fratelli, ma è l'unica che riesce ad accedere a questo mondo magico e parallelo al nostro, passando attraverso un armadio. Si, un pochino troppo simile anche per i miei gusti.
I libri che Quentin ha tanto amato sono purtroppo solo la trasposizione positiva e favolistica della realtà: Fillory esiste, ma è un posto pericolosissimo dal quale viene fuori "la Bestia",un mostro terribile, che inizierà presto ad uccidere gli studenti della scuola senza che questi possano ribellarsi.
Un'entità malvagia che farebbe tramare il caro Voldemort: in "The Magicians" infatti non ci sono bacchette e formule da imparare a memoria, ma gesti da replicare, e possono volerci ore e ore di estenuante allenamento soltanto per accendere un misero fuocherello. La Bestia controlla la magia alla perfezione, mentre gli studenti non hanno alcuna arma per poterla fronteggiare. Niente Expelliarmus questa volta.
La magia è difficile, richiede tantissimo tempo, fatica e sudore.
A chi non passa il test per accedere al college viene cancellata la memoria mentre gli altri studenti vengono "smistati" in casate a seconda delle proprie capacità: i Sensitivi leggono nella mente e sono più legati alla psyche delle persone, i Fisici possono volare, trasfigurarsi e fare trucchetti sul movimento o sulla telecinesi, altre case ancora si occupano di Magia della conoscenza, della medicina.
Di tutto un po' insomma.
La storia contiene tutti gli elementi necessari per il successo: è molto cupa e a volte piuttosto cruenta, ci sono tradimenti, amori che sbocciano ed altri che muoiono, c'è la frustrazione e lo stress tipici degli esami universitari, tantissima ironia (vedere Quentin in pigiama esibirsi cantando "Shake it off" è una cosa da fare almeno una volta nella vita) e soprattutto è capace di stupirci e darci la vaga sensazione di essere tornati ad Hogwarts. Il mio sogno proibito da quando avevo 11 anni in pratica.
Alcuni personaggi sono molto ben costruiti: come Eliot, il capo della casa dei Fisici, la regina delle stronze, che ha sempre la risposta pronta e tagliente, strafottente, esibizionista e che organizza delle feste pazzesche. Da fare invidia a Chanel Oberlin insomma. Eppure con il trascorrere del tempo ne scopriamo le debolezze e la grande fragilità che si nasconde dietro tanta sicurezza. Al contrario è proprio il pratogonista quello che, personalmente, convince di meno: per quanto la serie sia corale infatti consosciamo ancora troppo poco di Quentin per poter giustificare alcuni suoi comportamenti, una scelta consapevole o un banale errore da parte degli sceneggiatori?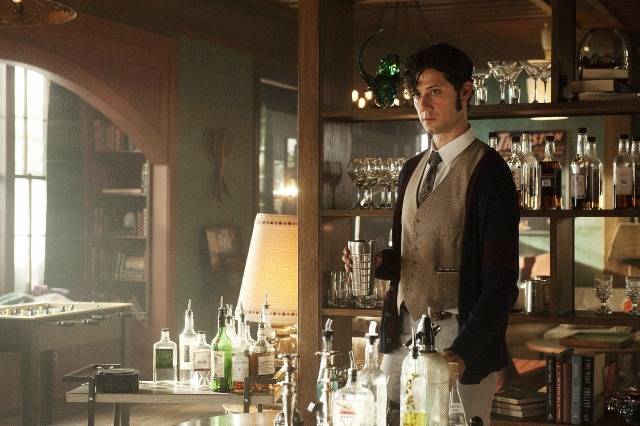 Inutile dire che se la serie fosse veramente così bella come l'ho descritta fino ad ora non sarebbe stata un flop. Passiamo ora ai punti dolenti.
The Magicians non è una serie lenta, la parte dedicata a Julia lo è. Vi state forse chiedendo perchè non ho mai nominato Julia fino ad ora? Perchè è inutile. Julia era la migliore amica di Quentin, che ha purtroppo fallito al test d'ammissione di Brakebills, ma è riuscita a sfuggire alla cancellazione della memoria, tornando nel mondo normale con la consapevolezza che la magia esiste. Una cosa straziante per chiunque, provate ad immaginare di non essere stati ammessi alla scuola di magia dei vostri sogni perchè ritenuti non idonei, io avrei già preparato la corda per impiccarmi. Ed è proprio questo il motivo per il quale, come misura di sicurezza, i ricordi di questi non-studenti vengono cancellati, ma Julia ha deciso di fare di testa sua. E ora ne paga le conseguenze. Il suo personaggio si lascia poco a poco andare, cercando vie alternative agli insegnamenti del college, purtroppo la sezione dedicata alla sua storia è stata gestita veramente male: occupa molto spazio durante la puntata e non vedo come potrà essere d'aiuto per sconfiggere la Bestia. Mistero.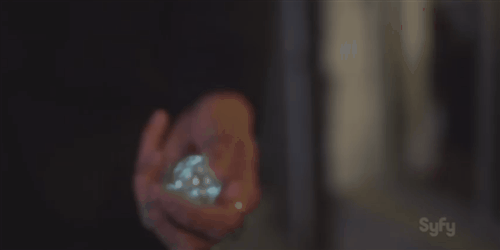 Fangirl e Potterhead di tutto il mondo, unitevi! Salviamo "The Magicians" dal baratro dell'indifferenza generale, perché anche noi come Quentin abbiamo il bisogno fisico di vivere e rivivere dentro un mondo come il nostro, ma molto più magico.
Se pensate di non avere più possibilità di vivere una grande avventura perchè non avete ricevuto la vostra tanto attesa lettera a 11 anni controllate bene prima di attraversare una porta qualunque. Potreste ritrovarvi catapultati a Brakebills, un sogno ad occhi aperti.