Chi vedendo The Haunting of Hill House, il primo arco narrativo della serie tv antologica horror The Haunting, prodotta da Netflix a partire dal 2018, non è rimasto scioccato, ammirato e stregato?
Conosciamo la trama della bellissima serie: nel passato, la famiglia Crain si trasferisce a Hill House, prigione labirintica dove le menti sembrano smarrirsi, una villa padronale in stato di abbandono da anni, che i coniugi Hugh e Olivia vogliono restaurare per poi rivendere, mentre i loro cinque figli giocano a esplorarla. Ben presto la famiglia, a partire dai bambini, si rende conto del fatto che la casa è infestata dagli spiriti dei vecchi abitanti della tenuta: essi, manifestandosi sempre più spesso e inquietando i nuovi inquilini, porteranno tutta la famiglia a subire seri danni psicologici in un'escalation di apparizioni e traumi, culminati col misterioso suicidio di Olivia.
In ambito seriale non avevamo mai avuto un prodotto appartenente al genere horror capace di trasmettere così tanto a livello emotivo e di approfondire tanto il tema del terrore e dei traumi irrisolti come The Haunting of Hill House.
Il nucleo centrale della narrazione ruota infatti attorno agli esiti della terribile morte di una donna, che ha portato al punto di rottura una famiglia che fino a quel momento era stata particolarmente unita. Dopo ventisei anni infatti i figli dei Crain si portano ancora dietro i propri traumi, mai del tutto superati, e si domandano ancora cosa sia capitato davvero a loro e alla madre a Hill House, mentre cercano di trovare un senso a quella notte.
Steven, il figlio maggiore, ha fatto fortuna scrivendo storie di fantasmi e speculando sulla tragedia vissuta a Hill House (pur continuando a non credere al sovrannaturale) e per questo motivo è disprezzato dai fratelli. Shirley, che a prima vista pare la più realizzata tra tutti i Crain, gestisce un'agenzia di pompe funebri cercando di dare un senso alla morte. Theodora è diventata una terapista infantile e cerca di tenersi a distanza dalle persone, ergendo muri tra sé e i propri cari a causa del suo "dono", ossia la capacità di percepire tramite il tocco delle sue dita emozioni o avvenimenti passati. Luke, cercando di anestetizzare il suo dolore, è divenuto un tossicodipendente e, a causa delle proprie abitudini, ha perso la fiducia della sua famiglia. Infine, Eleanor, "Nell", fortemente depressa dalla morte del novello sposo, soffre di paralisi del sonno ed è ancora perseguitata dai fantasmi che l'avevano terrorizzata da bambina.
Ognuno dei fratelli Crain è ancora fortemente condizionato dai ricordi della propria infanzia, che riaffioreranno del tutto con la tragica scomparsa di Nell, la quale, perseguitata dai fantasmi, arriverà a togliersi la vita proprio a Hill House. Questo drammatico evento sarà l'occasione per tutta la famiglia di fare i conti con il proprio passato.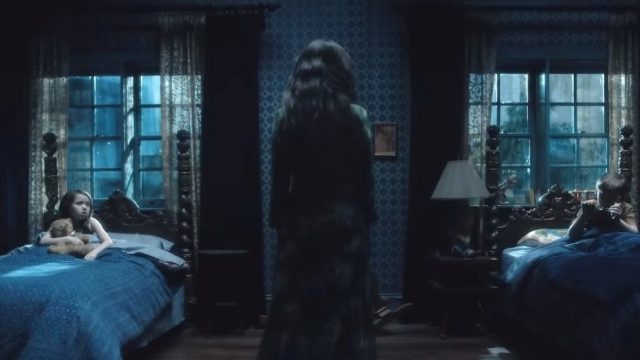 The Haunting of Hill House tratta costantemente il tema della paura e, tra tutti i suoi sottotipi, quella che sembra emergere maggiormente è la paura della morte, qui personificata dai fantasmi che abitano la tenuta.
Essi sono le emanazioni della casa, presenze che complottano contro i Crain e che desiderano che essi si uniscano al corpo della villa.
Tra i fantasmi che popolano la tenuta troviamo la folle Poppy Hill, responsabile del traviamento e del suicidio di Olivia; Hazel Hill, che invece cerca di mettere in guardia la donna dalla sorella, e il fantasma di William Hill, l'Uomo alto, molto alto con il cappello dal quale Luke è continuamente oppresso sia nel passato che nel presente. A completare il quadro troviamo la Signora dal collo spezzato che da sempre perseguita Nell.
In The Haunting of Hill House quando si parla di fantasmi tuttavia non ci si riferisce solamente agli spettri che terrorizzano i Crain, ma anche a tutti i drammi irrisolti, ai segreti inconfessabili e ai demoni personali dei fratelli, che si concretizzano nei traumi insoluti che poi li perseguiteranno per il resto della loro vita.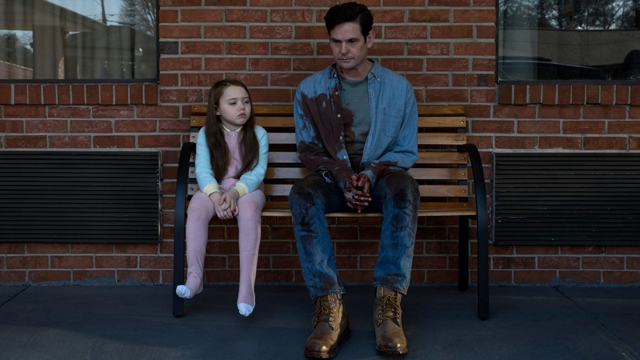 Ho vissuto con i fantasmi da quando ero bambino, ancor prima di sapere che esistessero. I fantasmi sono colpe, sono i nostri segreti, i rimorsi, i fallimenti, ma quasi sempre un fantasma è un desiderio.
The Haunting of Hill House relaziona elementi sovrannaturali con l'esperienza quotidiana andando a costruire una narrazione che trova il suo fulcro non nel paranormale in sé quanto in un'analisi sulle debolezze, sui desideri e soprattutto sulle più radicate paure dell'uomo.
La vera protagonista della serie è infatti la psiche umana, che viene indagata, scomposta e rimessa assieme dal fluire della narrazione stessa. La villa di Hill House diviene luogo della Paura per antonomasia: essa si materializza infatti nella casa, nei suoi fantasmi, nelle sue stanze e diviene essa stessa il trauma della famiglia Crain.
La paura. La paura è l'abbandono della logica. L'abbandono volontario di ogni schema razionale. O ci abbandoniamo, o la combattiamo. Ma non possiamo trovare una via di mezzo.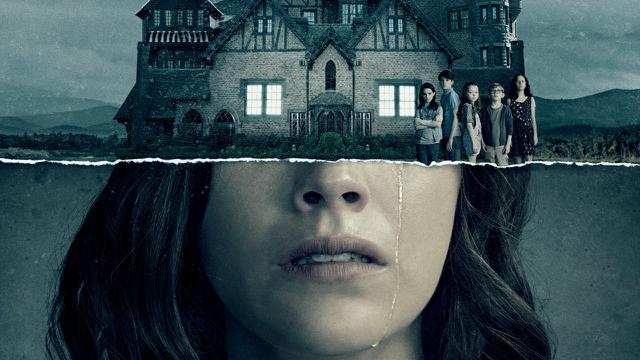 Ma cosa si intende realmente per paura? Il termine paura cela in sé una serie di significati e implicazioni che la rendono un'emozione estremamente mutevole: la paura infatti può essere allo stesso tempo attuale, proiettata nel futuro o indice di incertezza e preoccupazione. È un'emozione puramente soggettiva che muta in base al genere di esperienza personale e si manifesta tramite reazioni psicofisiche che possono manifestarsi anche violentemente di fronte a situazioni negative o di pericolo.
Già più di un secolo fa Freud aveva teorizzato che qualsiasi esperienza capace di suscitare emozioni quali dolore, paura o ansia agisce sotto forma di un trauma. Questa condizione di malessere e di disagio porta inevitabilmente a una rottura tra l'individuo traumatizzato e il mondo esterno.
A seguito dei tragici fatti avvenuti a Hill House tutta la famiglia Crain porta con sé un trauma irrisolto, che si sviluppa differentemente per ogni personaggio. I tre fratelli maggiori cercano in tutti i modi di reprimerlo e di dimenticare: facendo ciò però non affrontano il problema, che nel frattempo continua a crescere. I due gemelli invece si lasciano sopraffare e non sono in grado di reagire: il trauma è ormai così radicato da essere divenuto parte integrante della loro vita. Si pensi a come Nell somatizza le proprie ansie in una paralisi del sonno, che la fa precipitare in uno stato di puro terrore e che le impedisce di muoversi.
La particolarità di Hill House è il suo essere capace di suscitare terrore perché riesce a legare elementi di paranormale con l'interiorità e il sentire umano. Certo, i fantasmi sono reali e spaventano, ma il vero nemico dei protagonisti è la psiche umana.
Basta pensare come scopriamo che la Signora dal collo spezzato che tormenta Nell sin da quando era solo una bambina non è altri che lei stessa, impiccatasi nel presente a Hill House. La ragazza, morendo, trapassa i piani temporali rimanendo sospesa sotto forma di spettro nella casa infestata. Il trauma genera se stesso, la paura è circolare, il destino è ineluttabile.
Ma Eleanor non è l'unica dei Crain a portarsi dietro paure che non fanno altro che generare ulteriori dolori. Steven per esempio facendosi portavoce del pensiero razionale rifiuta con forza l'idea che quanto capitato alla sua famiglia possa aver qualcosa a che vedere con presenze paranormali. La sua idea è che nei Crain vi sia una radicata predisposizione genetica alla follia di cui sono stati portatori la madre e alcuni fratelli. Terrorizzato di poter trasmettere questa caratteristica rifiuta di avere figli e si autocondanna così alla solitudine.
La paura del futuro è uno dei tipi di paura che vengono maggiormente approfonditi nel corso della narrazione: negli episodi finali della serie assistiamo infatti al lento e graduale percorso di Olivia verso la follia. La donna, angosciata da continue visioni del futuro in cui vede i suoi figli minori soffrire terribilmente, istigata dal fantasma di Poppy Hill, concepisce un piano per liberarli e lasciarli andare. Per salvarli dal loro futuro la donna realizza di doverli uccidere, preservandoli innocenti e non contaminati dal male del mondo. Per questo porta i bambini nella misteriosa stanza dalla porta rossa, dove ha intenzione di avvelenarli con il veleno per topi. Ironia tragica, i bambini, salvati appena in tempo dall'intervento del padre, rimarranno talmente traumatizzati dall'evento da arrivare a concretizzare in futuro quelle che erano le paure della madre.
Olivia, anche sotto forma di fantasma mantiene il suo pensiero e cerca in tutti i modi di chiamare a sé i figli, per ricongiungersi a essi: nella morte la salvezza, l'unico barlume di speranza in un mondo di dolore.
Ma la speranza è l'ultima a morire: proprio nella stanza dalla porta rossa infatti si verifica lo scontro finale e la casa mette di fronte ai personaggi una sorta di purgatorio con cui testa le loro paure, i loro sensi di colpa e i loro fantasmi interiori: "Paura e colpa sono sorelle. Ma quando ti svegli ti lasciano in pace".
Accettare le proprie paure e accoglierle per superarle è ciò che serve per liberarsene: a salvare i fratelli Crain sono i rinnovati legami familiari e amorosi. Grazie a questo e al sacrificio di Hugh, i fantasmi possono essere cacciati.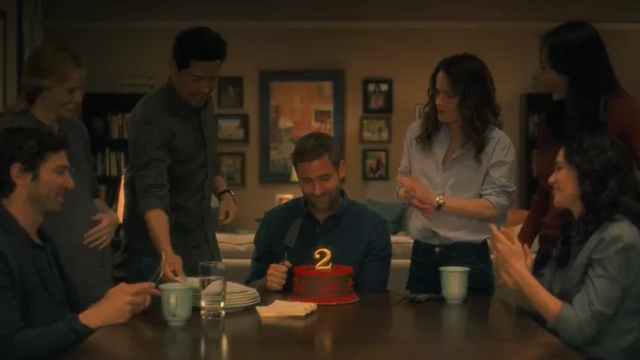 La paura. La paura è l'abbandono della logica. L'abbandono volontario di ogni schema razionale. Ma sembra che sia lo stesso per l'amore. L'amore è l'abbandono della logica. L'abbandono volontario di ogni schema razionale. O ci abbandoniamo, o lo combattiamo. Non possiamo trovare una via di mezzo. Senza l'amore in condizioni di realtà assoluta non potremmo continuare a esistere per molto tempo in modo sano.