The Haunting of Hill House è una delle più grandi rivelazioni degli ultimi anni. La serie tv horror prodotta da Netflix racconta un dramma familiare. Olivia, moglie di Hugh e madre di cinque figli, è morta a Hill House suicidandosi. La famiglia Crain a distanza di anni non è ancora riuscita a superare la perdita. Steven, Shirley, Theodora, Luke e Nell sono ormai adulti ma il tormento di quella notte fatica a lasciarli andare. L'estate passata a Hill House sarà indimenticabile anche a causa di strane e orribili apparizioni.
La serie è una trasposizione del libro di Shirley Jackson L'incubo di Hill House.
Il lavoro del regista Mike Flanagan si è rivelato perfetto: è stato in grado di estrapolare parecchi elementi dall'opera per poi trasformarli in una narrazione originale. Il risultato è quello di aver prodotto una serie tv completamente diversa dal libro eppure dal medesimo messaggio. Un aspetto che non è sfuggito nemmeno al maestro dell'horror Stephen King.
Forse di The Haunting of Hill House non se ne parla abbastanza ma è uno show ricco di simbologia ed è in grado di raccontare il dolore di una perdita così significativa. In questo articolo ci concentreremo sulle diversi chiavi di lettura e sulla simbologia di una maternità tanto stereotipata quanto oscura.
Le chiavi di lettura di The Haunting of Hill House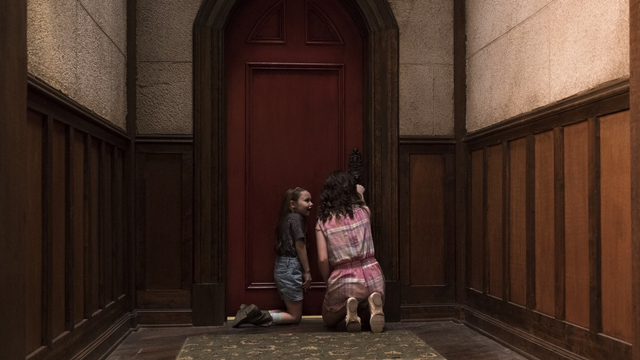 Le chiavi di lettura sia dell'opera letteraria che della serie sono su due livelli: quello psicologico e quello sovrannaturale.
Durante la visione c'è la sensazione che entrambe le interpretazioni si sovrappongano, rendendo così molto più enigmatica l'intera vicenda. L'interpretazione realistica permette di vedere la serie in un modo totalmente diverso. Se la si guarda facendo riferimento a questa chiave di lettura, se ne ricava che a Hill House non ci sono fantasmi. Sarebbe solo un luogo dal quale una famiglia ne è uscita distrutta a causa del suicidio di Olivia. Il dubbio viene sollevato da Steven: all'interno della serie si mostra scettico a qualsiasi evento paranormale. La sua rabbia nei confronti del padre è motivata dal fatto che non voglia ammettere la verità: sua madre è morta perché non è stata aiutata.
La teoria sovrannaturale invece deve essere letta così com'è: Olivia ha subito un cambiamento a causa di Hill House.
Cos'è successo a Olivia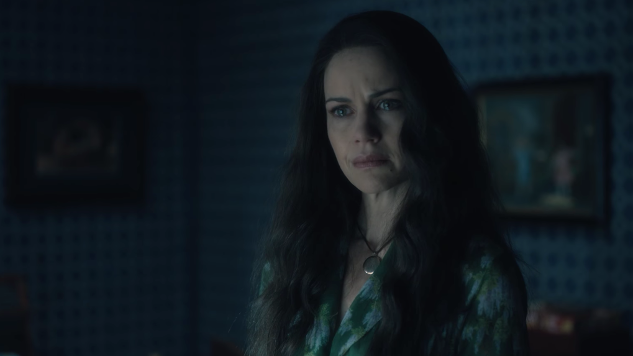 Come mai Olivia si è suicidata e perché Hugh per tutti questi anni non ha spiegato ai figli cos'è successo davvero quella notte? Ripercorriamo gli ultimi episodi di Hill House basati su Olivia e sulla casa.
La donna fin dall'inizio è sembrata una madre che spingeva i figli a trovare una propria indipendenza. Poco alla volta, in seguito a numerose visioni, ha iniziato a preoccuparsi della loro sicurezza. Si era convinta che per tenerli al sicuro non dovevano crescere e l'unico modo era quello di ucciderli. Fortunatamente durante la tragica notte, Hugh ormai in allerta ha capito quello che stava per accadere e ha salvato Luke e Nell. Quando ha allontanato tutti i figli dalla casa è ritornato a Hill House ma sfortunatamente, Olivia era già morta.
Una simbologia stereotipata
Le simbologie all'interno della serie sono tante (qui parliamo della porta rossa) ma quella sulla maternità è molto affascinante.
La simbologia della maternità di Olivia collegata alla figura della casa è stereotipata. Difatti, la donna rappresenta una madre amorevole e pronta a tutto pur di proteggere i suoi figli. Eppure inizia a incrinarsi in qualcosa di più oscuro. Il suo voler confinare i figli all'interno della casa e lontano dalla società è un'estremizzazione del senso di protezione. Nel momento in cui la famiglia ha lasciato Hill House, i figli sono stati perseguitati dal richiamo della madre. È riuscita ad attirare l'attenzione di Nell uccidendola pur di non rimanere sola e ha tentato di fare lo stesso con gli altri.
Da adulti, tutti percepivano il richiamo da parte di Hill House, provando inquetudine e fastidio al solo pensiero. Eppure resistere era diventato sempre più difficile. Da qui, si inizia a cogliere l'analogia tra Olivia e Hill House. La casa simboleggia la maternità: un posto sicuro nel quale poter ritornare. All'inizio Hill House non incute terrore ai ragazzi. Man mano che si verificano delle manifestazioni paranormali, Olivia inizia a cambiare. Nel momento in cui Hugh fugge con i figli, la casa non sembra più la stessa. Il tragico evento si collega alla percezione di un'abitazione ripugnante e insana.
Le reazioni dei figli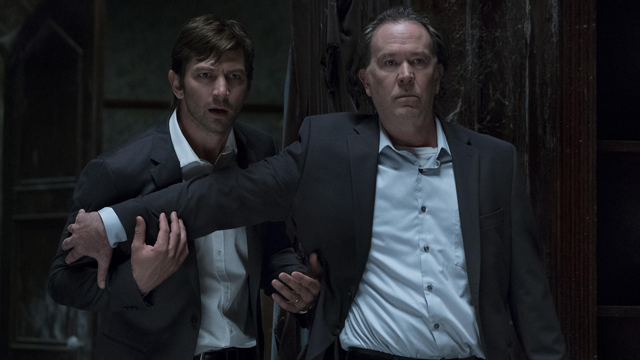 Quali sono stati i veri esiti della tragedia?
Nell'ultimo episodio, finalmente Hugh spiega a Steven quello che è accaduto quella notte. Non voleva che sapessero delle intenzioni della madre. Molto probabilmente se vogliamo interpretare tutto in chiave realistica, i veri fantasmi sono frammenti di un trauma troppo difficile da accettare. Proprio per questo i due gemelli hanno sofferto di più rispetto agli altri. Steven a causa della tragedia non solo rifiuta il ruolo di padre ma vede anche nella maternità qualcosa di terribile. Theodora ha il terrore di instaurare un legame stabile e non vuole affrontare le sue emozioni. Shirley invece si nasconde dietro un'apparente mania di controllo. Nell ha passato un'intera vita in terapia non uscendo mai del tutto dalla depressione. La morte del marito è stato l'evento scatenante del suo suicidio. Lo stesso vale per Luke, completamente abbandonato a se stesso e sofferente per la morte della madre.
The Haunting of Hill House non è una semplice serie tv horror. Racconta in modo magistrale un dramma familiare. È una serie in grado di comunicarci che il il vero orrore sono i fantasmi all'interno della nostra mente: sono i ricordi, i traumi, rimpianti e rimorsi.