Si erge minacciosa davanti allo spettatore. Sembra aprirsi in un ghigno malefico, puntata dopo puntata, silenziosa, come un predatore che aspetta di ghermire la sua preda nell'oscurità. Ti prende per la gola e strozza. La porta rossa in The Haunting of Hill House è questo: un cappio al collo. Un gelido brivido sul corpo, appena percepibile, eppure disturbante. Una tortura volontaria non solo per i protagonisti dello show, ma soprattutto per chi guarda, passivamente, seduto sul suo divano, a luci spente, sperando di avere un terribile spavento.
Tuttavia, il più temibile dei pericoli risiede nelle zone di penombra, lontano da occhi indiscreti. Risiede nei dettagli e nei gesti. Un libro letto in tranquillità, una stanza da ballo o una casa sull'albero. È la forma più pura di terrore, invisibile agli occhi e logorante fino alla definitiva presa di coscienza di chi lo vive, ormai in ritardo. Ti abbraccia come una madre che stringe il figlio e lo allatta per poi pugnalarti alle spalle con implacabile furia.
The Haunting of Hill House prova a far vivere anche nel piccolo schermo la forma più pura di terrore e abbiamo nella porta rossa la sua più grande manifestazione visiva. Seppur di modeste dimensioni, è paradossalmente un gigante per gli occhi. Ti schiaccia come un insetto che esala l'ultimo respiro dopo uno sfortunato incontro. Il Male, qui come nella realtà, è subdolo. Una serpe che con l'inganno condanna l'uomo al peccato eterno, condannandolo anche alla mortalità.
La porta rossa in The Haunting of Hill House è la rappresentazione definitiva del Male. Gli spettri sono solo vittime, non sono reali, vacue presenze in bilico tra il mondo reale e la mente, sadica burattinaia dei nostri peggiori incubi. La porta rossa invece è concreta, tangibile e visibile a tutti. Una parte della casa maledetta che sussurra, con vibrazioni differenti per i vivi e per i morti.
"Questa stanza è come il cuore della casa. No, non il cuore, lo stomaco. Indossava facce diverse per farci stare tranquilli mentre ci digeriva."
Per Nell diventa ben chiara la minaccia della porta e della relativa stanza, solo dopo la sua morte. Lei sa cos'è la porta rossa, sa cosa si cela al suo interno. Tuttavia, ormai è tardi, ma non per i suoi cari. Può ancora salvarli e, con un malinconico discorso, avverte della reale facciata della stanza. Un' immagine nuda, spoglia dei filtri che usava per divorare le sue vittime.
Parlando di filtri, il rosso domina la scena con prepotenza e forza. Il colore non è certamente usato a caso. La porta deve trasmettere la giusta vibrazione, il corretto flusso energetico allo spettatore. I colori hanno una valenza visiva fortissima e non sono mai usati a sproposito. Il rosso, nella fattispecie, è il colore esistente con più contrapposizioni. Se usato in un contesto romantico o erotico può assumere connotati positivi. Tuttavia, spesso è usato anche per esprimere dolore, morte o pericolo imminente.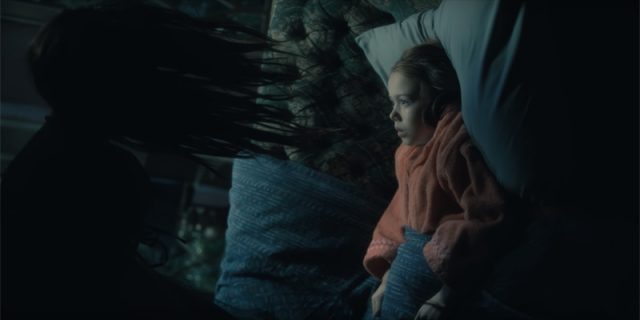 La porta rossa in The Haunting Hill House è infatti l'elemento più in contrapposizione dello show. Positivo e negativo a seconda dei punti di vista. Rappresenta il bene per i protagonisti, ancora giovani, ignari del pericolo e dell'oscurità che, giorno dopo giorno, divora le loro menti. È un luogo di pace e di fuga. Un rifugio dall'astio e dal rancore, reali spettri che abitano la casa.
Tuttavia, ciò che avvertiamo noi è un malessere, un pericolo latente. Tale pericolo diventa reale nel momento in cui si incontra la morte e tutto assume un diverso significato, come uno specchio ribaltato. Nella sua connotazione negativa, la porta rossa è il passaggio verso gli inferi, una via senza uscita, nella quale restare intrappolati, schiavi di un'illusione che non è reale. Un mondo parallelo in un certo senso.
Difatti il ruolo delle porte e dei "passaggi" non è nuovo, soprattutto se parliamo di prodotti thriller o di fantasia. In Donnie Darko "cellar door" ovvero "la porta della cantina" rappresenta il punto di non ritorno tra la realtà del protagonista e il mondo in cui ignaro si è ritrovato a vivere. In Sliding Doors, ovvero "porte scorrevoli", è la rappresentazione del butterfly effect e il nome è influenzato proprio dalle differenti vite vissute nelle due dimensioni parallele prese in esame. Osservando con più semplicità o trattando il tema con più banalità, è l'armadio per entrare a Narnia o la tana del bianconiglio, accesso al paese delle meraviglie.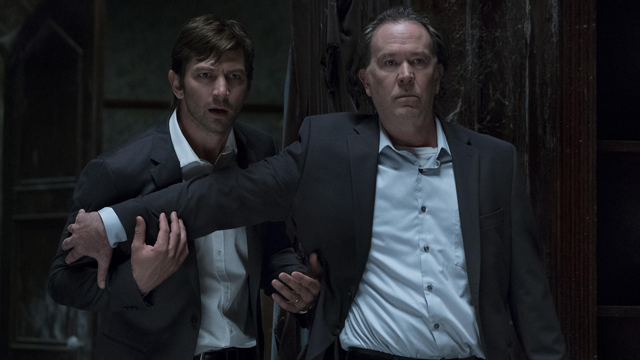 Per citare un esempio in ambito seriale, la porta rossa è l'entrata che Bernard non riesce a vedere in Westworld. Con le dovute differenze, contestualizzate al tipo di show o prodotto, il simbolismo della porta è onnipresente sia sul piccolo che sul grande schermo.
La porta rossa in The Haunting of Hill House è il reale pilastro della serie tv. Un incubo costante, il quale trasuda terrore e disagio a ogni inquadratura. La linea sottile che divide la realtà dalla finzione. In lei abbiamo, per nove puntate, un elemento secondario, onnipresente sullo sfondo, citato, eppure di contorno alla vicende dei vari protagonisti.
Nell'atto finale esploderà con tutta la sua forza rivelando il reale tema dello show e ciò che davvero è The Haunting of Hill House. Molto più di una casa infestata: una gabbia per l'anima. Un luogo dove le emozioni e gli istinti umani sono nutrimento per l'oscurità e in cui la mente può soccombere.