Nessun organismo vivente può mantenersi a lungo sano di mente in condizioni di assoluta realtà. Perfino le allodole e le cavallette sognano, a detta di alcuni. Hill House, che sana non era, si ergeva sola contro le sue colline, chiusa intorno al buio. Si ergeva così da ottant'anni e avrebbe potuto continuare per altri ottanta. Dentro i muri salivano dritti, i mattoni si univano con precisione, i pavimenti erano solidi e le porte diligentemente chiuse. Il silenzio si stendeva uniforme contro il legno e la pietra di Hill House e qualunque cosa si muovesse lì dentro, si muoveva sola.
PROLOGO
Ogni storia di fantasmi che si rispetti dovrebbe riuscire a unire mistero e pathos creando un prodotto difficile da dimenticare. Una storia che persino dopo mesi e anni ci fa sobbalzare. The Haunting of Hill House riesce in questa missione. Anzi, non semplicemente ci riesce ma risulta un vero e proprio successo. Questo perché la serie tv di Netflix fa propria la tradizione gotica rendendola moderna e appetibile. Alla base di The Haunting of Hill House sta il libro omonimo della scrittrice Shirley Jackson, ma ritroviamo anche Il giro di vite di Henry James, quel The Others con Nicole Kidman e The Fall of House of Usher di Poe.
Ciò che accomuna questi tre capolavori sono una casa infestata, una narrazione soggettiva e una psicologia sottile che lotta tra l'attaccamento alla logica e il richiamo verso l'inspiegabile. Tutti questi elementi, e altri ancora, sono presenti nella serie tv decretandone il successo. Inoltre, The Haunting of Hill House ridà linfa vitale a un genere, in tempi moderni e "nevrotici" come i nostri, ormai appassito tanto da entusiasmare il "Re" in persona.
CAPITOLO UNO: UNA CASA RUMOROSA
La prima cosa che la piccola Nell sente quando arriva a Hill House è che la casa è davvero molto rumorosa. Peccato che nessuno stia a sentirla, nemmeno sua madre che, consapevole delle proprie capacità sensitive e di quelle dei figli, avrebbe dovuto mettersi sull'attenti. Forse è questa l'unica piccola pecca di un prodotto senonché impeccabile. Mi risultava difficile credere che Olivia Crane non chiudesse baracca e burattini al primo squillo d'allarme. Se non avete visto The Haunting of Hill House vi consiglio vivamente di recuperarla e tornare a visione avvenuta perché da qui in poi l'articolo contiene SPOILER.
Molto bene, dicevamo. Tutti i piccoli Crane, chi più chi meno, percepiscono fin dal primo momento che qualcosa non va nella casa. Avvengono strani fenomeni e hanno la sensazione di non essere completamente soli. Theo sperimenta le proprie capacità per la prima volta, Nell è tormentata dalla donna con il collo storto, Luke vede uno strano uomo fluttuante e un mostro in cantina ma nessuno presta loro attenzione. Fino a quando non è troppo tardi. Attraverso l'uso sapiente dei flashback (uno dei meccanismi narrativi più efficaci) ci viene man mano rivelato cosa sia accaduto in quella casa malefica, fino all'ultima notte in cui tutti i Crane meno uno sono fuggiti via.
In puro stile Amityville, Olivia finisce con l'impazzire mentre i fantasmi le sussurrano all'orecchio parole di dolore e le mostrano le future sofferenze dei figli più piccoli. Discendendo in una spirale infernale, Olivia perde il senno e la storia trova il suo tragico epilogo nella stanza con la porta rossa. Per ben due volte.
Non solo nel passato, ma anche nel presente, i Crane ormai cresciuti devono fare i conti con un orrore che non ha smesso di inseguirli e che li riporta al punto di partenza.
CAPITOLO DUE: UNO, DUE, TRE, QUATTRO, CINQUE, SEI, SETTE!
Steve, Shirley, Theo, Nell e Luke non sono mai andati avanti. Non hanno dimenticato l'orrore vissuto in quella casa e portano ancora i segni del traumatico passato. Un passato dal quale il padre vorrebbe inutilmente proteggerli mantenendo inalterato il ricordo della mamma. Ma a quale prezzo? Non conoscere la verità ha reso i Crane adulti incapaci di venire a patti con se stessi e con Hill House.
Essi conducono vite diverse ma unite da un unico filo rosso sangue.
Nessuno di loro vive una vita completa. In maniera diversa gli artigli di Hill House non hanno mai lasciato la presa. Così, ogni puntata ci mostra il rispettivo presente e passato dei cinque figli, attraverso una narrazione point of view. Ogni episodio si concatena all'altro attraverso la tragica morte di Nell, "suicida" nella casa, e quella della madre avvenuta molti anni prima. Ed è proprio il penultimo episodio, quello dedicato a Olivia, uno dei più forti e d'impatto dell'intera serie tv.
Il legame familiare è stato spezzato. I cinque fratelli si parlano raramente, troppo impegnati a dare un senso alle loro vite vuote. Nella figura del padre (un grandissimo Timothy Hutton) cercano il capro espiatorio, l'origine dei loro mali interiori. Steve (Michiel Huisman), tutto preso dal ruolo di grande scrittore, non ha tempo per Nell (Victoria Pedretti) che viene da lui con una muta richiesta di soccorso dipinta in volto. Shirley (Elizabeth Reaser), madre e moglie, non vuole più perdere tempo con Luke (Oliver Jackson-Cohen), drogato e fallito. Theo (Kate Siegel) lavora nei servizi sociali per non dover pensare a se stessa, chiusa nella sua corazza impenetrabile.
A loro volta Luke e Nell sono i più fragili, perché furono i più coinvolti nelle questioni segrete della casa.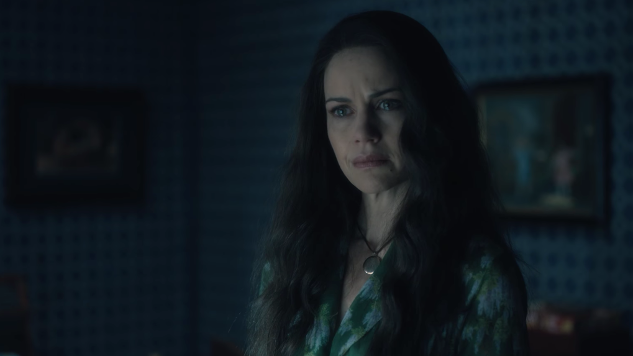 CAPITOLO TRE: L'USIGNOLO E IL CORVO
Nell è di nuovo tormentata dalla donna dal collo storto, ma sono tutti troppo impegnati per darle retta. Così come la madre prima di lei, diventa cibo per il famelico appetito di Hill House e il suo funerale diventa l'assurdo pretesto per riunire di nuovo la famiglia.
Ma c'è una distanza abissale tra le due vere donne della casa infernale e il modo in cui hanno influito sul destino del resto della famiglia. Nell è l'usignolo che canta malinconico, sogna un futuro radioso e per breve tempo riesce a raggiungerlo. Ma come il ben più famoso usignolo dell'imperatore, anche Nell è costretta a cantare sempre la stessa canzone. Una che parla di sofferenza e dolore, di perdita e tormento. Perseguitata dalla donna dal collo storto, la ragazza va incontro a una tragica morte che inconsapevolmente aveva previsto molto tempo prima. Il sovrannaturale diventa colpo di scena che lascia senza parole.
La morte di Nell è stata davanti ai nostri occhi per tutto il tempo.
Olivia è invece il corvo, figlia dell'oscurità e legata intimamente al mondo paranormale. La sua rovina è la rovina di tutta la famiglia. Mentre l'amore di Nell, forte anche nell'aldilà, permette ai fratelli di salvarsi, quello della madre si trasforma in ossessione e bisogno famelico. La mente annebbiata e folle di Olivia è la vera tragedia a cui assistiamo nella serie
EPILOGO: L'ORRORE DEL MONDO DI FUORI
La casa è come un corpo, dice Nell. Essa ha ossa, occhi, muscoli e un cuore. Il cuore di Hill House è la Stanza Rossa. O forse sarebbe più corretto dire:
This room is like the heart of the house. No, not a heart. A stomach.
Perché Hill House non è solo una casa infestata, ma un'ingorda bestia che mastica lentamente il proprio pasto e lo consuma nell'oscurità delle sue stanze. Come Christine la macchina infernale o Castle Rock, anche Hill House appare dotata di vita propria. Ciò di cui si ciba sono le speranze e i sogni, ma soprattutto la felicità. La Stanza Rossa si adatta alle esigenze dei sui ospiti come una pianta carnivora. Appare sicura, un luogo in cui sentirsi protetti fino a quando non è troppo tardi. Solo per Hugh quella porta appare invalicabile, forse perché, contrariamente al resto della famiglia, la sua logica è sempre ferrea. La stanza rimane quindi inaccessibile fino alla fine.
Ma l'orrore di The Haunting of Hill House è solo l'espressione sovrannaturale di un orrore ben più grande. Quello della vita.
Tormentata dalle visioni, Olivia si convince che l'unico modo per proteggere i propri figli dal dolore del mondo di fuori, il mondo degli adulti, è quello di tenerli per sempre vicini a sé. La morte fisica non è quindi il lasciarsi andare a un sonno senza sogni ma il risvegliarsi dall'incubo vero.
Il finale di The Haunting of Hill House, rappresentato dallo scontro tra Nell e la madre (l'una intenta a salvare i fratelli, l'altra emissaria della casa) e dal dialogo tra Hugh e Olivia, è la summa di una storia di fantasmi che è anche una storia su quanto sia difficile vivere.
Steve scrive libri per fuggire dalla realtà, Shirley preferisce il mondo dei morti, Luke trova nella droga l'unico conforto in un universo di dolore.
La casa appare allora come un porto sicuro in cui le anime possono aggirarsi senza colpa, rimorso o vergogna. Ma anche senza gioie e felicità. Senza la possibilità di andare avanti.