Ciao, sono Alessandro Borghese. Benvenuti a questa puntata speciale di 4 Ristoranti: il mio viaggio nelle case della gente, senza aver ricevuto alcun invito. Un solo concorrente in sfida e quattro categorie da votare: lochescion, menù, serrvizio e conto. Ma non basta. Con il mio voto posso confermare o ribbaltare il risultato. Il primo e unico concorrente di oggi è la casa di The Haunting of Hill House.
Si sa, niente è meglio della cucina di casa. Che sia la propria o quella di qualcun altro, tranne nel caso di evidenti eccezioni, poco importa. Infatti, la semplicità è la chiave di tutto. La famiglia Crain è stata gentile a invitarmi a vedere la loro umile dimora. Dalla nostra conversazione sembrava quasi che volessero convincermi ad avanzare un'offerta per comprare Hill House.
Appena arrivato, mi sono subito reso conto di una cosa: c'era qualcosa che non andava. Inizialmente pensavo di aver sbagliato strada ed essere entrato per sbaglio in una proprietà privata abbandonata da tempo. Invece la villa che si è presentata davanti a me era proprio quella di The Haunting of Hill House.
Che inizi la sfida!
1) Location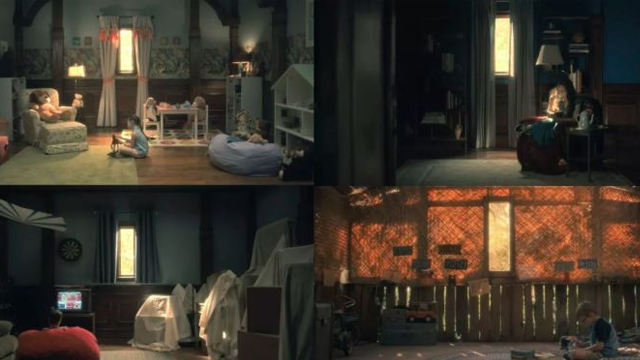 C'era qualcosa di oscuro in quella villa. Ben presto mi sono reso conto di come gli esterni poco curati rendessero l'atmosfera a dir poco inquietante. Ma devo anche ammettere che l'erba incolta, l'edera che percorre le pareti esterne, quella sensazione di mistero e quella strana sagoma scura alla finestra, hanno un non so che di affascinante. Gli interni, proprio come gli esterni, trasmettono un'atmosfera molto poco familiare. La casa non dà l'idea di focolare domestico. D'altronde una magione così grande, con così tante stanze, tende a dividere le persone.
Voto: 6