Quando si inizia una serie tv, non si cerca solamente qualità e interesse. Ci sono molti prodotti televisivi fantastici, e un numero infinito di prodotti belli. Per questo alcune volte si sceglie la prossima visione in base alle minuzie che fanno risaltare una scelta invece dell'altra.
Abbiamo parlato varie volte di The Good Place e di tutti i suoi pregi, ma quando stringiamo il campo ci viene in mente una sola domanda: cosa ha questa serie di diverso rispetto alle altre?
Beh, oggi siamo qui per rispondervi. Per una volta scenderemo un po' dall'aldilà della serie e tratteremo questo prodotto con un'accezione più tecnica basata sulle sue particolarità.
Anche perché, come arriveremo a discutere tra poco, non abbiamo mai veramente compreso del tutto The Good Place.
The Good Place è una comedy che tratta del destino dopo la morte: una serie incentrata sul passare oltre e sul peso delle azioni fatte in vita. Un bilancio positivo o negativo che scopriamo essere troppo severo e incomprensibile per gli umani. L'intera serie è quindi un'Odissea dei nostri quattro protagonisti verso un'Itaca per il mondo, e la pace per se stessi. I punti trattati dalla serie sono molteplici, ma in che cosa si differenzia da tutte le altre?
Ad esempio proprio riguardo al discordo dell'aldilà: la serie tratta l'argomento bilanciando perfettamente etica e comicità.
Sin da subito l'idea della vita dopo la morte viene resa divertente quando, per accezione di Michael, scopriamo che la persona che aveva sviluppato la teoria più vicina al vero e proprio disegno del post mortem era un tizio generico sotto effetto di droghe.
E quindi la narrazione ti trasporta in questo luogo dove si scherza sulla morte, sulla sua assurdità e sulla incomprensibilità di certi concetti per gli uomini. Sembra uno sviluppo frivolo di quello che è uno degli argomenti più importanti della storia dell'uomo, ma è solo apparente.
Dietro escalation di battute e situazioni assurde, la serie regala delle grandi perle etiche sulla vita. Sul peso che diamo ad essa, sul come le nostre azioni, seppur fatte a fin di bene, possano influenzare negativamente il prossimo come ha fatto Chidi.
E tutto questo i nostri personaggi devono viverlo dal lato opposto.
L'aldilà diventa anche una finestra per pensare alle dinamiche durante la vita (questa serie ci mette davvero davanti ad un Paradiso Perduto). Una narrativa che mette i personaggi dalla parte opposta, facendogli chiedere cosa sarebbe successo se avessero vissuto in modo diverso.
E sempre per parlare di punti di vista, grandissima importanza in The Good Place viene data alla memoria. La narrativa della serie viene spezzettata da continui e ciclici reset del tempo e cancellazioni di memoria. Un'azione non fine a se stessa, ma che invoglia a sviluppare il concetto discusso sopra.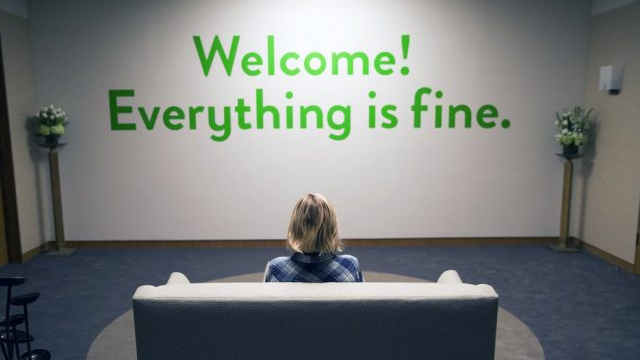 Togliendo la memoria ai personaggi, questi agiscono di nuovo ma da angolazioni diverse in base ai propri stimoli. Eppure il finale raggiunto è quasi sempre lo stesso.
Dal punto di vista narrativo la serie lavora su due aspetti.
Il primo sottintende che è importante, o meglio, sarebbe importante osservare a ripetizione certe situazioni da molteplici punti di vista. Ripetendo i ragionamenti che ne scaturiscono e analizzando come questi cambiano o meno il percorso per arrivare alla fine. Ma non il risultato.
Perché il secondo aspetto è molto più idealistico. Nel momento stesso in cui cambiare i ragionamenti non porta sempre a un risultato differente, lo spettatore comprende che l'importanza del nuovo punto di vista siail punto di vista stesso, e non le sue conseguenze.
In breve la serie vuole mostrarci che cambiare l'approccio riguardo ad un argomento sia importante di per sé, e non per i diversi risultati che scaturisce.
Se poi il finale della storia sarà diverso, questo porterà i personaggi a provocarsi nuove domande.
"Quale scelta ha avuto un impatto talmente grande da farci cambiare l'output?"
E questa vicenda è una continua gara a scacchi prima tra Michael e i protagonisti, poi tra tutti e cinque e gli altri. Un minuzioso scontro di ideologie e filosofia non indirizzata al risultato ma al percorso. Proprio perché la serie vuole dare un forte peso al percorso, e non al finale (l'aldilà) che conosciamo già.
È un concetto complicato e, a volte, vedere questa serie non diciamo che sia proibitivo ma di sicuro porta a ragionamenti non totalmente comprensibili.
Dalla famosa linea temporale in Jeremy Bearimy a Janet e il suo vuoto, un luogo metafisico dove le regole non sono comprensibili dalla mente umana. Davanti a queste creazioni inconcepibili, la confusione dei personaggi è la rappresentazione di quella degli spettatori.
Vedere rappresentato il nostro senso di dubbio davanti a discorsi troppo grandi per le nostre menti, e sentir dire più volte anche da Michael (che noi abbiamo anche immaginato come potrebbe essere da nonno di famiglia) che per i comuni mortali certe cose sarebbe impossibili da processare, la serie svolge un ottimo lavoro per farci immedesimare nel suo mondo.
In The Good Place vediamo umani confrontarsi con entità superiori a loro in molti aspetti e vediamo i nostri personaggi argomentare nel modo che più si addice a loro. È di nuovo uno scontro tra due forze. Da una parte concetti incomprensibili che gli uomini dovrebbero solo accettare. Dall'altra abbiamo ragionamenti filosofici applicati che dimostrano come la razza umana non abbia ancora le risposte ma stia lottando per avvicinarsi ad esse.
Ma queste risposte mancanti sono volute o no? Secondo noi sono assolutamente volute.
La grandezza, in questo caso ideologica, di The Good Place è la voglia di affrontare temi eterni e incomprensibili ma senza strafare e risultare pacchiana, bensì usandoli contemporaneamente per raccontare una storia.
Questa serie vive di momenti singoli e del loro alternarsi.
A volte noi spettatori siamo messi di fronte a ragionamenti che per forza di cose non riusciremmo a capire in quanto siamo solo umani.
Altre volte la serie ci mostra momenti molto comprensibili, magari con accenni alla cultura contemporanea. Cose che sembrano stupide ma che funzionano nell'ottica di tenere lo spettatore connesso a ciò che stanno vivendo Eleanor e i suoi amici.
Il tutto viene condito da una comicità che serve ad alleggerire i pesantissimi temi sull'importanza delle scelte e sulle conseguenze di esse, ma è una comicità importantissima anche per dare allo spettatore quel momento a cui sentirsi legato dopo l'ennesima spiegazione troppo grande per i nostri cervelli.
Alla fine noi, come i protagonisti, ci siamo trovati nell'aldilà all'oscuro di tutte le sue regole e le sue leggi. Proprio perché da che mondo è mondo l'uomo non ha risposte sulla vita dopo la morte e lo spettatore non le ottiene da questa serie.
The Good Place ci dice che pur avendola davanti ai nostri occhi, la vita dopo la morte è qualcosa di inconcepibile per le nostre menti e che non dovremmo concentrarci su quello. Non serve comprendere un ignoto finale, ma dovremmo concentrarci sul nostro complicato ma comprensibile presente.
Per le risposte avremo tanto, tantissimo tempo. Un'eternità.