La maggior parte di noi ha conosciuto Kaley Cuoco grazie alla celebre serie tv The Big Bang Theory, amandola fin dal primo istante. In realtà i veterani dei telefilm conoscono l'attrice sin dai tempi di Streghe, ma è stato in effetti proprio con la sitcom che ha espresso il meglio di sé.
Kaley Cuoco è nata il 30 novembre 1985 e la sua carriera da attrice è iniziata nel 1992. Nel 2002 ha inoltre ottenuto un ruolo da protagonista nella comedy 8 semplici regole, trampolino di lancio per ruoli sempre più importanti sia nel mondo del cinema che nella televisione.
Ciò che tutti non sanno è che la bellissima Kaley Cuoco non è soltanto un'attrice talentuosa, ma anche un'amante degli animali. Il suo profilo Instagram è infatti invaso dalle foto dei suoi amici a quattro zampe, e non perde occasione per ripetere ai suoi fan il celebre hashtag #adoptdontshop. È infatti contraria alla compravendita di animali ed è una fervida sostenitrice delle adozioni.
Visualizza questo post su Instagram
Kaley Cuoco è inoltre un'appassionata di equitazione. Non molti sanno però che proprio questa sua passione ha rischiato di farle perdere una gamba.
L'attrice ha spiegato che l'incidente è avvenuto proprio durante una lezione di equitazione, nel 2010. Non soltanto è caduta da cavallo ma, per di più, l'animale le è anche atterrato sulla gamba, spezzandogliela. Kaley ha affermato a tal proposito: "Pensavo fossero le foglie, invece erano le mie ossa"
Kaley Cuoco ha dunque dovuto trascorrere alcune settimane in ospedale, dove le hanno inserito delle placche metalliche nelle ossa. L'attrice ha dichiarato che a un certo punto i medici hanno dovuto anche prendere in considerazione l'idea di amputarle il piede destro:
Il dottore mi ha detto che a un certo punto stavano pensando che ci fosse una forte infezione in corso. Ho iniziato a credere che il mio piede fosse andato. Dovevano dirmelo, perché stavano per sottopormi a un intervento d'urgenza e c'era la possibilità che ne uscissi con un piede in meno.
L'incidente dell'attrice l'ha tenuta lontana dal set di The Big Bang Theory per due episodi, poi gli sceneggiatori hanno deciso di far tornare Penny in scena. Inizialmente si pensava a una giustificazione plausibile alla gamba rotta, ma poi si è deciso di nasconderla.
Non ne parleranno nello show, e non mi opporrò. Sono rimasta sconvolta. Pensavo che non l'avremmo nascosto, invece hanno iniziato a nascondermi come quando una attrice è incinta. […] Penny verrà messa dietro il bancone, farà la barista.
Fortunatamente tutto è bene quel che finisce bene. Nonostante la paura di perdere una gamba, Kaley Cuoco è subito tornata all'azione una volta uscita dall'ospedale.
Nel 2011 ha infatti condotto la cerimonia di premiazione dei Teen Choice Awards, mentre nel 2012 e nel 2013 è stata la conduttrice dei People's Choice Awards. Sempre nel 2013 è stata inoltre inserita al secondo posto tra le attrici più pagate della tv, con uno stipendio di circa 11 milioni di dollari.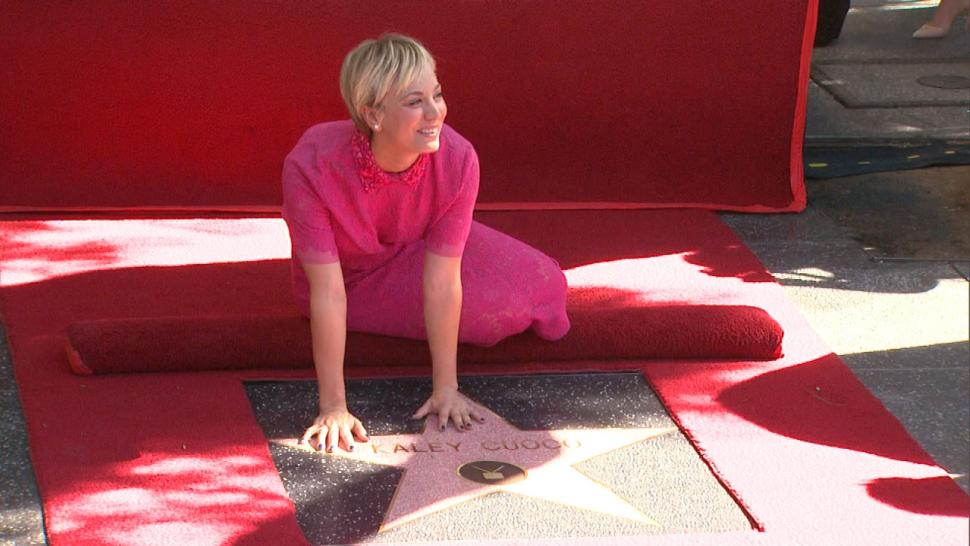 Successivamente, nel 2014, il suo contratto per The Big Bang Theory ha avuto una sostanziosa modifica e la bella Kaley Cuoco è arrivata a percepire uno stipendio di un milione di dollari per episodio. La cifra stratosferica ha fatto divenire lei e i suoi colleghi Johnny Galecki (Leonard) e Jim Parsons (Sheldon) gli attori di serie tv più pagati di sempre.
Se il 2010 è stato un anno sfortunato per la nostra bella Penny, possiamo affermare con certezza che il 2014 è stato invece un successo. Quello stesso anno, infatti, Kaley Cuoco ha anche ricevuto una stella sull'ambita Hollywood Walk of Fame!
È stato senza dubbio un bello spavento e quell'anno la vita di Kaley sarebbe potuta cambiare per sempre. Fortunatamente tutto si è risolto per il meglio e noi continuiamo ancora oggi a vedere una Penny in tutto il suo splendore e una Kaley Cuoco che ama gli animali anche più di prima.