Nei giorni scorsi siamo stati colpiti da un'onda anomala di cancellazioni. Delle Serie Tv andate incontro a questo triste destino non tutte lo meritavano davvero. Soprattutto, non tutte queste cancellazioni sono state mosse intelligenti. Prendiamo ad esempio la decisione della CW di cancellare Wayward Sisters. La Serie, nata come potenziale spin-off di Supernatural, avrebbe avuto come protagoniste delle vecchie conoscenze della Serie madre: lo sceriffo Jody Mills (Kim Rhodes), l'amica Donna Hanscum (Briana Buckmaster), Claire Novak (Kathryn Newton), Alex Jones (Katherine Ramdeen) e due new entry, Patience Turner (Clark Backo) e Kaia Nieves (Yadira Guevara-Prip) con relativa doppelgänger.
Questa decisione, come dicevamo, non è stata né giusta né delle più intelligenti e ora, mettendo da parte i deliri da fan delusa, vi dimostrerò perché.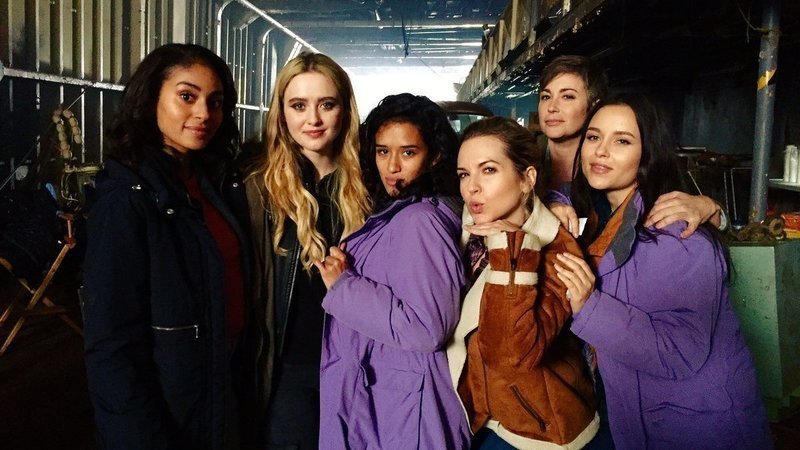 Wayward Sisters aveva ottime potenzialità per diventare una Serie Tv davvero buona. Come sappiamo parte da un mondo già ben strutturato, ma avrebbe potuto differenziarsi dalla Serie madre grazie all'introduzione di tutt'altro genere di mostri e del mondo da cui questi provengono.
Ci sarebbe stato quindi lo sviluppo di una trama completamente nuova, senza per questo dover rinunciare al legame con Supernatural: tra le due Serie infatti, come aveva rivelato Andrew Dabb, era prevista una serie di contaminazioni, di momenti in cui sarebbero entrate in contatto più o meno apertamente:
"We want to cross-pollinate the two shows as much as we can. Sometimes that will be with higher-profile characters: Sam and Dean, Castiel. Sometimes that would be with other characters"

"Vogliamo far compenetrare le due Serie il più possibile. Alle volte lo faremo tramite personaggi di alto profilo: Sam e Dean, Castiel. Altre volte con altri personaggi"
Inoltre sarebbe stato interessante vedere l'evoluzione e maturazione dei personaggi di questa Serie. Infatti sono tutti già molto ben caratterizzati in Supernatural, specialmente le più giovani fra le protagoniste. Molto interessante sarebbe stato anche vedere come il rapporto tra queste si sarebbe evoluto. Già dal pilot infatti vediamo che le relazioni non sono idilliache fra tutte, in particolar modo quelle tra Claire, la ribelle del gruppo, e le altre donne. Le tensioni da risolvere non sarebbero mancate, e ci sarebbe stato anche da assestare gli equilibri dopo l'arrivo di Patience nel gruppo.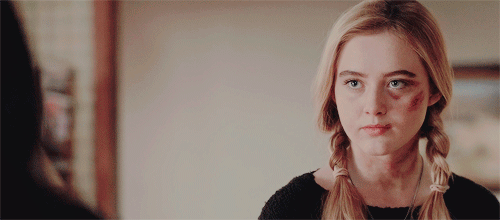 Un altro aspetto importante di questa Serie Tv sarebbe stato quello di avere delle donne forti come protagoniste.
Supernatural ha una lunga tradizione di personaggi femminili forti, sia che questi siano personaggi ricorrenti sia che si tratti di protagoniste secondarie di episodi singoli. In Wayward Sisters avremmo avuto una grande dimostrazione di girl power: un gruppo di donne toste e indipendenti in missione per salvare il mondo.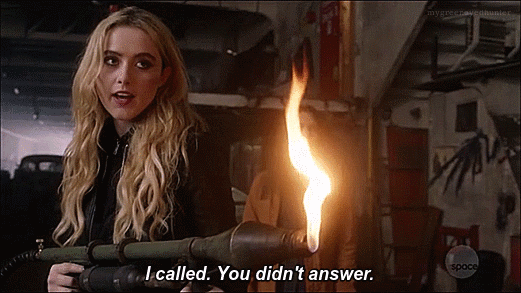 Inoltre, il motivo per cui questa cancellazione non è stata una mossa intelligente è questo: sarebbe stato un successo assicurato.
Wayward Sisters infatti avrebbe avuto a disposizione una fan base considerevole già pronta, ovvero il fandom di Supernatural. Il pubblico è già affezionato a questi personaggi e lo dimostra il fatto che ancor prima che il pilot (la 13×10 di Supernatural) andasse in onda, l'hype era già alle stelle. Tutt'altra storia rispetto a ciò che accadde con altri spin-off di Supernatural (Ghostfacers a parte) mai partiti proprio perché non sono piaciuti abbastanza ai fan della Serie.
L'entusiasmo era grande, ed è per questo che la notizia della cancellazione, giunta totalmente inaspettata, ha creato tanto sconcerto. L'idea non è andata giù al fandom, che si è subito organizzato con l'hashtag #SaveWaywardSisters (utilizzato tra l'altro anche dal cast di Supernatural). Addirittura è stata lanciata una petizione, nella speranza che la CW cambi idea o che un'altra emittente decida di ascoltare le proteste e produrre la Serie.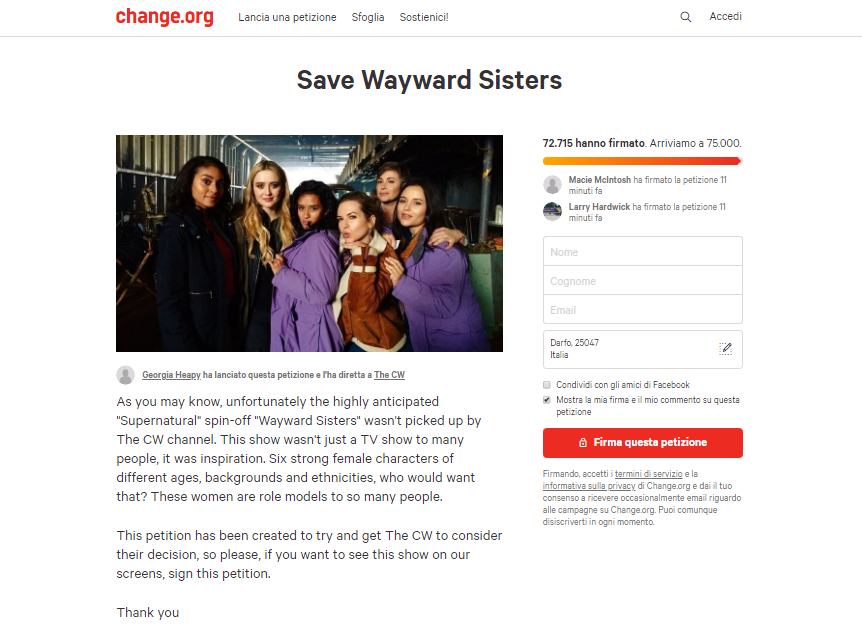 La lotta per salvare Wayward Sisters è iniziata. Questa promettente Serie Tv merita almeno una possibilità di dimostrare di che pasta è fatta; a noi non resta che continuare a farci sentire.
#SaveWaywardSisters