I am Moon Knight. The bearer of the mantle of Khonshu. Khonshu the justice bringer. I am vengeance.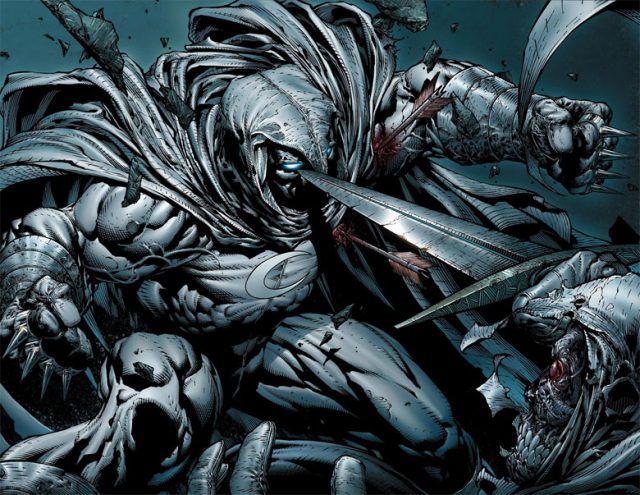 Negli anni si è assistito al proliferarsi di Serie Tv con protagonisti i supereroi Marvel.
Sulla spinta del prodotto cinematografico, La Casa delle Idee ha dapprima ampliato le maglie del proprio universo con Agents of S.H.I.E.L.D., proseguendo poi con i successi targati Netflix. Ora l'MCU si prepara al lancio di The Defenders, a cui faranno seguito The Punisher e il nuovo titolo Inhumans.
Parallelamente anche la sinergia con Fox è sbocciata. Oltre a Legion, Serie Tv stilisticamente unica, siamo in attesa per The Gifted, show legato alle pellicole con protagonisti gli X-Men (clicca qua per vedere il trailer).
A fronte dei numeri, ecco dunque che Marvel Television è sempre più intenzionata a investire sul prodotto seriale.
FINO A QUI TUTTO BENE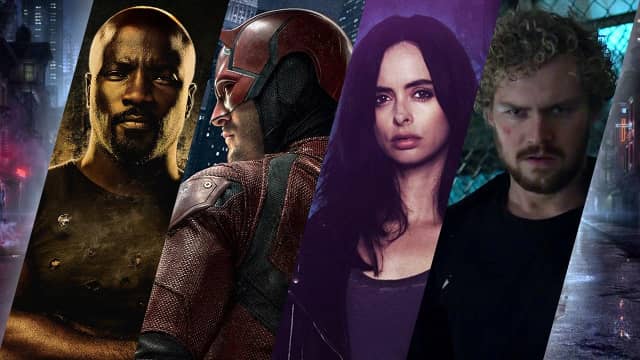 Spie, vigilantes, inumani, mutanti. È questo il ventaglio di personaggi che fino a qui hanno fatto capolino sul piccolo schermo, costantemente sostenuti da produzioni di notevole livello.
Difficile immaginare, in generale, un risultato finale migliore rispetto a quanto visto. Eppure sembra inevitabile quel momento in cui si dovrà tentare d'intraprendere strade inesplorate e…
… dare al pubblico qualcosa di nuovo
Lapalissiano, direte voi. Ma non così scontato.
La diversità può assumere forme eterogenee e inaspettate. Da questo punto di vista Marvel ha sorpreso tutti annunciando la sua prima comedy, New Warriors: Freeform. Un taglio insolito rispetto alle Serie Tv con protagonisti i supereroi a cui siamo abituati. Qualcosa di mai visto, che potrebbe far avvicinare quella fetta di pubblico ancora distante (perché alla fine sempre di business parliamo).
Un'ulteriore riflessione
In casa Marvel è risaputo che, al di là del fandom, c'è un folto numero di spettatori che si tiene alla larga dai loro show. Alla base di questa "scelta di vita", la convinzione circa la pochezza di contenuti a scapito di un lato action sin troppo dominante.
Agli "scettici" potremmo rispondere che Serie Tv quali Daredevil e Jessica Jones non si limitano allo scenario dello scontro urbano, anzi. I supereroi sono figure che affrontano quotidianamente le proprie paure, emergendo dalle difficoltà prima di tutto come essere umani. Altri prodotti invece, come Legion, ci hanno condotto per mano in un profondo mondo onirico, a vivere un'esperienza come poche altre.
Ecco allora che la formula vincente per un prodotto seriale sui supereroi "definitivo" è composta da una storia umana importante, un personaggio in costante evoluzione e una produzione capace di stupire, sfruttando al meglio le peculiarità del protagonista.
Ciò che a oggi ha funzionato è l'avere come nucleo centrale un protagonista tragico.
Un volto capace di bucare lo schermo non soltanto a suon di pugni. Un eroe esaltato da una cura stilistica che ne esprima a pieno il potenziale. E forse, concedere visibilità a personaggi meno noti, di nicchia, è la mossa vincente che permette di avvicinarsi all'eccellenza.
PIÙ PAZZO DI DEADPOOL, PIÙ BADASS DI THE PUNISHER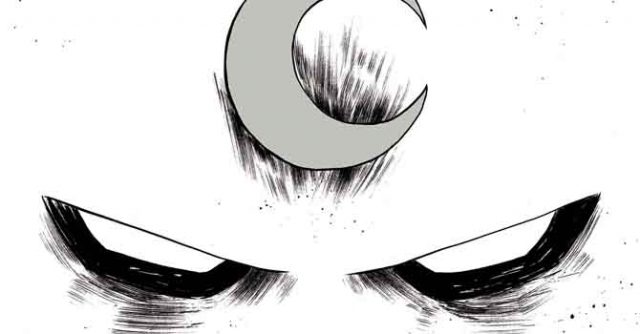 I'm a ghost now… A spectre of the moon… the moon's knight of vengeance ― and I got work to do. ― Marc Spector
Un protagonista e un contesto capaci di premere con forza sull'emozioni dell'addicted. Una visione del supereroe ancora inesplorata.
The Punisher arriverà a novembre, proponendosi come la concretizzazione di quanto detto fin qui. Una Serie Tv ancor più dark e destabilizzante di Jessica Jones. Questo è quello che ci aspettiamo. 
Eppure c'è un nome che aleggia da tempo tra gli uffici e le scrivanie dei Marvel Studios, pronto per essere trasportato sullo schermo e che farebbe sicuramente al caso nostro. E quel nome risponde a Marc Spector, meglio conosciuto come Moon Knight.
Le origini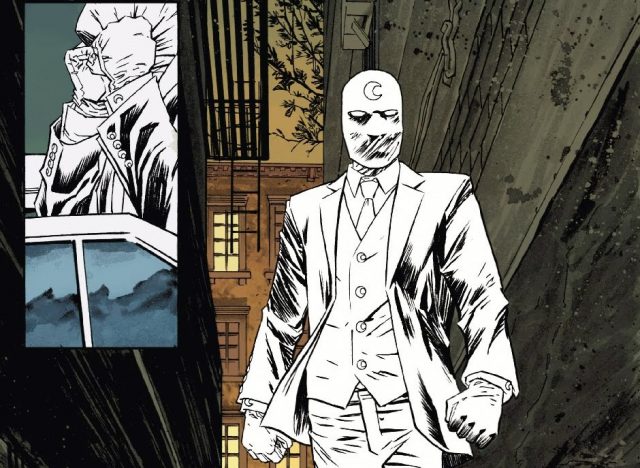 Now comes the part that really hurts. ― Marc Spector
Moon Knight non è un supereroe qualunque. Non è neppure una graphic novel qualunque. È l'estremo, il lato più oscuro del vigilante, la bellezza stessa della violenza. Una storia in cui vengono a fondersi uomo e  sovrannaturale, quest'ultimo aspetto ancora inesplorato in campo seriale.
Pugile, marine, spia, assassino. Marc Spector è morto e tornato in vita. Ucciso dal suo amico Raoul Bushman durante una missione in Egitto, risorgerà per volontà del Dio Khonshu, Signore della Luna e Dio della Vendetta, il quale gli apparirà chiedendogli di divenire lui stesso un Dio guerriero sulla Terra. Di ritorno negli States con la statua di Khonshu, Spector investirà le risorse accumulate nel corso della sua esperienza egiziana dando il via alla propria personalissima opera di giustizia.
Moon Knight: quarta serie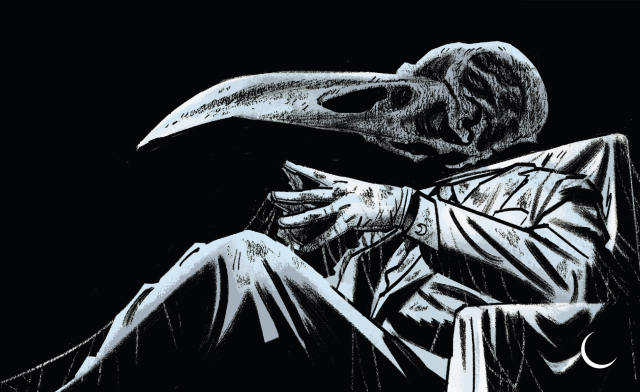 Listen. Where you're going? Tell your friends. Tell everyone you meet. You tell them all. When you see me coming? Run. ― Marc Spector
La versione a firma Charlie Huston e David Finch di Moon Knight è un quadro distorto e angosciante. Dimensione perfetta da essere proposta in una Serie Tv.
Questo Marc Spector è un uomo distrutto, corroso dalla depressione. Le sue ginocchia sono state spezzate. La sua donna l'ha abbandonato.
Tra antidolorifici e psicofarmaci, rabbia, odio e sete di vendetta vengono alimentate da una visione persecutrice del Dio Khonshu che, conducendolo alla schizofrenia, lo spinge alla violenza e al massacro. Un uomo che non conosce alcuna morale, capace persino di strappare via la faccia al suo nemico.
Un individuo talmente fuori controllo che negli eventi di Civil War, Captain America gli dirà di non volerlo al suo fianco, preferendogli Frank Castle, mentre Tony Stark cercherà di renderlo inoffensivo, senza sortire effetto. E se questo non bastasse nell'Universo Ultimate ci viene presentato uno Spector affetto da personalità multipla. Tanto per rendere il personaggio ancor meno gestibile.
Il supereroe
Speaking of the real Daredevil, I could use him right about now ― and I hope he brings Thor, Wolverine, and the Hulk with him. ― Marc Spector
Moony ha un background enorme: esperto in vari stili di combattimento, dotato di capacità fisiche sopra la media.
Ma soprattutto è ontologicamente legato alla luna e questo è tanta roba se pensiamo alle nostre Serie Tv Marvel preferite e a tutto ciò che succede dopo il calar del sole.
Di notte Spector sviluppa un fattore rigenerante che si amplifica quando nel cielo risplende la luna piena. I suoi poteri sovrannaturali lo rendono immune a molti veleni, droghe e tossine, oltre che donargli l'invisibilità nell'oscurità. L'influenza divina che lo protegge ne aumenta le abilità a livelli sovrumani, mentre le sue deviate personalità lo proteggono da telepatia e attacchi psichici.
Insomma, what else?
Oltre a questo dispone di gadget e di un arsenale come mai visti nell'universo seriale dei supereroi. Armi di svariata natura: dai bastoni agli shuriken, un mantello che può fungere da deltaplano, una corazza che nel corso delle sue avventure è stata persino in adamantio. Se aggiungiamo mezzi quali il Mooncopter e l'Angelwing, ecco che la voglia di vederne una produzione Netflix cresce a dismisura.
Bene/male
Sorry Marlene. This time I have to go with the voices in my head. ― Marc Spector
Per ogni supereroe che si rispetti c'è una crew a fargli da seguito e una nemesi da contrastare. La storia di Marc Spector è segnata da rapporti personali travagliati.
Marlene, la donna della sua vita, sarà costretta ad abbandonarlo a causa della sua ossessione per la lotta al crimine. Oltre a lei scopriremo di più sul migliore amico del protagonista, il pilota Jean-Paul DuChamp.
Raoul Bushman è senza ombra di dubbio il villain numero uno. Tuttavia Moony ha affrontato numerosi volti del crimine, come Kingpin ad esempio. A volte è stato lui stesso a vestire i panni del cattivo, scontrandosi con altri supereroi, scatenando veri e propri conflitti senza quartiere.
Proprio il rapporto con gli altri volti di casa Marvel può essere qualcosa d'interessante, anche perché in passato Spector ha fatto parte dei Secret Avengers, dei Defenders e altri team-up.
MOON KNIGHT: PERCHÉ SÌ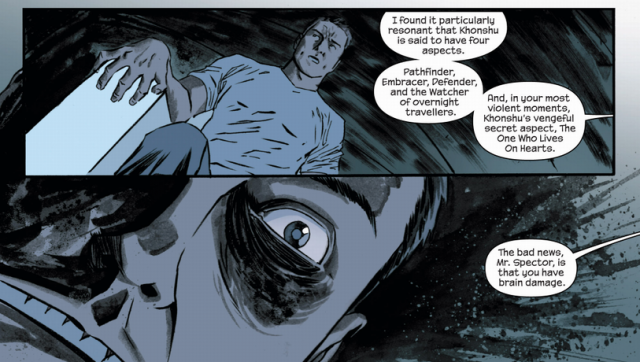 I am not insane! ― Marc Spector
Depressione, violenza, sesso, sovrannaturale. Una storia matura e adulta, avvolta in un alone d'oscuro intimismo. La possibilità di spingersi ad un livello superiore attraverso espedienti finora inutilizzati.
Questi sono i punti di forza che renderebbero Moon Knight un crac.
Mesi fa James Gunn, padre cinematografico della saga Guardians of  The Galaxy, ha parlato di un'idea per un film su Moony. Chiaro come Marvel abbia intenzione di puntare su questo giustiziere, se sul grande o piccolo schermo staremo a vedere. Di certo la proposta seriale permetterebbe una potente e mai vista analisi viscerale di un'entità umana unica all'interno de La Casa delle Idee. Un nome degno di uno standalone, ma anche capace d'incastonarsi nell'MCU interagendo sotto varie forme con i personaggi già introdotti.
Pericoloso come pochi. Instabile come nessuno. Con fascino e le sue tematiche, Moon Knight è il mezzo perfetto per far fare un ulteriore salto di qualità all'universo seriale Marvel e regalarci qualcosa di mai visto finora.