La terza stagione di The Fall, miniserie britannica diretta da Allan Cubitt, è alle porte. Scelta non così scontata nonostante le reazioni dei fan e alcuni punti interrogativi del finale.
The Fall resta un prodotto smaccatamente femminista, uno dei più spietati e crudi degli ultimi anni.
La società si spacca nella sua forma più arcaica: uomini e donne. Nettamente separati, ogni loro incontro genera necessariamente uno scontro. Una sola cosa sembra data per certa: la radice della violenza risiede nel gene Y.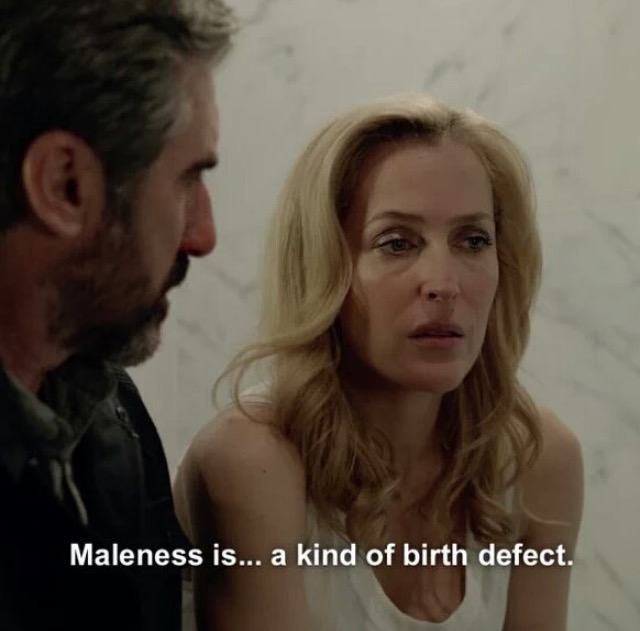 Si capisce sin da subito, dal primo vero dialogo che esterna quello che ogni donna pensa almeno una volta nella vita, più spesso almeno una volta al giorno: se fosse possibile una società senza uomini al comando, in cui il loro ruolo fosse relegato prettamente a quello della procreazione, allora sarebbe possibile una società in cui le parole "guerra", "violenza", "stupro" non esisterebbero nemmeno.
Punto.
Il concetto di base è racchiuso tutto qui dentro.
Stiamo parlando di un mondo in cui gli uomini temono le donne in quanto potrebbero ridere di loro, sminuendoli proprio nella virilità e le donne hanno paura degli uomini perché potrebbero ucciderle.
Tutti i personaggi maschili, poi, sono violenti e "sbagliati" a modo loro, mentre tutti i personaggi femminili sembrano essere varie declinazioni di uno stesso universo: abbiamo la bambina in preda ad incubi non suoi, l'adolescente che vuole sentirsi grande e pur di farlo finisce a giocare con il fuoco, la madre angosciata, la madre ordinaria, la lavoratrice… E poi c'è lei.
Stella Gibson.
Vero nodo centrale di tutta la serie.
Prototipo femminista post rivoluzionario 2.0, che sa che le donne, benché abbiano acquisito il diritto di votare e portare i pantaloni, rimangono un oggetto. Oggetto di desideri, frustrazioni, valvole di sfogo. E quando riescono a fuggire da questo circolo vizioso, diventano statuine da far cadere dal loro piedistallo, conquistato ingiustamente.
You try to give a value to what you've done, but it's just misogyny.
Si ribella a una concezione ancora primordiale della Donna-Oggetto, la bambolina che andava di moda nell'Ottocento e che ancora oggi eccita tutti i maschietti che, come Paul Spector, vorrebbero una ragazza qualsiasi a cui fare il bagno, mettere lo smalto e infine da posare.
Lì perché lui la possa guardare. Lì come lui l'aveva messa.
Composta, senza pretese, senza ribellioni, senza, udite-udite, arrivare ad esercitare un minimo potere.
The Fall arriva a suggerire in modo sottilmente sfacciato che nella profondità del loro animo, molti uomini possano addirittura desiderare di compiere ciò che il serial killer ha il coraggio, nonché l'insanità mentale, di mettere in atto.
Stella arriva esattamente al nocciolo della questione: la Donna-Soggetto dà, ancora oggi, molto fastidio. La donna che si permette di scopare un uomo è, nonostante tutti i paroloni e le buone intenzioni, ancora qualcuno da marchiare con una lettera scarlatta.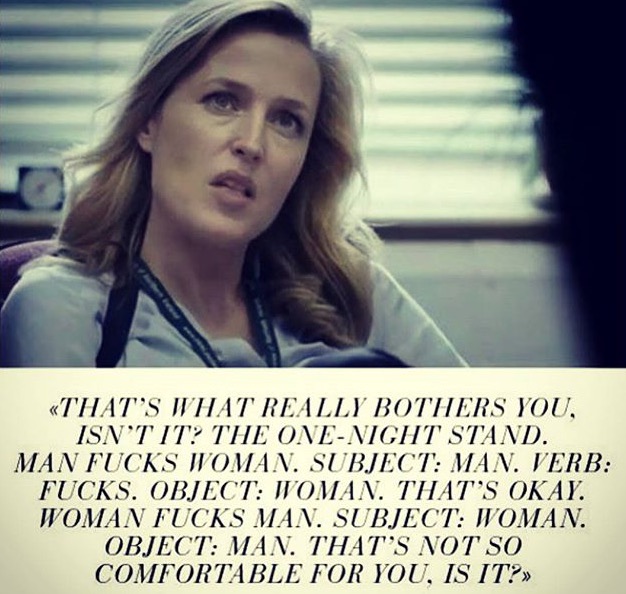 E allora, se è questo che vuole, ci si può permettere anche di insistere nonostante un no, nonostante più no, perché in fondo "se l'è andata a cercare", perché dopotutto "è quello che voleva". Stella paragona le attenzioni indesiderate e troppo spinte del collega ubriaco alla violenza del serial killer. Non c'è differenza, perché è sempre lo stesso modo di guardare le donne: con odio. Un mix di paura e odio.
Se la maschilità è una tara genetica e la Donna-Soggetto che si permette di portare a letto un proprio collega è ancora un tabù, Stella Gibson porta alle estreme conseguenze la quotidiana lotta all'emancipazione. È una battaglia dei sessi che si combatte seguendo delle regole, le sue.
È un personaggio che funziona perché è scomodo, ma soprattutto non ci viene giustificato il suo comportamento con i soliti paternalismi.
La verità è che la sovrintendente Gibson è una stronza. Senza mezzi termini, senza giri di parole. Leggermente maniacale, vagamente asettica, fredda e ai limiti della sociopatia. Uno di quei personaggi che la tradizione vorrebbe fossero il ritratto del serial killer.
E invece.
È un personaggio che ha la possibilità di ispirare e affascinare.
Il pubblico femminile finisce inesorabilmente nello sperare di avere la sua forza. Nonostante le numerose eroine degli schermi, una figura così diretta, così spietatamente realista senza retoriche e giustificazioni non era ancora arrivata.
Il pubblico maschile arriva invece, malgrado tutto, a desiderarla. Perché così funzionano le cose, perché così dice lei stessa. Nel potere di una donna che si permette di prevaricare un uomo c'è un fascino irresistibile: quello della sfida che sgomenta.
The Fall ci riporta con i piedi per terra, ricordandoci ciò che troppo spesso preferiamo ignorare: questo non è un Paese per donne, nonostante le rivoluzioni siano finite da un pezzo.