3) Eddard Stark – Game of Thrones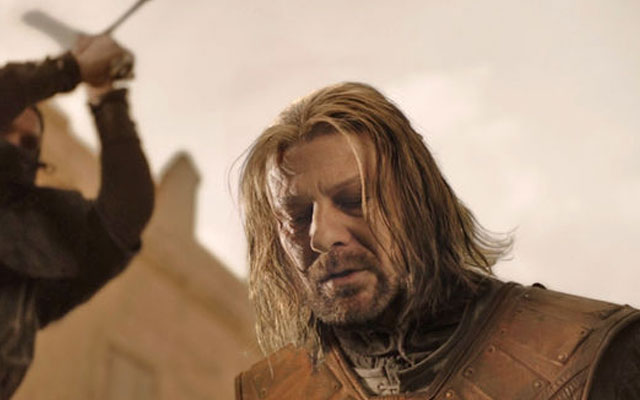 Ah, Sean Bean ed il suo vizietto di morire in ogni prodotto nel quale compare. Ovviamente anche Game of Thrones non fa eccezione.
Eddard Stark, patriarca della grande famiglia che regna al Nord, viene proposto allo spettatore come il vero protagonista della Serie per tutta la sua prima annata. Tuttavia la morte di Re Robert Baratheon (Mark Addy), e l'ascesa al trono del simpatico principe Joffrey (Jack Gleeson), porta il buon Ned ad essere accusato di tradimento prima, e ad essere decapitato dopo.
La morte di Ned è fondamentale per due motivi, il primo è che ha mostrato anche a noi "non lettori" che cosa potevamo aspettarci da Game of Thrones, ossia che OGNI personaggio è sacrificabile. In secondo luogo la scomparsa di Stark è il vero punto di partenza di questo grande show che abbiamo imparato ad amare ed odiare negli ultimi 7 anni.
Inoltre in tutte le sette stagioni lo spirito di Stark continua ad aleggiare nella Serie attraverso la voglia di rivalsa dei figli e delle figlie. Insomma.. hanno ammazzato Ned, Ned è vivo!