"La sigaretta è il tipo perfetto di un piacere perfetto. È squisita e lascia insoddisfatti. Che cosa si può volere di più?". Lo sosteneva, manco a dirlo, uno degli aforisti più produttivi della storia, Oscar Wilde, e chiunque fumi stenta a dargli torto. Tuttavia, il mondo si divide sempre in due fazioni, e nell'altra faccia della luna alberga una popolazione in aumento che prenderà la massima per una grande boiata. Diciamolo: per molti versi hanno ragione. In ogni caso, non sarà un non fumatore a convincerci di smettere, e ancor meno le immagini funeree con annesse frasi intimidatorie che riempiono da anni i pacchetti delle bionde maledette. Chiunque voglia farla finita deve affrontare un percorso personale che in poche circostanze è esempio produttivo per un altro, e si può al massimo trovar per strada un incentivo. Per esempio in una serie tv.
Non ci credete? Avete svariati ottimi motivi per essere diffidenti. La storia del cinema propone da sempre lo strabusato stereotipo del fumatore attraente, e il mondo seriale fa altrettanto. Ha messo una sigaretta in bocca ai tormentati Jax Teller e Don Draper, all'indipendente Carrie Bradshaw, al prevedibile Pablo Escobar e persino ad un improbabile papa in crisi d'identità. Potremmo andare avanti per ore, e arrivare sempre alla stessa conclusione: le serie tv danneggiano gravemente l'astinenza da fumo. Ma non è sempre vero. Perché in certi casi gli autori si sono prodigati in "campagne" antifumo molto interessanti, con risultati alterni. Una, su tutte, è riuscita laddove Friends e How I Met Your Mother avevano fallito. Stiamo parlando della sottovalutatissima The IT Crowd, capace di regalarci un episodio geniale ed estremamente efficace. Il miglior spot antifumo nella storia delle serie tv.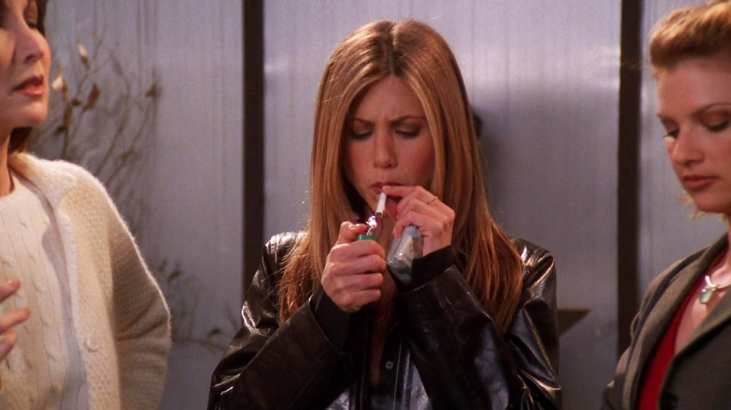 Perché è riuscita ad andare oltre? Mettiamo a confronto gli approcci differenti delle tre comedy. Friends, per esempio, ha mostrato un atteggiamento paternalistico che ha sortito un effetto negativo. Se si prende in esame il diciassettesimo episodio della terza stagione, The One Without The Ski Trip, il mattatore assoluto è Chandler, colpevole d'aver ripreso a fumare. L'escamotage comico è uno spunto per delineare meglio il personaggio, che racconta d'aver preso il vizio fin da quando aveva nove anni, nel momento in cui i genitori si sono separati (la scelta, non a caso, arriva, anche se non direttamente correlata, a seguito della fine della relazione tra Rachel e Ross). La reazione degli amici di una vita è dirompente e, seppur comprensibile, fuori dalle righe. Friends, sempre capace di anticipare i tempi e raccontare al meglio i sogni e le paure di un'intera generazione, ha adottato per una volta un linguaggio inefficace e poco empatico.
Se l'obiettivo era quello di evidenziare la negatività del fumo, è stato centrato. Ma invitare a smettere come avrebbe fatto un vecchio genitore bacchettone non è stata una grande idea. D'altro canto, il tema è stato ripreso con maggiori fortune due anni dopo nell'episodio The One Where Rachel Smokes (5×18). Nel secondo caso, infatti, Rachel inizia a fumare per mere opportunità lavorative e per stringere un legame più forte con una collega e la direttrice (fumatrici incallite), mettendo in evidenza la forza di una convenzione sociale efficace ed empatica. In una società che condannava ancora timidamente i fumatori, la scelta di Rachel, decisa a smettere dopo pochissimo tempo, è un atto di ribellione che apre i nostri occhi e ha offerto lo spunto ad How I Met Your Mother per affrontare il tema da un altro punto di vista, ancora più efficace.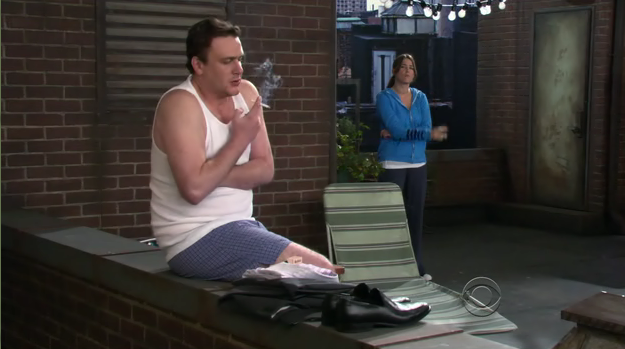 Quinta stagione, undicesima stagione: una delle serie tv più belle di sempre mette una sigaretta in bocca a tutti i protagonisti. Marshall, in particolare, attira la nostra attenzione: lui, come Rachel, riprende a fumare per stabilire un legame col capo, Arthur Hobbs, rimasto solo in un mondo nel quale nessuno, o quasi, ha più il terribile vizio. Anche in questo caso la funzione sociale ha una forza preponderante, e lo testimonia l'unione col quale i nostri cinque amici svelano pian piano di amare le bionde e decidono poi di farla finita tutti insieme. Marshall, Lily, Robin, Barney e Ted non sono altro che noi stessi, alle prese con le nostre stesse esperienze. Immedesimarsi è inevitabile, e si passa così dalla condanna genitoriale di Friends all'abbraccio fraterno di How I Met Your Mother, con una postilla fondamentale: prima o poi si deve smettere. Ogni tappa trova così il suo posto nel racconto (la prima e l'ultima sigaretta, la crisi d'astinenza e i tentativi falliti), e si legge un messaggio di fondo: arriverà un giorno in cui non ne avremo più bisogno (Ted, per esempio, smette poco dopo aver conosciuto Tracy). How I Met Your Mother è riuscita nell'intento? Forse sì, forse no, ma una cosa è certa: lascia spazio al rinvio del fatidico momento. A differenza di The IT Crowd.
La comedy inglese, infatti, vince su tutti con un racconto che abbatte una barriera (la più forte) che le altre avevano tenuto in piedi: la funzione sociale del fumo. Il terzo episodio della seconda stagione (Moss and the German) ridicolizza fortemente i fumatori con una satira grottesca ed estremamente efficace. Il fumo non è più un'occasione per socializzare, ma causa di ghettizzazione. I fumatori vengono presentati come esuli dell'Unione Sovietica ormai fuori dal tempo, e smettere diventa la naturale conseguenza di una Storia matura che non lascia più spazio ai viziosi, ormai rari. La narrazione è surreale ma, a modo suo, realistica, e ci pone una questione basilare, forse definitiva: senza una compagnia, cosa rimane del piacere del fumo, se non il vizio stesso? Ne vale davvero la pena? I fumatori potrebbero avere lo stesso atteggiamento di Chandler e di quello che sembra essere suo padre, Woody Allen: "Ho smesso di fumare. Vivrò una settimana di più e in quella settimana pioverà a dirotto". Oppure fermarsi per un secondo, dimenticare il sapore agrodolce di una paglia, mettere sulla bilancia i pro e i contro e prendere in considerazione l'idea di smettere come hanno fatto quasi tutti e lasciar perdere ogni "crociata". Perché in fondo è vero: la sigaretta è un piacere perfetto. Ma ne esistono tanti altri che danno molte più soddisfazioni.
Antonio Casu