Il seguente articolo contiene spoiler delle serie tv comedy: Scrubs, Superstore, Friends, The Office, How I Met Your Mother, After Life, Futurama e The Good Place.
Approcciandoci a una serie tv comedy ci aspettiamo di ridere, ma meno di quanto se lo aspettassero le persone vent'anni fa. Con il passare degli anni, questo genere ha abbandonato l'idea di affrontare solo tematiche leggere, diventando semplicemente un filtro attraverso il quale affrontare le stesse cose dei prodotti più drammatici. Ci sono voluti progetti ed esperimenti per arrivare a questa totale apertura verso il dolore e la tristezza, per cui oggi siamo qui per esaltarli.
Vogliamo parlare con voi di nove puntate che ci hanno dilaniato l'animo nelle serie tv comedy. Nove episodi che hanno dimostrato, ognuno a modo proprio, quanto il genere sia ancora sottovalutato e visto in un'ottica troppo schematica. Abbiamo pianto durante questi episodi e ne siamo felici, perché sono lacrime scaturite da emozioni reali e momenti che ricorderemo per sempre. Alla fine davanti a un prodotto vogliamo vivere e non esiste cosa più viva e vera del lasciarsi andare alle lacrime.
La bellezza di questi episodi, però, sta proprio nella loro unicità. Sono picchi emozionali arrivati dopo lunghe scalate. Tempeste di tristezza dopo giorni di quiete. Inaspettati la prima volta, incombenti nei vari rewatch dei prodotti. Che sia un bene o un male questo cambio di rotta dovrete dirlo voi, ma noi ne siamo stati ben più che lieti. Certo, magari se smettessero di calpestarci il cuore senza che ce l'aspettiamo vivremmo con più serenità. Ma non è forse quel brio che, come detto sopra, rende importanti anche i giorni di pace?
Il mio sconvolgimento (Scrubs: 3×14)
Per due stagioni e mezzo Scrubs è stata una comedy come tante altre: geniale, con momenti drammatici ma principalmente incentrata sul far ridere. È la terza stagione quella a sterzare di colpo verso una rotta ben più dolorosa e piena di lacrime. In particolare questo episodio, incentrato sulla morte di Ben e la lenta presa di coscienza di Perry davanti al lutto. Il fantasma del suo amico gli aleggia di fianco ingannando la sua mente e quella di noi spettatori, che osserviamo il mondo attraverso la percezione di Cox per una volta. Un viaggio inaspettato con una svolta di trama iconica.
La frase "Dove crede che siamo?", pronunciata da Dorian al suo mentore, è diventata un gruppo di quattro parole in grado di portare qualsiasi fan di Scrubs all'emozione. Dopo la prima visione la puntata migliora anche, dandoci la possibilità di notare tutti i piccoli indizi disseminati nella sua durata. Possiamo osservare quando avvengono gli eventi e come ci stessero avvisando in modo chiaro. Eppure venir trasportati dal cuore non permette di usare la testa al meglio, siamo rimasti ciechi davanti alla verità e un po' vorremmo esserlo ancora. Anche perché quella macchina fotografica gli stava proprio bene.
L'alternativa di Ross (Friends 2×08)
La relazione tra Ross e Rachel non è come tante altre. Loro sono il bozzolo dal quale sono nati i vari J.D. ed Elliot, Ted e Robin, Leonard e Penny. E alla presenza di Friends in questa lista potreste storcere il naso, non per la qualità della serie ma per il fatto che non sia mai stata così dolorosa nelle scelte. Era una serie tv comedy vecchio stampo, con idee all'avanguardia, ma molto ben lontana ai toni drammatici che si arrivano a toccare oggi con serie dello stesso genere. Eppure questo episodio merita una menzione.
Perché, un po' come Friends, basa la sua forza sull'andare controcorrente ed essere inaspettato. Dopo un tira e molla eterno Ross decide di fare il grande passo ma Rachel scopre la lista dei pro e contro, infuriandosi. La canzone "With or without you" messa alla radio sarebbe un perfetto punto di svolta, invece lei chiama per bloccare il tutto e raccontare di come Ross l'abbia delusa. È un mix di umorismo e tristezza che non ci saremmo mai aspettati, in grado di farci ragionare sui personaggi come mai fino ad allora. E siamo grati alla serie anche per questo.
Episodio 6 (After Life: 2×06)
Ammettiamo di star giocando facile: After Life è una dramedy a tutti gli effetti e i momenti in grado di portarci alle lacrime sono stati molteplici. Nulla, però, arriva ai livelli del suo secondo finale di stagione. La vita di Tony è un casino da tempo e non importa quanto ci provi, non riesce a ritrovare la felicità e spensieratezza di un tempo. Le sue battute vanno avanti, ma ogni volta si portano dietro sempre più pesantezza e dolore. Per questo la morte della sua unica ancora che lo teneva inchiodato alla realtà lo abbatte definitivamente.
L'uomo chiede spazio a tutti volendo affrontare il lutto da solo, di nuovo. Abbiamo un brutto presentimento e più le sue emozioni prendono il sopravvento, più noi tremiamo al solo pensiero. Vederlo con le pillole in mano ci ha dato un senso di impotenza insopportabile: non riuscire ad interromperlo mentre la sua cagnolona Brandy cerca di fermarlo. Tra la musica assordante e gli abbai che accelerano come il battito del cuore, il livello di stress emanato dalla serie è tale da portare chiunque alle lacrime per la tensione. Una tensione che, fortunatamente, si blocca al suono di un campanello che vuol dire pace
Cuore di cane (Futurama: 4×07)
Si scherza molto sul fatto che Futurama sia stata effettivamente scritta da persone provenienti dal futuro: questa serie tv comedy ha portato avanti concetti che ancora oggi sembrano semplicemente descrivere il nostro presente. Non tanto nella tecnologia e l'avanzamento dell'umanità, quanto nelle emozioni e la filosofia dietro la vita dei personaggi. Ed è anche riuscita a dilaniarci il cuore con questa puntata specifica. La fedeltà di Seymour a Fry, trovato come bastardino per strada e cresciuto con l'amore che solo quel protagonista poteva dargli, è lancilante.
Vedere un batuffolo impaurito e stanco, infreddolito e tremante ma in ferma ricerca del suo padrone è straziante. In attesa di una svolta, un cambiamento, un arrivo che noi spettatori sappiamo già non accadrà mai. È una rappresentazione diretta e chiara dei sentimenti che un animale può provare verso l'uomo. Una scrittura dolorosa per quanto comprensibile: chi non ha mai provato la sensazione o il timore di venire abbandonato?! Eppure Seymour ha fede, sa che Fry è un uomo buono e tornerà da lui. Sa meno degli spettatori, sfortunatamente più consapevoli della situazione e del suo futuro, ma emozionati dalla sua vana ricerca della felicità.
Quando sei pronto (The Good Place: 4×13)
Nessuna serie tv comedy aveva mai parlato dell'aldilà nello stesso modo in cui fa The Good Place. L'idea di mostrare la vita dopo la morte attraverso una lente comedy che pian piano va sempre di più ad offuscarsi, portando alla luce sottotrame etiche e molto più profonde. L'idea di non meritare la propria destinazione, il poter cambiare il nostro futuro anche quando tutto sembra perduto. In quattro stagioni la serie ha preparato gli spettatori a dire addio ai personaggi, ma mai ci saremmo aspettati queste modalità.
Dopo una vita passata tra mondo reale ed aldilà, i protagonisti sono pronti a passare oltre e terminare la propria esistenza quando completamente in pace con tutto. Le implicazioni dietro alla scelta, legata e rappresentante delle loro evoluzioni nel corso della serie, sono veramente strazianti. Non per come accade: una camminata verso il vuoto più totale, ma perché non ci sentiamo pronti a dir loro addio. Il loro essere pronti è troppo presto per noi, un po' come Eleanor e Chidi, eppure non possiamo impedire che gli eventi si compiano. La nostra unica speranza è osservare quelle luci e aver fiducia di aiutare il prossimo quando ce ne sarà bisogno.
Goodbye, Michael (The Office: 7×22)
Michael è e rimarrà sempre il protagonista di The Office. Più volte nel corso della settima stagione i fan vengono preparati a quello che sarà il suo addio alla serie e al posto di lavoro. Si pensa che questa preparazione riesca ad alleviare la tristezza diluendola nel corso dei vari episodi, eppure moltiplica solo il tutto per l'intera durata. È una spirale discendente dalla quale non riesci a femarti, come uno scivolo sul quale non riesci a fare attrito. E l'evoluzione di Michael nel corso delle stagioni rende il tutto infinitamente più doloroso.
The Office è una delle serie tv comedy più iconiche della sua generazione anche per la chiusura di questo arco narrativo, in una puntata nella quale non mancano piccole gag con tono amaro e scelte in completa linea col personaggio come l'andarsene un giorno prima di quanto annunciato. L'ultimo saluto con Jim, tra tante cose non dette e altre trasmesse solo con gli occhi, a Pam che lo rincorre in aeroporto per non perdere l'occasione di salutarlo un'ultima volta. Un addio silenzioso, meno di quanto avrebbe voluto ma più di quanto ci saremmo aspettati.
Pessime notizie (How I Met Your Mother 6×13)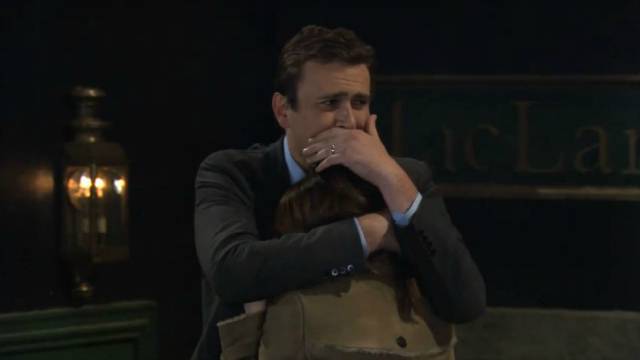 Chi poteva immaginare che in una serie incentrata sull'incontrare l'amore della propria vita, in una guerra contro il tempo, questo sarebbe diventato soggetto del sentimento opposto. Tempo che viene scandito da un conto alla rovescia in attesa della morte, pronto a lasciarti nella solitudine. How I Met Your Mother ha sempre avuto un suo tipo di ironia per queste cose, a volte fin troppo cattiva con i fan che nella ricerca dell'amore hanno trovato dolore a ripetizione. I numeri che lentamente appaiono a schermo in questa puntata, in attesa di dare la notizia del lutto a Marshall, diventano evidenti dopo la prima visione.
Uno dei tanti esempi di dolore inaspettato e straziante che ha rotto il cuore dei fan e li ha lasciati senza parole. Perché le serie tv comedy non sono più solo risate e leggerezza, ma un modo diverso di affrontare i drammi della vita. Mai nel mondo reale affrontare i problemi con leggerezza li ha resi meno dolorosi, per cui perché ci aspettiamo che questo succeda nei prodotti televisivi? Anche perché di fronte a certe notizie, non importa come ti sei preparato, crollerai comunque.
La giornata dei dipendenti (Superstore: 4×22)
Superstore è uno dei più sottovalutati esempi di critica sociale contemporanea nel mondo delle serie tv comedy. Il luogo di lavoro, i suoi personaggi, le storie raccontate, il tutto ambientato nel periodo della presidenza di Trump, con problemi e criticità inclusi. Come il personaggio di Mateo, immigrato clandestino che deve essere arrestato perché non ha un visto per rimanere. I suoi colleghi e amici si impegnano per tutto l'episodio per nasconderlo e proteggerlo, temendo per la sua sorte se mai venisse catturato. Eppure il tono scanzonato della serie non ci evita una scena straziante.
Lentamente, poco alla volta, i personaggi comprendono l'impossibilità di portare avanti questa situazione e si devono arrendere alle forze dell'ordine. Quel che appare come un normale arresto vale molto di più. Mostra come un personaggio che abbiamo imparato a conoscere ed amare, in quel momento sia visto solo per la sua nazionalità e cittadinanza. Davanti alla legge sono tutti un numero, soprattutto quando quel numero ha una storia da raccontare che non bisogna far sapere. L'episodio è realistico, troppo, ma è con puntate come quelle che abbiamo imparato ad amare Superstore.
Il mio pranzo (Scrubs: 5×20)
Abbiamo iniziato con Scrubs, sembra quasi poetico concludersi con lei. Come vi abbiamo detto, il tono più leggero delle prime stagioni sfocia in sempre maggior drammaticità man mano che si va avanti, per poi esplodere nel ventesimo episodio della quinta stagione. Dopo lunghi tira e molla emotivi, alti e bassi per tutti i personaggi tra cui, soprattutto, Perry. Per un errore di calcolo i tre pazienti a cui l'uomo dà il lasciapassare per i trapianti, vengono contagiati dalla Rabbia e iniziano a morire davanti ai suoi occhi. Il crollo emotivo è devastante, ingiusto e troppo reale. Nessuno sa come reagire ad una situazione del genere.
Perfino la corazza dura di Perry crolla, accettando l'aiuto e il conforto di J.D. solo per essere riportato al mondo reale e dover affrontare l'ennesima morte per il suo errore. L'uomo esplode in uno sfogo di tristezza e furia, distruggendo i macchinari e lasciando tutti senza parole. Per poi chiudersi su sé stesso, in uno stato depressivo che potrebbe portare al suo ritiro dalla carriera. Uno dei momenti più strazianti da guardare sotto ogni punto di vista. Una puntata che non dimenticheremo mai, forse è un bene, forse una croce.