Che Martin Freeman sia nel suo periodo d'oro come attore direi che è più che palese. Ormai sembra essere, se non proprio onnipresente, quantomeno molto richiesto, tanto che lo stesso Benedict Cumberbatch l'ha più volte scherzosamente rimproverato perché non ha tempo per andare alle convention di Sherlock o per fare una telefonata.
Questo la dice lunga sugli impegni che la sua – quasi – improvvisa ribalta gli ha procurato, impegni lavorativi anche molto gratificanti: è da poco entrato nel cast della Marvel, apparendo in Capitan America: Civil War nel ruolo di Everett Ross, ruolo che, a giudicare dal trailer, ha ripreso anche in Black Panther, in uscita nel 2018.
Ma la carriera di Martin Freeman è iniziata molto prima che interpretasse il dottor John Watson nell'adattamento televisivo di Sherlock Holmes prodotto dalla BBC e l'hobbit Bilbo Baggins nella trilogia de Lo Hobbit, prequel de Il signore degli anelli. Infatti i primi ruoli di Freeman risalgono a quando l'attore aveva solo 15 anni e sono in ambito teatrale. All'inizio pare lo facesse come hobby, perché è stato verso i 17 anni che ha deciso di intraprendere la carriera di attore.
È però solo a 26 anni che debutta nelle Serie Tv, partecipando a un episodio di The Bill. Da allora, come sappiamo, non solo non si è più fermato ma, a differenza di molti colleghi, non ha mai tradito il piccolo schermo, pur lavorando anche per il cinema.
1) THE BILL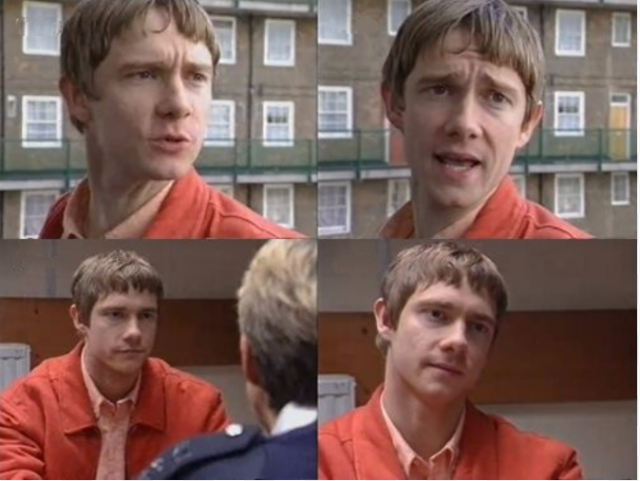 È un procedural inglese andato in onda sull'ITV dal 1984 al 2010. Già, agli inglesi deve piacere proprio tanto la lunga serialità, specie se pensiamo che la punta di diamante della BBC, ovvero Doctor Who, va in onda, sia pure con qualche battuta d'arresto, da 54 anni.
Tornando a The Bill, è il secondo procedural più lungo della storia della televisione inglese e ha avuto, negli anni, anche altre guest star d'eccezione, come Keira Knightley, James McAvoy, Hugh Laurie, David Tennant e Sean Bean (che sarà sicuramente morto, come sempre!)
Martin Freeman compare nella tredicesima stagione, nell'episodio 3, Man Trap, e interpreta un ragazzo di nome Craig Parnell.