A Gilead, tomba dell'amore in The Handmaid's Tale, non è concesso amare. L'amore è un sentimento rivolto solo verso Dio, e troppo venato di soggezione e paura per essere definito tale. L'amore è qualcosa che, insieme a tutto il resto, è stato strappato alle ancelle, alle mogli, ai comandanti, alle Marte e a tutti coloro che dimorano nella terra di Dio.
Il dovere prende il posto del sentimento, la durezza il posto della gentilezza. Persino il genere di amore più puro e incontrollabile, quello di una madre per suo figlio, viene represso in nome di un'utopistica e distopica "utilità" delle ancelle.
Per June, l'amore è un sentimento sempre presente. Fin dalla prima stagione ha ricercato ossessivamente qualcosa che la tenesse ancorata alla normalità. Il ricordo del marito, della figlia, della sua vita normale. Quei flashback strazianti che ora, nella terza stagione, si fanno sempre più rari. Sta scomparendo il ricordo, ma rimane la sensazione di una ferita che pulsa.
Cosa direste all'amore della vostra vita, se poteste sentirlo per due minuti, sorvegliata a vista dai vostri carnefici?
Cosa gli direste, dopo avergli detto che deve cedere a uno sporco e ignobile accordo? Quali parole aggiungereste per riempire quei preziosi, eterni eppure fugaci, secondi di intimità?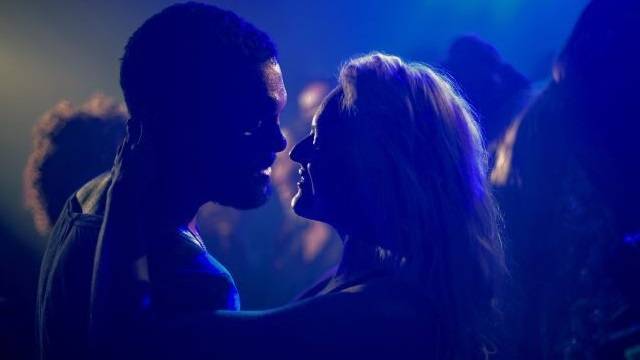 Nella quinta puntata della terza stagione di The Handmaid's Tale, June corona il sogno di una vita. Sentire il suo amato marito Luke al telefono, dopo anni di silenzio. Dopo averlo visto in un video postato sui social, felice a una manifestazione con la sua bambina. La piccola, frutto del suo grembo e dell'amore di lei e un altro uomo, che June gli ha affidato tramite Emily e che lui sta crescendo.
La felicità lascia spazio e una disperazione senza fine. Due minuti sono e saranno sempre troppo pochi, per dire a qualcuno che lo ami. Ma lei deve farseli bastare. Non deve far arretrare il suo animo di un solo passo, deve mantenersi lucida ed efficace, anche mentre sta parlando al suo amore dopo anni di silenzio. Non deve cedere.
Nolite te bastardes carborundorum.
June non cede. Con cinica efficienza e il cuore pieno d'amore, riesce ad arginare la rottura e a svolgere il suo compito. Non una lacrima riga il suo viso, mentre dice a suo marito quanto lo ama. Quanto le manca, e che va tutto bene. Dolce eppure amara bugia, ma necessaria.
I bastardi non devono vederla cedere. Non devono nutrirsi della sua disperazione, non questa volta. Questi sono i due minuti più brevi eppure più eterni di tutta The Handmaid's Tale. Come un ufficiale, June porta a termine il suo compito, e recapita il messaggio.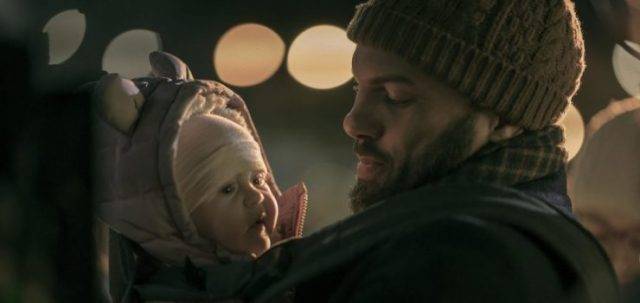 In quel semplice "ti amo" è racchiusa tutta l'essenza della resistenza. Tutto il potere rivoluzionario di The Handmaid's Tale, e la sua poetica. In un posto come Gilead, dove chi ama viene braccato come un animale, dire ti amo ha il potere di uno sparo dritto in fronte. Questa volta, dritto in fronte ai carnefici.
Più tardi, June sarà sola, e potrà finalmente rompere quella sensazione di paura e coercizione che ha pervaso quei preziosi due minuti. Incidendo di nascosto quel nastro, June si confida a cuore aperto a suo marito. Nichole si chiama in realtà Holly, e non è frutto di uno stupro, è nata dall'amore di due persone. "Ho fatto quello che dovevo per sopravvivere. Dovresti farlo anche tu. Avrai sempre il mio amore, ma capirò se non sarà abbastanza. Sto cercando di tornare da te. Ti amo."
Quanto immensamente bisogna amare qualcuno, per lasciarlo andare?
June, in cuor suo, comincia a capire. L'impresa di uscire da Gilead come trionfatrice esigerà la sua vita. Ma la sua morte, anche ora che si tratta di una non vita, non può segnare anche la morte del suo amore. E quindi vivi, Luke. Innamorati, se ne sentirai il bisogno. Ama Nichole, chiamala Holly se vuoi. Sogna il momento in cui tornerò da te, ma non perderti in quell'illusione.
Il potere di dire ti amo, in The Handmaid's Tale, va di pari passo con l'inevitabile necessità di lasciar andare. Le parole di un sentimento totalizzante, anche claustrofobico, come l'amore diventano un inno, un'implorazione, alla libertà.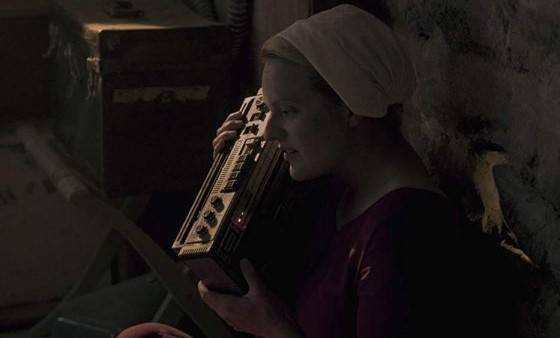 Il tema di lasciare libero chi ami torna prepotente a schiaffeggiare lo spettatore in The Handmaid's Tale. Serena libera la piccola Nichole dal giogo di Gilead, June si separa dalla bambina per amore della sua figlia maggiore. Ora June assolve preventivamente il marito dal peccato della vita. La forza del carattere di queste due donne, e l'immensità del loro amore, si misura come in un'arena malsana.
Vincerà chi, pur nelle avversità più inimmaginabili, resisterà e terrà fede al proposito di amore. Una vittoria che, nella terra ormai abbandonata da Dio di Gilead, potrebbe avere un sapore più amaro che mai.
Eppure, chi dice ti amo ha già vinto, e non avrà combattuto invano. La forza di queste semplici parole buca lo schermo e ci pugnala al cuore come il viso di June sul finale della puntata. Una donna arrabbiata, eppure più determinata che mai. Ecco il potere della resistenza. E non possiamo sfuggirgli.
È irresistibile, inarrestabile. Dolcissimo, eppure affilato come un rasoio. Come quelle due parole, come il coraggio che c'è dietro. Non abbiamo mai paura di dirlo, di gridarlo. Ti amo, Luke. Vi amo, Holly e Hannah.
Ti amo, libertà.