La storia del pensiero dell'umanità ci ha dimostrato come spesso all'uomo non basti conoscere la sua realtà, la terra che abita, il mondo di cui ha certezza e di cui fa esperienza ogni giorno. Da sempre filosofi, scrittori e pensatori si sono interrogati su cosa ci possa attendere dopo la morte. Se ci sia effettivamente qualcosa, se sia più una realtà come quella de "La Divina Commedia" dantesca che noi tutti conosciamo o se ci sia il nulla cosmico. Le serie tv, tra cui senza ombra di dubbio After Life, non sono da meno e hanno dimostrato di poter avanzare le loro proposte, di poter immaginare scenari originali raccontandoceli con toni diversi e prospettive inattese, muovendosi tra la satira, il dramma e la fantascienza.
Vi proponiamo la nostra classifica delle 5 migliori serie tv che trattano il tema dell'aldilà:
5) Good Omens
Tratta dall'omonimo libro di Neil Gaiman e Terry Pratchett – pubblicato in Italia come Buona Apocalisse a tutti! – Good Omens ha debuttato sulla piattaforma di Amazon Prime Video nel 2019. L'adattamento cinematografico si è rivelato, per molto tempo, una grande incognita data la scomparsa prematura di Terry Pratchett. Proprio nel rispetto della sua memoria, i sei episodi che compongono la serie, scritti da Gaiman, non hanno tradito lo spirito originale dell'opera, creandone una brillante trasposizione.
La storia ha inizio dalla fine: un Apocalisse da scongiurare. E a farsi carico di questa battaglia saranno due personaggi assolutamente antitetici eppure intenti a collaborare per salvare il pianeta Terra, su cui ormai abitano da millenni, dalle cattive intenzioni dell'Anticristo. Il cast è senz'altro un motivo valido per dare una possibilità a questa storia di coinvolgerci. Il demone Crowley (David Tennant) si gode i piaceri terrestri a cui ormai si è affezionato mentre Aziraphale (Michael Sheen) è un angelo, anche lui disposto a difendere la sua abitudinaria vita sulla Terra. Il feeling creatosi sul set tra i due attori ha permesso di aggiungere di certo un tocco in più a questa serie originale, fresca e interessante nella sua costruzione stilistico-formale. Le sue inquadrature accuratamente realizzate, i suoi risvolti non scontati e la sua capacità di riflettere senza schematismi e statiche dicotomie su concetti come quello del Bene e del Male, ha costituito un omaggio all'imperfezione umana. Non dimentichiamo, inoltre, che oltre alla coppia protagonista, altri importanti attori popolano lo scenario di questo piccolo capolavoro britannico. Tra questi, citiamo Jon Hamm e Benedict Cumberbatch.

4) Upload
Parliamo anche in questo caso di una serie del validissimo catalogo di Prime Video. Il creatore, Greg Daniels (The Simpsons e The Office), ha tutte le carte in regole affinché questa sua ultima creazione, Upload, meriti la nostra attenzione. Il tono scelto è quello della commedia mentre i suoi riferimenti sono quelli al genere di fantascienza. Siamo nel 2033, il progresso è inarrestabile e ormai la morte non è più un punto di non ritorno. Gli esseri umani possono "caricare" (di qui il nome della serie) la propria coscienza al momento della morte del proprio corpo in un aldilà digitale, un ambiente più o meno ideale. Aspetto non trascurabile è che a garantire o meno una vita ultraterrena confortevole sia proprio la disponibilità di denaro e quindi di un certo status economico.
Upload, contrariamente alle prime impressioni, non estromette riflessioni profonde, tra cui proprio l'asservimento alle logiche capitalistiche e la pressante influenza della ricchezza di ognuno. Ma soprattutto di come questa sia indispensabile anche in una vita virtuale che si costruisce proprio per questo su un precario equilibrio. Ed è in questo contesto che si collocano le vicende di Nathan (Robbie Amell), un giovane morto in un incidente d'auto apparentemente da lui causato. A traghettarlo nel paradiso di Lake View, finanziato dalla sua attuale ragazza Ingrid, è Nora (Andy Allo).
Le cose però iniziano ben presto a complicarsi.
Quando i legami lasciati in sospeso col mondo terreno iniziano a incrinarsi e la stessa esistenza ultraterrena viene messa a repentaglio com'è possibile continuare a sopravvivere? E soprattutto, siamo proprio sicuri che la morte di Nathan sia stata solo un tragico scherzo del destino?
3) The Good Place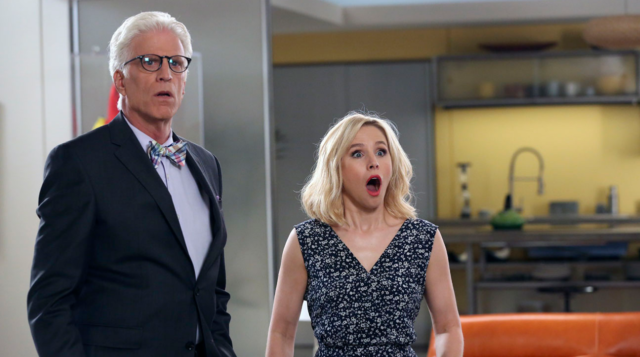 Creata da Michael Schur, noto per essere produttore esecutivo di altri successi come Parks and Recreation, Brooklyn Nine-Nine e Master of None, The Good Place, prodotta dall'emittente NBC, è approdata su Netflix non passando di certo inosservata. Questa comedy declinata al femminile ha per protagonista Eleanor Shellstrop (Kirsten Bell) che, dopo un fatale incidente, capita in un utopico e pacifico paradiso ultraterreno dove ad essere ammessi sono proprio coloro che in vita si sono distinti per la loro condotta morale. Ben presto è chiaro che la ragazza, profondamente egoista e dissoluta, è stata mandata lì per sbaglio e che per potervi rimanere dovrà dimostrare di meritarlo. Intraprende così un viaggio di miglioramento e crescita personale, costellato di numerose difficoltà e dilemmi.
The Good Place si rivela capace di trattare tematiche profonde e alquanto complesse e sfaccettate come l'etica e la filosofia morale, non scadendo mai nella banalità ma concentrando tutto in episodi brevi, ironici e divertenti. Non mancano spunti di riflessione che ci coinvolgono e ci spingono a pensare alle nostre scelte, quelle ordinarie e apparentemente prive di rilevanti conseguenze. Ad affrontare il viaggio, Eleonor non sarà da sola. Si riveleranno di fondamentale importanza il saggio mentore Michael (Ted Danson) e l'anima gemella a lei assegnata, Chili (William Jackson Harper), professore di filosofia morale. Man mano che le vicende si complicano e la narrazione procede, sorge spontaneo un dubbio: siamo sicuri di poter asserire con certezza chi rappresenta il Bene e chi il Male?

2) After Life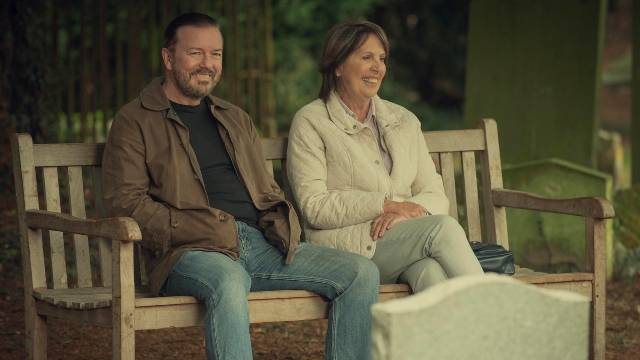 Creata, diretta, prodotta e interpretata da Ricky Gervais, After Life ha rappresentato uno dei più importanti debutti sulla piattaforma Netflix.
Il protagonista Tony è giornalista locale che, a seguito della morte di sua moglie malata di cancro, cade in una profonda depressione. I giorni procedono lenti, senza voglia di vivere, segnati da pensieri suicidi e dall'assenza di prospettive future. La sua vita sembra ormai essere giunta sul punto di svuotarsi di ogni energia e le sue abitudinarie azioni chiariscono questo torpore esistenziale in cui è sprofondato. After Life è un piccolo capolavoro capace di raccontarci la difficile, complessa e personalissima elaborazione del lutto di una persona amata.
Quella che emerge è una descrizione estremamente umana del dolore che un simile evento può comportare e degli ostacoli che un percorso di recupero come questo prevede. Tony poco alla volta, attraverso il confronto, gli sbagli e la più totale desolazione, prende coscienza del fatto che la vita è ancora in lui e questo significa che non è troppo tardi per iniziare un percorso che lo conduca a risalire, anche dopo aver toccato il fondo.
Non resta che goderci questo viaggio, apprezzarne i momenti più emozionanti, quelli più profondi e quelli che inaspettatamente ci strappano un sorriso. Una traversata tra le ingiustizie, le bellezze, i dubbi e le sorprese della vita che una volta intrapresa non potrà che toccarci e cambiarci.
1) Six Feet Under
Siamo giunti in cima alla nostra classifica. Senza ombra di dubbio il posto è meritato da Six Feet Under, una delle Serie Tv meglio invecchiate di HBO.
Creata da Alan Ball, questo dramma familiare ci immerge nelle dinamiche quotidiane dei Fisher, sconvolti dalla morte del capofamiglia Nathaniel Fisher (Richard Jenkins), fondatore dell'impresa di pompe funebri Fisher & Sons. La storia coinvolge i suoi figli David (Michael C. Hall), Nate (Peter Krause) e Claire (Lauren Ambrose), protagonisti della storia con la loro madre Ruth Fisher Sibley (Frances Conroy). Il prologo di ogni episodio ha come protagonista la morte ma è proprio da questa inevitabile tappa che prendono forma tute le profonde considerazioni di cui la serie è intrisa.
Con il suo spiccato e spiazzante humor nero, oltre che una buona dose di surrealismo, Alan Ball ha creato un capolavoro degno di premi e nomination innumerevoli. Il modo di trattare le tematiche in maniera così interessante non ci lascia altra scelta: farci coinvolgere in questa misteriosa danza ai confini dell'aldilà. A condurci in questo viaggio sarà ogni singolo componente della famiglia, mostrato nelle sue diverse sfaccettature e nelle problematiche che sorgono dai propri rapporti interpersonali, al di là di quelli familiari. Non c'è ombra di dubbio: Six Feet Under è un inno alla vita di intramontabile bellezza e profondità.