Dopo una lunga pausa, è tornata finalmente la divertente famiglia Cooper con una nuova stupenda puntata di Young Sheldon (scopri qui i 5 momenti più commoventi della serie). Fin quando non ho rivisto i nostri adorati protagonisti, non mi ero resa conto di quanto in queste settimane mi fosse mancato trascorrere una ventina di minuti in assoluta spensieratezza in compagnia di questa comedy.
In questa nuova puntata intitolata A Live Chicken, a Fried Chicken and Holy Matrimony oltre ad aver riso grazie agli scatenati fratelli Cooper, abbiamo avuto un interessante approfondimento su Mary Cooper.
Dopo la messa domenicale il Pastore Jeff ha rivelato una grande notizia alla sua assistente Mary: ha deciso di sposare la sua fidanzata e voleva che fosse proprio lei a organizzare il ricevimento. I due piccioncini desideravano una cerimonia molto semplice e senza tanti fronzoli, ma la donna si è fatta prendere la mano e ha cominciato a organizzare un matrimonio in pompa magna. Quando ha accompagnato il Pastore a scegliere il suo abito da indossare sull'altare, l'ha assalita una grande amarezza.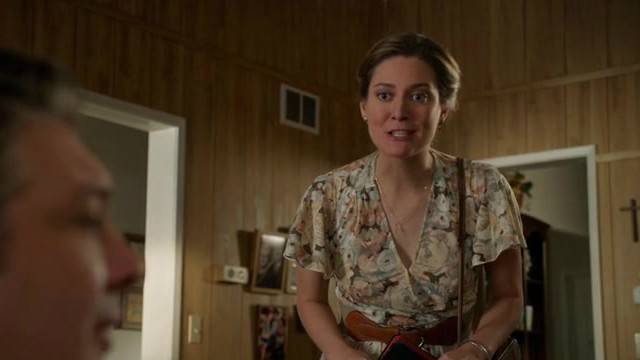 Mary non ha mai potuto avere il matrimonio dei suoi sogni e non ha mai potuto varcare la navata con un abito bianco da principessa. Quando ha scoperto di essere incinta di George, ha fatto una rapida cerimonia con un vestito largo che nascondesse la sua pancia. Il Pastore ha cercato di rincuorare la sua cara amica dicendole che ammirava molto la sua famiglia. Le ha anche ricordato che forse il suo matrimonio non era iniziato nel migliore dei modi ma alla fine lei aveva saputo mettere su un solido e unito nucleo familiare.
Dato che Mary era occupata ad aiutare il Pastore ad organizzare il suo matrimonio, George e Connie hanno dovuto prendersi cura dei fratelli Cooper.
I tre ragazzi hanno rischiato di far impazzire i due, causando un problema dopo l'altro e mettendo a dura prova i loro nervi. Sheldon era furioso con Georgie perché aveva registrato una puntata di Baywatch sulla cassetta in cui ci sarebbe dovuta essere la puntata di Star Trek: The Next Generation. Ha quindi cercato sul forum dei fan della serie qualcuno che avesse una registrazione dell'episodio e lo ha invitato a casa sua. La nonna ha trovato quindi in salotto un perfetto estraneo che compagnia al suo nipotino. Ma per non turbare Sheldon, che non voleva assolutamente perdersi il finale della puntata, ha aspettato i titoli di coda prima di cacciare di casa l'intruso.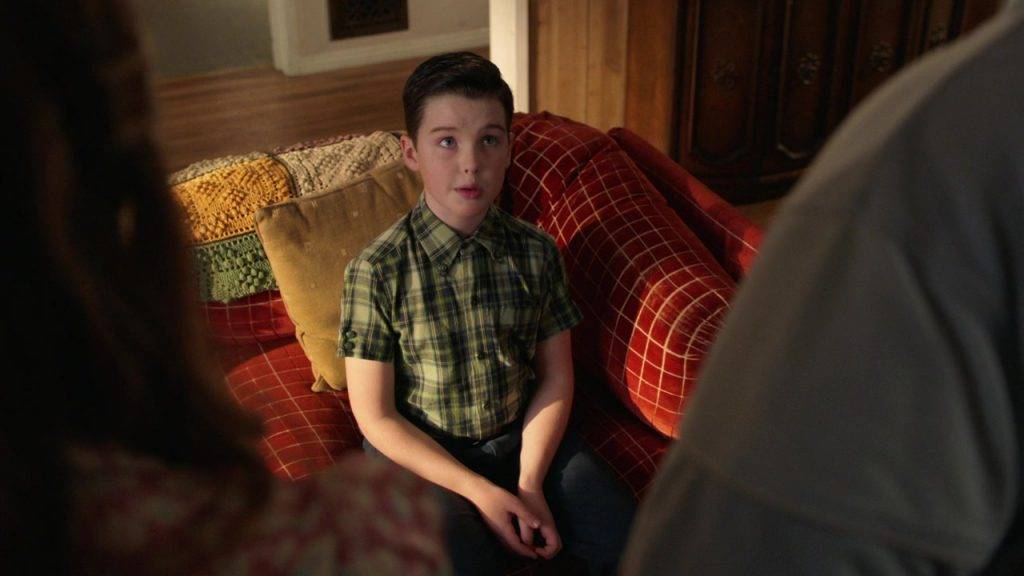 Anche Georgie ha dato un bel po' di grattacapi a suo padre quando si è chiuso nella sua stanza con una compagna di classe. Il capofamiglia, temendo che potesse commettere il suo stesso errore, ha deciso di fargli un discorso su quanto sia importante usare le protezioni quando si va a letto con una donna (ricorrendo tra l'altro a un terribile paragone con il mondo del football). Ma anche Missy ha provocato un bel po' di problemi dopo aver nascosto nella sua stanza la gallina che gli Sparks volevano uccidere. Quando ha scoperto poi che suo padre per cena aveva preso il pollo fritto, glielo ha sottratto e si è chiusa in bagno così da impedire ai suoi familiari di mangiarlo. Alla fine ha buttato una coscia di pollo nel gabinetto e ha finito per allagare tutto il bagno.
In questa nuova puntata quindi non sono mancate le gag divertenti e le scene che ci hanno fatto sbellicare dalle risate.
In particolare vedere come George se la sia cavata, trovandosi per la prima volta a dover badare da solo ai suoi tre figli, è stato esilarante. In questa terza stagione di Young Sheldon il capofamiglia sta passando più tempo con i suoi tre ragazzi e di questo ne sono felice. Questi episodi ci mostrano come George non fosse il padre terribile di cui il protagonista di The Big Bang Theory si è tante volte lamentato. Missy e Sheldon poi sono stati davvero esilaranti in questa puntata e ci hanno fatto ridere sia nella scena finale in chiesa ma soprattutto quando in casa hanno combinato un guaio dopo l'altro. Sono contenta poi che in questa nuova stagione stiano raccontando anche l'adolescenza del simpatico Georgie. È stato davvero bello vedere come suo padre si sia preoccupato di metterlo in guardia sul sesso e abbia superato il suo imbarazzo per fargli il famoso "discorsetto".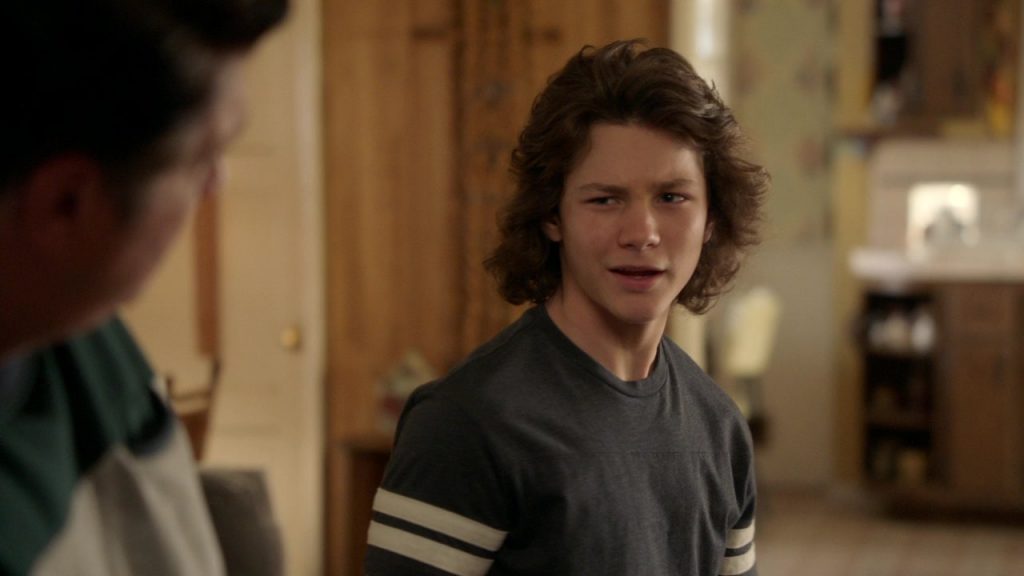 Un discorso a parte va fatto per Mary: la madre di Sheldon in questa puntata per la prima volta ha dato voce a tutti i suoi rimpianti. Il suo sfogo non deve essere sottovalutato e potrebbe farci capire perché in The Big Bang Theory lei nutrisse tanto rancore nei confronti di suo marito George (scopri qui quanto questo personaggio sia cambiato dalla serie madre a Young Sheldon). Già in questa puntata ci ha fatto capire che provava un pizzico di rabbia nei confronti di suo marito che, mettendola incinta, le ha portato via il matrimonio dei suoi sogni.
Poteva però almeno consolarsi pensando che era riuscita a metter su una famiglia unita e che aveva un marito che amava. Forse però, quando George l'ha tradita l'ha privata anche di questa consolazione distruggendo ciò che di buono era riuscita a ricavare da un inizio poco glorioso. Se vedremo nelle prossime stagioni questo brutto momento potremo sicuramente capire se questa ipotesi sia fondata o no. Il Pastore Jeff è stato anche in questa nuova puntata un personaggio molto buffo e divertente. In particolare la scena in cui lui e la sua (+) sono diventati finalmente marito e moglie e non la smettevano di baciarsi è stata esilarante. Una menzione va fatta anche al dolce Billy Sparks che con la sua ingenuità e dolcezza ci strappa sempre un sorriso.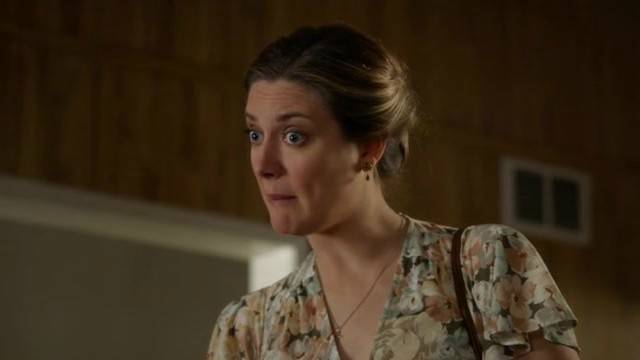 Dopo questa ennesima ottima puntata, è ormai chiaro che la grande forza di Young Sheldon sta nella sua capacità di saper raccontare perfettamente la quotidianità di una famiglia.
Tutti noi possiamo riconoscerci nei litigi dei due gemelli, nelle avventure amorose di Georgie, nelle difficoltà dei coniugi Cooper. Finché riusciranno a realizzare episodi così ben fatti, potremo continuare a definirla una buona comedy e non solo un discreto spin-off di uno show di successo.