Dopo alcuni episodi dedicati al padre del piccolo Sheldon e ai conflitti irrisolti della nonna con sua figlia e suo genero, finalmente abbiamo potuto vedere nuovamente un episodio di "Young Sheldon" dedicato esclusivamente al piccolo genietto di casa Cooper. Qualche giorno fa è stato trasmesso infatti l'ultimo episodio dell'anno intitolato "Spock, Kirk, and Testicular Hernia" dello spin-off di "The Big Bang Theory"(leggi qui la recensione dell'undicesimo episodio della Serie Tv).
Presto i fan italiani della Serie Tv di Chuck Lorre potranno vedere anche in Italia i primi episodi di "Young Sheldon": saranno trasmessi su Joi dal 15 febbraio 2018 alle 21.45.
È stato divertente vedere in questo nono episodio la trasformazione di Sheldon in una piccola peste!
Andiamo con ordine però e raccontiamo le cose dal principio. Un giorno mentre Sheldon e sua nonna stanno guardando "Star Trek", George va da suo figlio per chiedergli un favore. Dato che, per poter restare nella squadra di football, il primogenito Georgie deve necessariamente superare la verifica di matematica, il padre chiede a Sheldon di aiutarlo a superare il test. La nonna convince il suo piccolo nipotino ad aiutare suo fratello, promettendogli che, se fosse riuscito a fargli superare il test, il padre gli avrebbe regalato un nuovo trenino.
Sheldon comincia allora a tentare di aiutare Georgie e a fargli apprendere la matematica, ma la missione si rivela più difficile del previsto. Il giorno del test dunque dopo aver terminato in pochi minuti la verifica, Sheldon si rammarica nel vedere suo fratello in difficoltà. Considera infatti questa una sconfitta personale e non riesce a capire come abbia fatto sua madre a generare un figlio tanto idiota.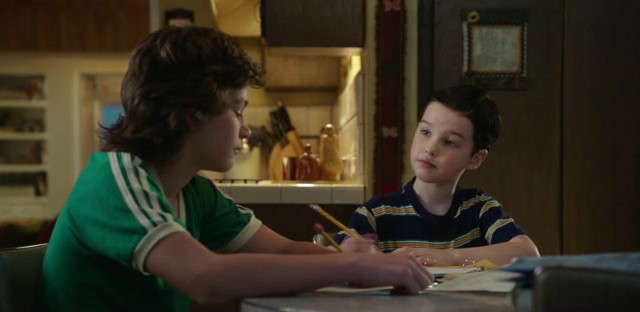 Quando però la professoressa comunica i risultati del test, scopre che suo fratello incredibilmente ha preso una B e Sheldon capisce di essere proprio un bravo insegnante. È il suo amico Tam durante l'ora di ginnastica a rivelargli la verità: Georgie ha passato il test perché ha imbrogliato e infatti aveva le formule scritte sotto le suole delle scarpe.
Sheldon non vuole credergli, ma quando di notte si intrufola nella stanza del fratello vede di persona le formule trascritte sotto le scarpe. Parla con Georgie e lo rimprovera per aver mentito, ma il ragazzino non sembra affatto pentito e anzi gli fa notare come tutti abbiano ottenuto giovamento grazie alla sua bugia.
George Jr. : "Io resto nella squadra di football e tu puoi andare al negozio di treni. Ci guadagniamo tutti!"
Sheldon: "E dove la metti la verità? Dovrebbe renderci liberi!
George Jr. :"Chi te l'ha detto?"
Sheldon:"La Bibbia."
Sheldon non riesce a fare a meno di sentirsi in colpa per quello che è accaduto e allora decide di confidare i suoi timori a sua nonna. La nonna cerca di consolarlo e gli fa capire che purtroppo spesso le persone preferiscono imbrogliare e mentire.
Credo che non dovresti esserne così sconvolto. In questo mondo troverai sempre delle persone che aggireranno le regole a loro piacimento. Tuo fratello è una di queste persone.
Gli fa anche notare però che anche il capitano Kirk è riuscito a cavarsela in tante avventure proprio aggirando le regole. Sheldon allora comincia ad avvertire il desiderio di assecondare il suo Kirk interiore e si trasforma in una piccola peste. Comincia a portar via dalla biblioteca i libri senza firmare, imbroglia sua sorella per ottenere il monopolio della TV e falsifica la scrittura di sua madre per poter scrivere una giustifica che lo esoneri per varie settimane dalla lezione di educazione fisica, mentendo e dicendo di avere un'ernia.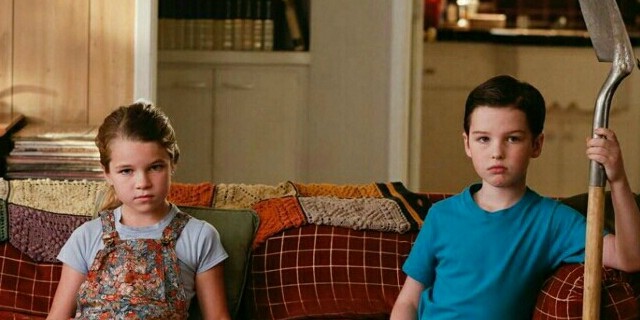 Tuttavia le bugie hanno le gambe corte e tutti gli inganni di Sheldon vengono scoperti. L'insegnante di ginnastica chiede a George come stia il figlio con l'ernia e George riferisce tutto a sua moglie Mary. Alla fine Sheldon viene punito per le sue bugie, mentre Georgie riesce a farla franca.
Il nuovo episodio, come sempre, è riuscito ad essere divertente senza diventare banale!
Siamo di fronte a un caso in cui lo spin-off è riuscito a superare di gran lunga la Serie Tv madre (leggi qui i 10 momenti in cui la sceneggiatura di "The Big Bang Theory" è stata imbarazzante). "Young Sheldon" però non tradisce nè stravolge mai lo Sheldon che conosciamo, ma ci permette solo di capirlo meglio. Grazie a questo episodio per esempio abbiamo capito per quale ragione il dottor Cooper odi tanto mentire e perché, quando lo fa, preferisce fornire una versione credibile e piena di dettagli. È stato proprio suo fratello George a insegnargli che il segreto di una bugia credibile sta nei dettagli. 
Anche se in questo episodio si è trasformato in una piccola peste, tuttavia in alcune scene abbiamo potuto riconoscere lo Sheldon di sempre: la sua difficoltà a compiere semplici esercizi di ginnastica o la sua mania per la pulizia ci hanno rimandato a molti esilaranti momenti di "The Big Bang Theory". Ho trovato poi molto dolci le scene del piccolo Sheldon insieme a sua nonna e più guardiamo la Serie Tv, più ci rendiamo conto di quanto sia speciale il loro legame.
La nonna è la donna che ascolta tutti i timori di Sheldon ed è colei che lo sostiene, che gli dà grandi lezioni di vita e che guarda con lui "Star Trek". E a sua volta Sheldon si prende cura di sua nonna insegnandogli nuovi termini e cercando di farle togliere il vizio del fumo. Abbiamo anche potuto vedere per la prima volta Sheldon interagire con suo fratello George in alcune scene molto divertenti. Per delineare il rapporto tra i due giovani Cooper gli showrunner devono essersi ispirati alla Serie Tv cult "Malcolm in the Middle": ditemi se in questo episodio i due non vi hanno ricordato Malcolm e Reese!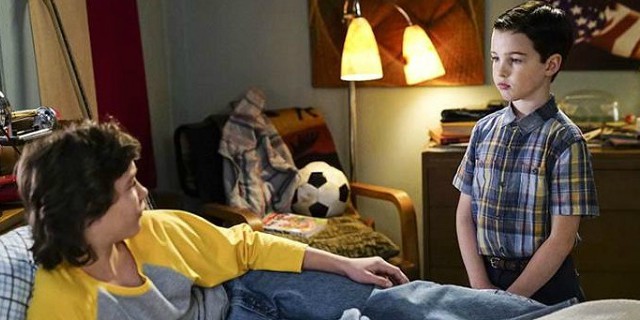 Tirando le somme possiamo dire che "Young Sheldon" ha messo a segno un altro fantastico episodio!
Tante sono state le scene divertenti e Missy, seppur apparsa solo per pochi minuti, è riuscita a farci divertire come di consueto. Il finale mi è sembrato un po' spezzato, come se mancasse qualcosa, ma forse è stata solo una mia impressione. Una cosa però è certa: che si comporti da bambino saccente o come un ribelle, Sheldon è sempre adorabile!