Frank, Billy, Curtis, Amy, Pilgrim, Krista e Madani. Sono tanti i protagonisti di questi due episodi di The Punisher. Siamo diretti verso i titoli di coda (forse definitivi) della serie tv, ma colpi di scena, strategie e azione – tanta, tanta azione – non mancano.
Due puntate ricche di tutto.
Possiamo conoscere meglio John Piglrim, renderci conto di quanto sia simile al nostro amato protagonista con il teschio. Magari ha diversi ideali rispetto a Frank, ma si comincia a intravedere qualche dettaglio in comune. Prima fra tutti la resistenza fisica. Le prende, anche tante, e così come Frank Castle resiste a ogni botta, rialzandosi di nuovo e vincendo la battaglia. Sarà davvero un osso duro per il punitore, qualora dovrà affrontare nel finale di stagione (e tutto fa pensare che sarà così). La notizia della scomparsa della moglie, all'inizio della puntata numero undici, è un brutto colpo per John. Ora non ha più niente da perdere.
Da non sottovalutare assolutamente anche Krista, che ormai ha sposato in tutti i sensi la causa dell'amante Billy Russo. La terapista però in queste due puntate è meschina e astuta. Si avvicina all'agente Madani, che in questo momento ha tanto bisogno di un'amica, per estirparle notizie su Frank, consegnandole poi al suo innamorato. L'aver visto Dinah vulnerabile è un evento più unico che raro, sicuramente riuscirà a riprendersi, è una donna forte e con tanta grinta. Amy e Curtis continuano a rimanere nel loro nascondiglio. I due ormai sono legati, il medico inizia ad affezionarsi alla piccola, così come lo stesso Frank ha fatto.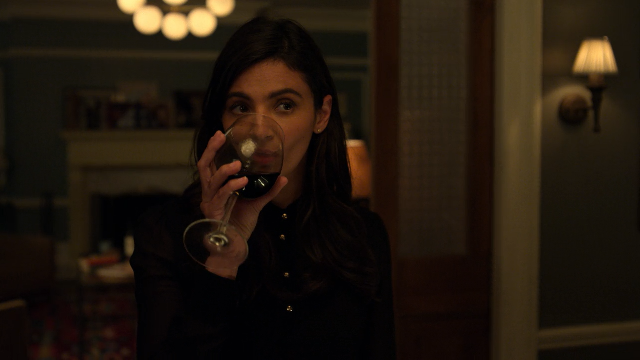 Entrambi hanno come obiettivo il preservare la saluta della biondina, con ogni mezzo a disposizione.
Frank però ha una piccola distrazione. Questa distrazione prende il nome di Mosaico, o meglio Billy Russo. L'ex belloccio, ormai con viso completamente rovinato dalle ferite inflitte dal suo ex migliore amico, pensa di essere dalla parte della ragione, non si ricorda ciò che ha fatto a tutta la famiglia di Frank, e non si spiega il perché è stato preso di mira. Sa solo che vuole vendicarsi, e lo farà nel migliore dei modi, quasi.
Tanti contro uno. È così che andrà a finire. Ma forse Billy, tra le tante cose che ha dimenticato, non ricorda bene quanto The Punisher sia forte e soprattutto resistente. Quasi sul punto di morte, riesce a riprendersi e sopravvivere.
In un atto di rabbia però sparerà a vanvera, pensando di colpire e uccidere delle donne innocenti.
Qui la chiave di questi due episodi. Qual è la vera natura di Frank Castle? Ce lo siamo chiesti tante volte, e tante volte abbiamo risposto: buona.
Questo presunto omicidio è una vera botta per colui che non vuole diventare assolutamente come il suo ex amico e attuale acerrimo nemico Billy Russo.
Da non sottovalutare il ritorno di Karen Page, da sempre affezionata al punitore. Sarà grazie a lei e a Madani che scopriremo la verità su chi è davvero The Punisher.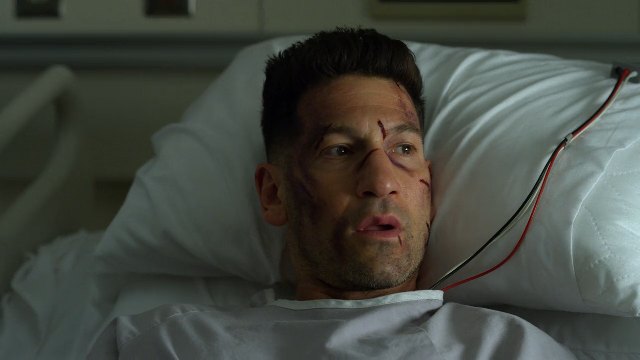 È stato lui stesso a farsi arrestare a causa di quelle donne morte. Non vuole diventare come Russo, pensarlo solamente vuol dire non avere più alcun motivo per vivere.
Una volta scoperta la verità però Frank (salvato da Amy che intanto è fuggita dal camper) vuole fuggire e riprendere da dove tutto è finito.
La guerra, quella che Frank Castle ha sempre in testa e nel cuore, è appena iniziata e The Punisher non ha alcuna intenzione di perderla. Non vuole farlo contro Billy Russo, non vuole farlo con John Pilgrim. Il teschio è pronto a prendersi le sue responsabilità, anche andando contro Mahoney.
Frank ha capito che non è malvagio, ora starà al detective comprenderlo, è l'ultimo dei buoni che ancora non si fida del punitore.