È giunta la fine di un'altra avventura che vede protagonista The Punisher. I due episodi finali sono decisamente esplosivi. Tutto si conclude nel migliore dei modi (più o meno). Tutto nel solito stile Castle. Armi, sangue e violenza. Ciò che abbiamo amato fin dal primo momento del primo episodio della prima stagione di questa meravigliosa serie tv che probabilmente come le colleghe targate Marvel/Netflix, non vedrà più alcuna luce.
Da Frank a Billy, passando per Madani e Krista, non dimenticandoci di John Pilgrim, il prete che in questi episodi ci ha davvero fatto cambiare idea su di lui.
Il primo protagonista però è il detective Mahoney. L'ultimo dei baluardi a non fidarsi del punitore, l'ultimo scettico che però è stato convinto. Il modo è particolare. L'incidente con l'ambulanza e il salvataggio di Frank. Qualcosa di molto somigliante con il primo incontro tra Castle e Madani. Lui salva lei dopo un incidente. Il destino si ripete, la storia anche. Dopo questo evento, Mahoney capisce che il punitore è una persona buona. Il fine giustifica i mezzi diceva un certo Machiavelli. Il teschio è l'esempio vivente di questo modo di dire.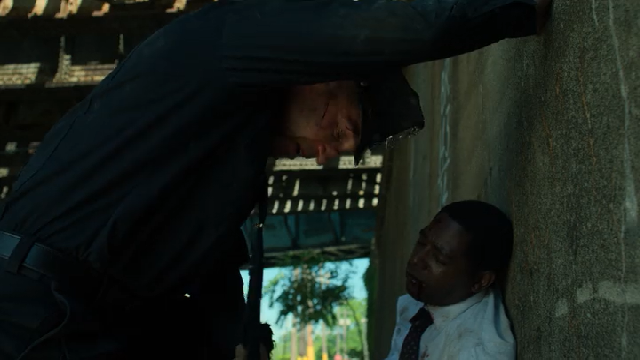 La brutta fine di Krista era da preventivare. Tutti avevamo immaginato che affiancarsi a Russo non avrebbe portato cose positive. Certo però quello che è successo è più grave del previsto. Madani non ha avuto pietà questa volta. Si è sentita in pericolo e ha colpito, definitivamente il nemico. Rinunciare al distintivo per entrare nella CIA è di certo un'ottima mossa. Chiedere aiuto al punitore, meno.
Tutti si aspettavano però lo scontro Russo – Castle. Originale invece la scelta di lasciare a Dinah il colpo, o meglio i colpi, che saranno poi una condanna a morte. Sofferenza, tremenda sofferenza, fino al momento della verità. The Punisher dà il colpo di grazia al suo ex migliore amico. Questa volta zero esitazioni, due spari e via. È tutto finito, Frank può iniziare una nuova vita.
In mezzo a tutto questo però c'è lo scontro decisivo Pilgrim The Punisher.
La minaccia agli Schultz tramite il rapimento del figlio. John con Amy, una prima sparatoria, per poi un incontro finale decisivo alla vecchia maniera.
Niente armi da fuoco. Solo contundenti. Chi con una spranga di ferro, chi con una catena. Pugni, sangue, nessuno dei due vuole mollare. In quel momento si è davvero capito quanto i due uomini siano simili, in quel momento Frank ha compreso la vera natura del suo rivale. La battaglia la vince lui, ma questa volta risparmia l'avversario. Probabilmente per salvaguardare più i figli di un Pilgrim che hanno già perso la madre. Il punitore ha capito chi sono i veri colpevoli, e loro no, non sopravivranno.
Un colpo alla donna (una ritrovata Marta Kent) e la concessione di scegliere al vecchio uomo che preferisce uccidersi all'affrontare la cruda verità.
Frank è salvo, Madani, Curtis sono salvi. Soprattutto Amy è salva. Il saluto finale tra i due è davvero da brividi.
Il supereroe con il teschio sul petto per un attimo ha riprovato quella sensazione di paternità. Lasciarla andare è davvero difficile.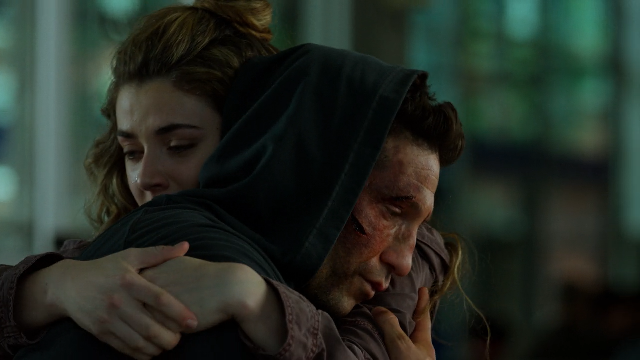 Un Billy Russo che ha avuto la fine che si meritava. Una seconda stagione che lo ha visto protagonista in molti frangenti. Un finale invece che gli ha concesso poco spazio. Le ferite erano troppo gravi, questa volta Mosaico non aveva motivi per resistere e provare a sopravvivere. Il colpo di grazia di Frank è solo la chiusura di una giustizia perfetta, quella giustizia che Castle ha tanto cercato.
I mesi passano, tutti vanno avanti. Per qualcuno però nulla è cambiato. La guerra è finita è vero, ma non nella sua testa. Nella sua testa non esiste pace. Quell'urlo e quegli spari finali lo spiegano a meraviglia.
È un peccato dover abbandonare un prodotto come The Punisher, che con il suo ritmo e la sua violenza è riuscito a farci appassionare, soprattutto grazie all'egregia interpretazione di Jon Bernthal.
È stato un piacere punitore. Probabilmente a mai più.