Con le ultime puntate di The Flash la tensione crescente causata dall'imminente crisi si era leggermente attenuata (se te la sei persa, leggi qui la recensione precedente). Con l'episodio di questa settimana, invece, la situazione è totalmente degenerata, siamo stati catapultati nelle paure e nelle debolezze più recondite di Barry, in un viaggio interiore davvero oscuro e pericoloso.
Questa 6×07 è stata chiamata The Last Temptation of Barry Allen e da un titolo del genere non potevamo che aspettarci qualcosa di interessante.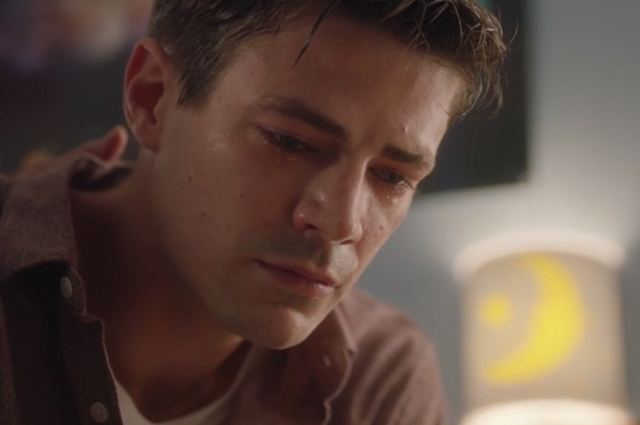 E così è stato. Questo, a parere di molti, è stato fino ad adesso il miglior episodio di questa sesta stagione di The Flash, un episodio molto introspettivo e carico di suspense, in cui vediamo un bravissimo Grant Gustin non più alle prese con un Flash stoico e sempre in grado di autocontrollarsi, ma debole, fragile e pieno di dubbi. Un'interpretazione davvero ottima e molto toccante in alcuni momenti.
La scorsa settimana avevamo lasciato Ramsey Rosso e Ralph precipitare da un palazzo dopo un attacco a sorpresa del villain ai danni dell'eroe allungabile. Durante lo scontro tra i due, Ramsey riesce a ferire con la sua melma nera Ralph che, soccorso da Frost, viene portato agli S.T.A.R Labs. L'unico modo per salvarlo è trasmettere all'amico le cellule di Barry che sono in grado di guarire velocemente tramite una trasfusione di sangue. Sembrava avessero risolto la situazione, ma, in seguito a degli strani incubi allucinogeni di Barry, si scopre che l'uomo, durante la trasfusione, è stato a sua volta infettato dal virus del dottore e adesso è vittima delle sue manipolazioni mentali.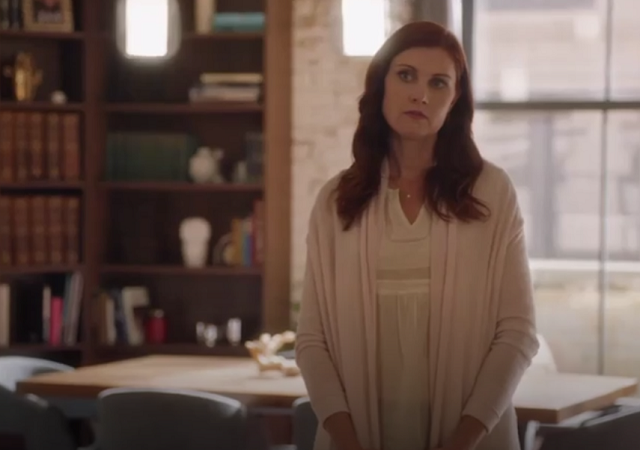 Tutto l'episodio si svolge all'interno della mente di Barry: da un lato viene in suo soccorso la forza della velocità che si presenta sotto le sembianze della mamma, Nora Allen, e dall'altro troviamo il dottor Rosso che cerca in tutti i modi, con le sue valide motivazioni, di soggiogare l'uomo e di prendere il controllo su di lui.
Ramsey gli offre il potere di salvare il suo corpo. Entrando nella sua mente viene a scoprire dell'imminente crisi, delle sue paure a riguardo, viene a conoscenza di Nora West-Allen, la futura figlia. Insomma, ha una vasta gamma di punti deboli sui quali poter far leva e convincerlo a unirsi a lui. Accettando il virus nel suo corpo, Barry non morirà durante la crisi, non dovrà sacrificarsi e abbandonare nessuno, potrà vivere e continuare a essere un eroe.
Attraverso varie allucinazioni, il malefico antagonista mostra un futuro tranquillo e felice con la sua famiglia. Alla fine, la proposta di Ramsey non è poi così assurda, anzi è così allettante da mandare in crisi Barry, il quale è diviso in due, rischia di impazzire del tutto.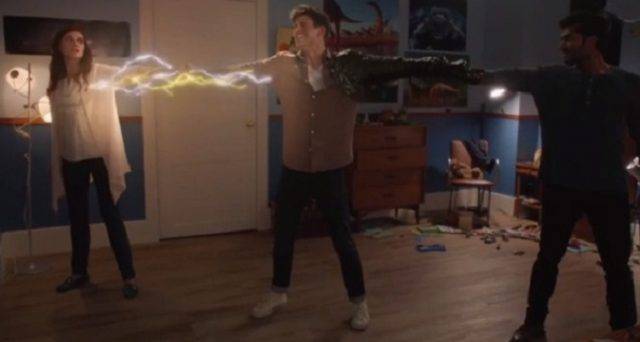 La forza della velocità è sempre stata dalla parte di Barry, lo ha scelto come velocista e lo ha guidato in tutti questi anni, sin dal primo episodio di The Flash. Con l'aumento della febbre e dell'infezione però, questa finisce per tradirsi con la sua stessa bocca: afferma che le parole di Ramsey rappresentano la verità, se Barry accetta il virus si salverà veramente durante la crisi e non dovrà abbandonare la sua squadra e la sua famiglia…
Ma a quale costo?
Un eroe per rimanere fedele a se stesso e non macchiare la propria moralità non deve ricorrere a scorciatoie, ha il dovere di affrontare il proprio destino a testa alta. Un discorso sicuramente lodevole, ma rivolto comunque a un essere umano, dietro la maschera di Flash non bisogna dimenticare che è celato il volto di un giovane che ha già dovuto soffrire moltissimo e molta di questa sofferenza è stata causata proprio dalla forza della velocità stessa, colei che ha sempre mosso le fila della vita di Barry.
È dura comprendere di essere solo una pedina, che la propria esistenza sia controllata da qualcun altro.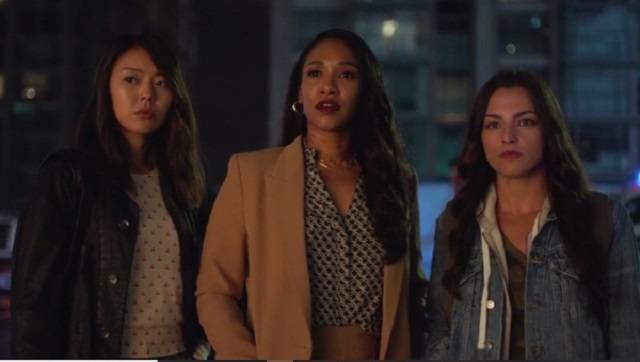 Questa volta la scena è stata quasi interamente dedicata a Barry e al suo conflitto interiore, ma si è deciso di dedicare uno spazio a una piccola linea narrativa parallela che vede protagonista Iris e a uno spezzone di Nash Wells ancora alle prese con il tunnel sotterraneo.
La storyline di Iris non aggiunge nulla all'intimità dell'episodio e anzi è molto banale e poco interessante. La giornalista, ricollegandosi alle scoperte fatte la scorsa puntata da Ralph e Barry, riguardanti un'organizzazione criminale che recluta meta umani, indaga su una possibile pista insieme ad Allegra, la tirocinante, e Kamilla, la reporter fidanzata di Cisco. Un trio un po' ridicolo e che non trasmette nulla. Avrei preferito di gran lunga che l'intero episodio si concentrasse interamente su Barry, si avrebbe avuto una maggiore continuità, coerenza e profondità.
Invece la particina di Nash è stata come al solito interessante perché il suo personaggio continua a fornirci dei possibili indizi che non riusciamo a capire se siano direttamente collegati alla crisi in arrivo o se magari siano collegati a future storyline. Per esempio questa volta è riuscito a perforare il muro sotterraneo, scovando 6 strani simboli che lui sembra riconoscere, ma che non vengono analizzati in nessun modo. Guardandoli bene, io ho visto delle somiglianze o dei rimandi ai simboli delle varie serie che faranno parte del crossover, come ad esempio la freccia simbolo di Arrow. Ma è ancora difficile riuscire a trarre delle conclusioni, è ancora tutto molto complesso e intricato.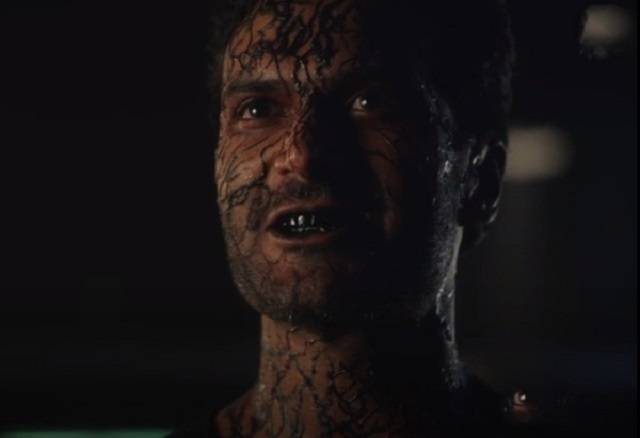 Concludiamo questa discussione parlando velocemente del finale dell'episodio. Bisogna ammettere che era abbastanza palese capire quale fosse stata la scelta finale di Barry. Il modo in cui si era risvegliato dal suo delirio ci ha fatto da subito storcere il naso, sapevamo ci fosse qualcosa sotto: il velocista si è davvero concesso al volere di Ramsey, trasformandosi totalmente.
Irriconoscibile, con gli occhi e la bocca neri, trasforma il suo fulmine da rosso a nero e corre dal suo nuovo "maestro", il dottor Rosso.
L'episodio termina con la dicitura To be continued… (la puntata infatti è divisa in due parti) e la solita scritta che conosciamo ormai da sei anni, ovvero The Flash in argento su sfondo rosso.
Stavolta però avviene qualcosa di diverso, la scritta viene lentamente invasa e ricoperta dalla viscosa melma nera tipica del dottore che ha deciso di farsi chiamare Bloodwork, il suo nome da villain che ritroviamo anche nei fumetti. Una tocco inaspettato che mi ha molto colpito.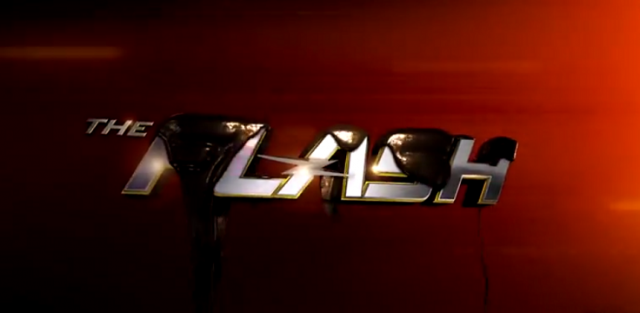 Insomma, una puntata e un finale con la giusta dose di adrenalina e tensione che ci lasceranno col fiato sospeso fino alla prossima settimana.
Sicuramente i protagonisti troveranno una soluzione al problema, anche perché, come hanno detto più volte durante l'episodio, mancano solamente 36 ore alla crisi che li vedrà coinvolti e, come abbiamo visto più volte nei vari teaser trailer, Flash pare apparire sempre in perfetta forma, dunque questa situazione dovrebbe essere temporanea. Staremo a vedere.
Intanto noi ci diamo appuntamento sabato prossimo.
Sempre qui, sempre con The Flash!