Ci avviamo ormai alla conclusione di questa seconda stagione di The Crown, una stagione come abbiamo visto più matura e più introspettiva che racconta di tanti piccoli momenti e incontri di cui la Regina non è più la sola protagonista.
L'arco di tempo trattato in questi due episodi è più ampio, si va infatti dall'estate 1959 al novembre 1963, ovvero all'assassinio di Kennedy. Entriamo così negli anni 60, anni di cambiamenti e di una svolta decisiva in un'era non più moderna ma contemporanea. Protagoniste degli episodi "Matrimonium" e "Dear, Mrs Kennedy" sono tre donne, diverse tra loro fisicamente ma soprattutto caratterialmente: Margaret, Jackie e ovviamente Elizabeth.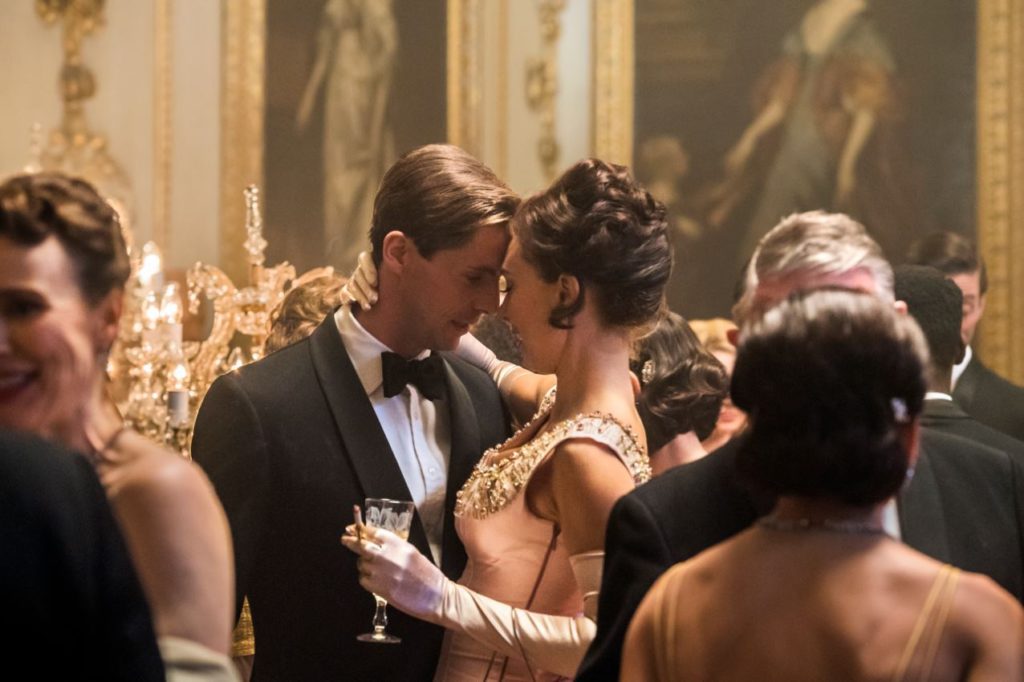 Iniziamo quindi proprio dalla ribelle Margaret, la principessa che adesso finalmente si sposa. Sì, ma non è tutto oro quello che luccica perché le premesse di questo matrimonio sono alquanto discutibili. Margaret infatti fa la proposta più per ripicca nei confronti dell'ex amato Townsend, che le ha appena comunicato il proprio fidanzamento, e per gelosia verso la felicità della sorella, in cuor suo forse la donna sa che l'uomo di cui è innamorata non è esattamente un uomo da matrimonio e d'altronde la storia le darà ragione. Le incrinature si scorgono già nelle puntate successive, Margaret è tutta presa dal ristrutturare la casa mentre Tony trova qualsiasi opportunità pur di stare lontano.
Tra i due l'alchimia c'è ma è un'attrazione distruttiva e morbosa, sono persone viziose e autodistruttive che nell'altro non trovano uno stimolo a migliorare ma anzi a fare del proprio peggio. Una relazione che nasce sotto i peggiori auspici, vincolata da un matrimonio fuori posto.
Quando Elizabeth, scoperto il passato di Tony, cerca di fare ragionare la sorella, da lei ottiene solo un ottuso rifiuto, Margaret vede i consigli solo come un ulteriore ostacolo alla propria felicità, l'ennesima riprova dell'egoismo di sua sorella che non ha a cuore il suo bene. Tutto il contrario. Elizabeth ha sbagliato in passato, ha sacrificato la felicità della sorella sull'altare della Corona e questo ora le sta costando caro.
Anche Tony non è esente da colpe. La scena della proposta è stupenda e romantica, così come la promessa che le fa: "Promettimi di non farmi soffrire", chiede Margaret. "Lo prometto", le risponde. Ma tutto questo è solo una favola, come per Margaret anche le motivazioni di Tony sembrano nascere dalla vendetta, dal desiderio di un figlio respinto di rendere finalmente fiera la propria madre. "Guardami, tu che pensavi che non avrei combinato nulla adesso sto sposando una principessa." Ma la madre le risponde: "spero tu non stia facendo tutto questo solo per me". Matthew Goode interpreta molto bene la parte del fotografo casanova, bello e maledetto. Ha il mondo ai suoi piedi e il cuore della principessa tra le mani ma non gli basta.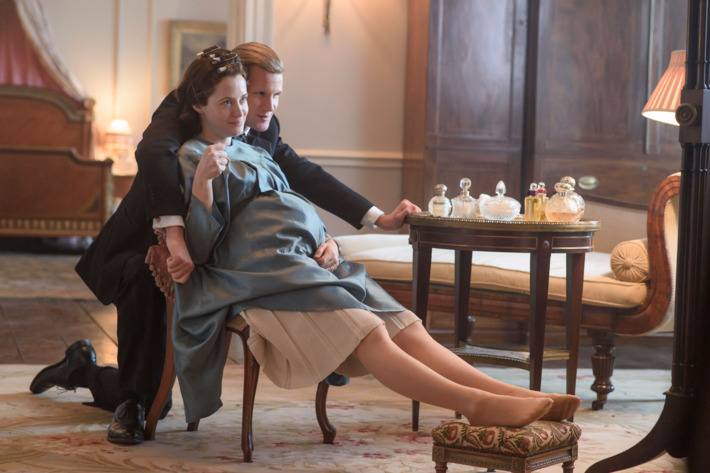 Non si può non fare un confronto tra questa coppia e quella protagonista di The Crown. Se il matrimonio di Margaret e Tony parte fin da subito con le motivazioni sbagliate, quello di Philip e Elizabeth era nato con le migliori intenzioni. È stata la Corona a mettersi in mezzo.
Nel settimo e nell'ottavo episodio assistiamo a momenti di normale quotidianità all'interno di un matrimonio i cui membri sono complici innamorati. La complessità c'è e la scenneggiatura brillante riesce sempre a darcene misura, attraverso sottili dialoghi e battute, ma c'è anche amore, rispetto e momenti di gioia come quello della "mungitura" o quando i Kennedy vengono in visita a palazzo. Philip si distingue per il suo comportamento scanzonato, infantile anche ma è l'unico che riesca a far sorridere la Regina, a farle scordare per brevi momenti il peso della Corona.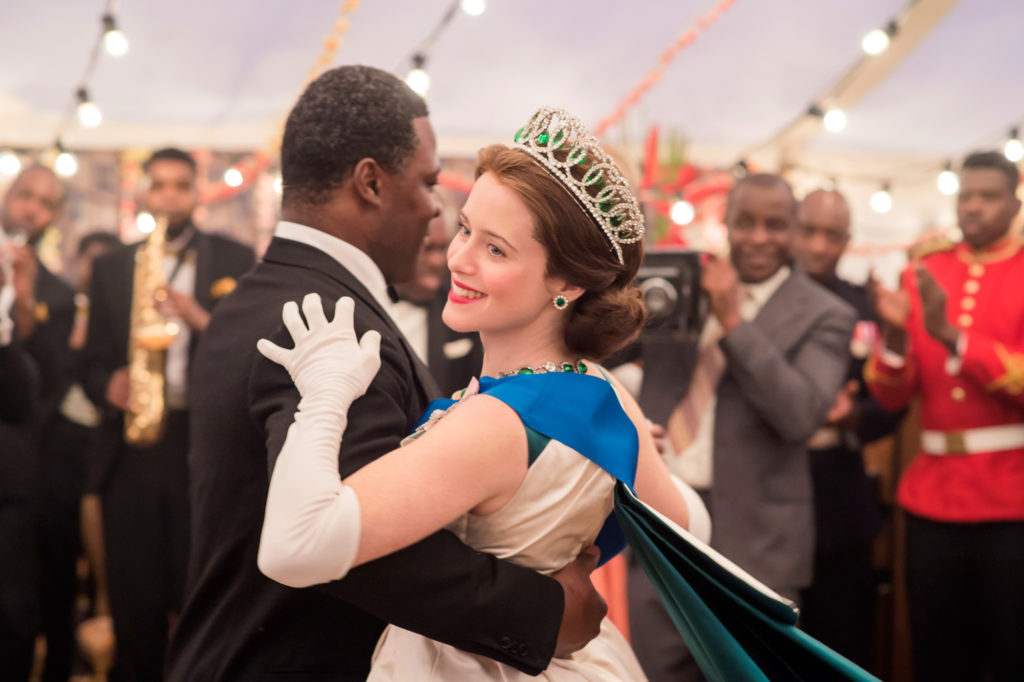 L'ottavo episodio è a mio parere uno dei più belli di questa seconda stagione di The Crown. Un episodio in cui Elizabeth da mostra non solo delle proprie qualità di sovrana ma soprattutto di donna (per primo è Philip a rimanerne piacevolmente sorpreso). La missione in Ghana, permette a Elizabeth di dimostrare di non essere solo una compassata Regina d'altri tempi ma una Regina capace di prendere rischi e di riuscire in missioni impossibili. Nulla da invidiare a Jackie Kennedy.
È lei l'altra "regina" di questo episodio. Bella, alta, elegante e moderna, una first lady carismatica e incantevole per la quale la Regina prova gelosia e ammirazione insieme. Tenta di stabilire un contatto ma viene offesa e ridicolizzata, questo non lo dimenticherà mai. È storia. Jackie Kennedy, però, proprio come Margaret è una donna a metà, solo in apparenza felicemente realizzata. In realtà è una persona molto triste, non amata e utilizzata quasi come una pubblicità per gli acquisti dal marito. Persino l'assassinio viene strumentalizzato, con la first lady che indossa ancora gli abiti sporchi di sangue.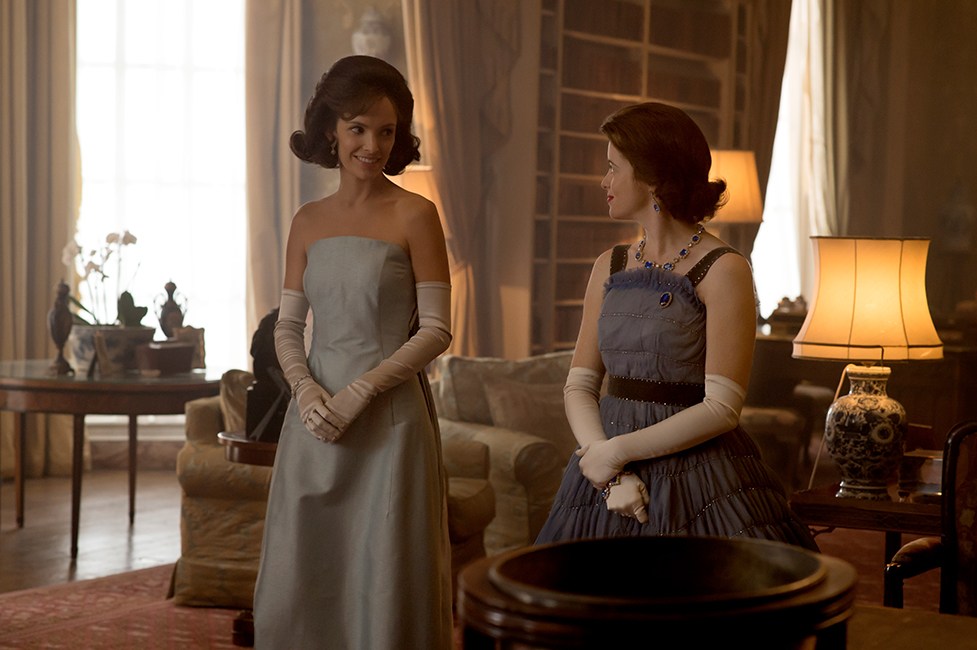 Siamo quindi nel 1963, solo due episodi ci separano dal finale. Due episodi che si concentreranno di nuovo su Philip e sul matrimonio con Elizabeth. Lasciamo così la nostra Regina vittoriosa, consapevole delle proprie capacità e della propria abilità di stratega. Sul piano politico è una vittoria, sul piano personale si vedrà.