Bentornati con la recensione del quinto episodio della terza stagione di Riverdale. Ancora una volta è tutto collegato e Jughead l'aveva capito per primo.
Dopo l'episodio ispirato a The Breakfast Club, in cui viene svelato il mistero dietro al comportamento dei genitori, al puzzle si aggiunge un altro pezzo. Molto lentamente stiamo ricostruendo il passato di Riverdale, tenendo ben a mente che è proprio questo a determinare il presente e il futuro dei ragazzi. C'è poco tempo per risolvere il mistero ed evitare che qualcun altro muoia. Siamo solo al quinto episodio e il numero dei morti è fermo a tre. Mad Dog, che credevamo morto, è in realtà vivo, ma al suo posto c'è il direttore del riformatorio in cui era rinchiuso Archie Andrews: il signor Warden Norton.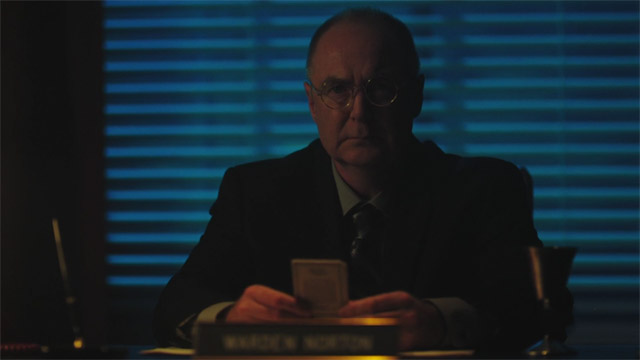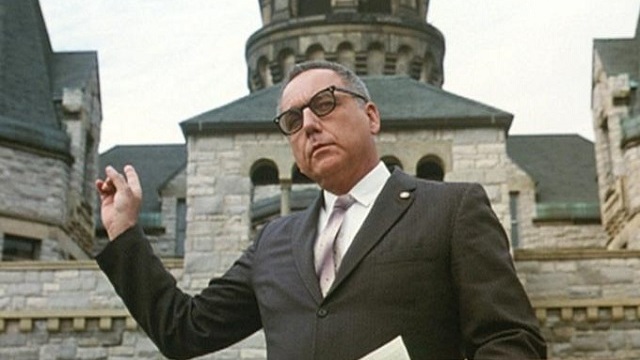 Se questo nome vi fa scattare un campanello d'allarme nella testa, state tranquilli, non siete impazziti. Questo personaggio, infatti, ricorda moltissimo il direttore Samuel Norton de Le ali della libertà, film del 1994 diretto da Frank Darabont e basato sul racconto Rita Hayworth e la redenzione di Shawshank di Stephen King. Non solo per il cognome, e dal punto di vista estetico, questi due sono molto simili anche caratterialmente. Entrambi sono i direttori di una struttura detentiva. Nel caso di Riverdale si tratta di un riformatorio, mentre nel film di Darabont si tratta di un carcere. Entrambi i direttori impongono la loro legge personale fatta di violenze e omicidi gratuiti. Garantiscono protezione ai detenuti in cambio di favori personali.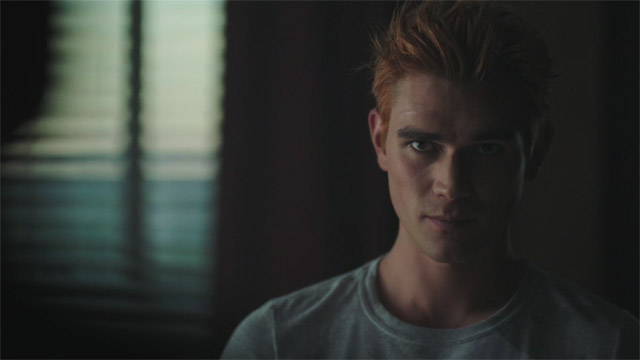 Ripensandoci, l'intera storia di Archie Andrews ricorda quella del protagonista de Le ali della libertà. Andy Dufresne, il protagonista, viene imprigionato dopo essere stato condannato per duplice omicidio nonostante si dichiari (e sia) innocente. Vi ricorda qualcosa? Esatto, ricorda la storia del nostro caro pel di carota, rinchiuso in carcere con l'accusa di omicidio seppure sia innocente. Entrambi vengono tenuti prigionieri dal meschino direttore della struttura e riescono a evadere dalla loro personale prigione, spalancando, finalmente, le ali della libertà.
Dopo questa piccola digressione, torniamo all'episodio di Riverdale. Un episodio segnato da una profonda divisione. Ho avuto l'impressione di guardare due storie diverse che – alla fine – si riuniscono dimostrando che in realtà non sono mai state scisse. Da una parte c'è Veronica che cerca di aiutare Archie a evadere dal riformatorio e a mettersi in salvo. Dall'altra c'è Jughead che è stato risucchiato da Gryphon and Gargoyles e ne sembra ossessionato. E, per tutto l'episodio, ci fanno credere di seguire due storie parallele, ma non collegate tra loro. SBAGLIATO! Le storie sono collegate, ma bisogna arrivare alla fine per accorgersene.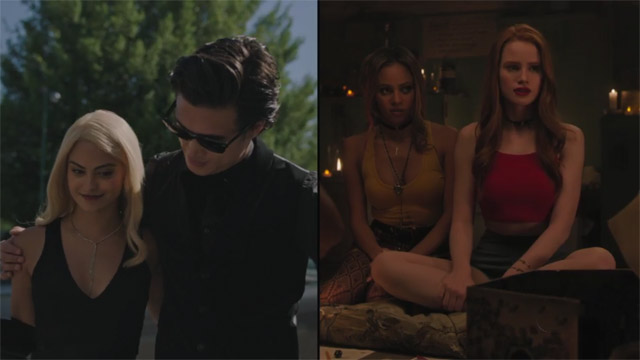 Ho apprezzato particolarmente questa rivelazione. Cominciavo a chiedermi per quale motivo ci fossero tre grandi storie di base e fossero tutte e tre indipendenti l'una dall'altra. Inizialmente credevo fosse un tentativo degli sceneggiatori di riempire ventidue episodi, soprattutto se consideriamo l'andamento altalenante della qualità delle puntate della scorsa stagione di Riverdale. Stagione piena di episodi inutili. A tal proposito, continuo a pensare che i mafiosi latino-americani non siano stati un'idea intelligente.
Ciò che mi chiedo, a questo punto, è dove si collochi la storia della fattoria. Abbiamo appurato che ai tempi della prima partita a Gryphon e Gargoyles non esisteva. L'unico collegamento sensato potrebbe essere Ethel Muggs. Infatti, la figlia del capo della fattoria ha avuto contatti proprio con lei che – allo stesso tempo – era coinvolta nel gioco. Oppure Alice Cooper che ha raccontato alla fattoria del gioco e di cosa successe quand'era adolescente.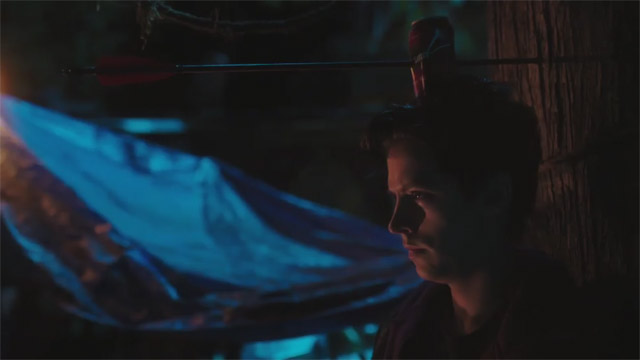 Tornando alla rivelazione di questa puntata di Riverdale, ovvero che le storie narrate sono in realtà collegate, nemmeno per un secondo avrei pensato che Jughead potesse arrivare alla soluzione del mistero da solo. Dopo gli sviluppi dello scorso episodio, credevo lo avessimo perso. Durante questa puntata continuavo a essere di questa opinione, soprattutto quando decide di non prendere parte alla missione per salvare Archie e continua a giocare quel gioco. Eppure, alla fine, era l'unico ad averci visto giusto. Prima di tutti ha capito cosa stava succedendo e ha agito. Ha agito nell'unico modo che credeva utile: continuando a giocare.
Senza essere a conoscenza della nuova minaccia e senza sapere cosa stesse succedendo a Riverdale, Archie era legato a Gryphon and Gargoyles. Il suo destino era legato alla partita che sia Jughead che il direttore Norton stavano giocando. Come sia possibile ancora non mi è chiaro. Era lui il Paladino Rosso (Red Paladin) raffigurato nella carta che il direttore aveva in mano prima di suicidarsi e sempre lui era il Paladino Rosso di cui parlava Jughead.
Ho apprezzato la scelta di montare le scene dell'evasione e della fuga di Archie mentre Jughead narrava le avventure del Paladino Rosso in Gryphon and Gargoyles. Ha reso tutto più chiaro. Mentre Jug parlava, le immagini scorrevano e tutti gli elementi cominciavano ad avere senso. Finalmente. Come in un puzzle, l'insieme dei pezzi ha cominciato a formare un quadro.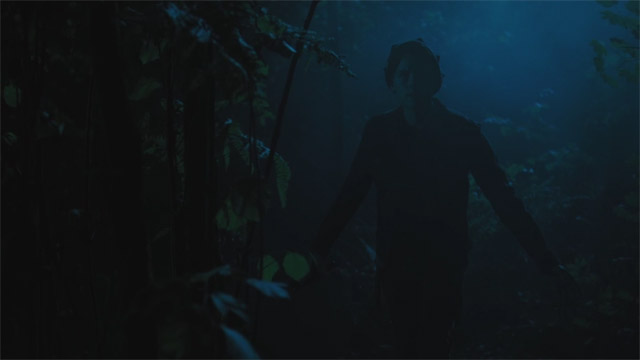 Ciò che però mi ha spaventato è la reazione di Jughead alla visione del Gargoyle King (che mi ricorda una delle creature di Teen Wolf) nel bosco. Al posto di osservarlo, di capire chi fosse, si fa vedere e gli si inchina davanti. Un segno di sottomissione e devozione tale, nonostante l'attaccamento del ragazzo al gioco, non me lo sarei mai aspettato. Comincio a sentire la mancanza della sua razionalità. A Riverdale è una cosa rara e lui ne possedeva una quantità enorme. Ora, invece, è caduto nella trappola del nemico e venirne fuori non sarà facile.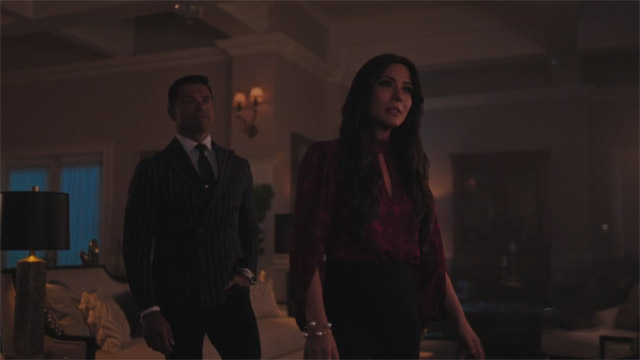 Voglio spendere qualche parola sul rapporto DI Veronica e suo padre e sul risveglio della dormiente Hermione Lodge. Questa settimana abbiamo visto Ronnie organizzare un piano di evasione per aiutare Archie a scappare dal riformatorio. Per farlo si è dovuta imbucare nel fight-club in cui costringevano i detenuti a lottare. Avevo il presentimento che anche dietro questa faccenda ci fosse Hiram. E, durante il tentativo di evasione, lo troviamo lì. Pronto a godersi lo spettacolo in cui sperava che Archie perdesse la vita.
Ma non succede, perché per la prima volta nella battaglia tra padre e figlia, la figlia ha la meglio. Riesce a far scappare il ragazzo nonostante sia stato accoltellato e riesce a eludere la sicurezza. Archie è sano e salvo nel bunker di Dilton Doyle, il primo ragazzino di Riverdale morto per Gryphon and Gargoyles. Quando entrambi i Lodge tornano a casa, vediamo che Hermione sta rimproverando suo marito. Finalmente! All'ingresso di Veronica in casa, il rimprovero si estende anche a lei e dice quello che tutti pensiamo dalla scorsa stagione:
Questa ossessione che entrambi avete con Archie Andrews ci distruggerà.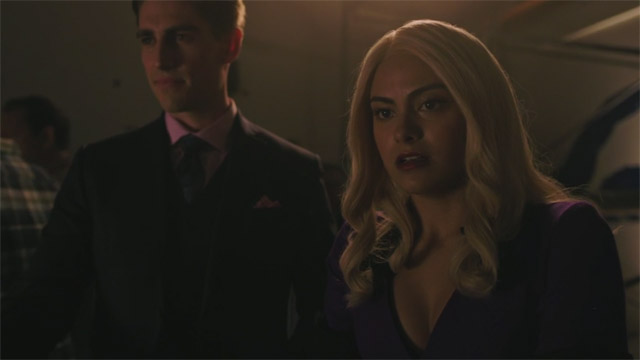 Finalmente qualcuno ha parlato del gigantesco elefante nella stanza. È malsano il modo in cui la vita di padre e figlia sia condizionata dal comportamento di Archie Andrews. Hiram vuole schiacciarlo, Veronica vuole proteggerlo. Lo scontro è inevitabile. Speriamo che questa storia finisca presto e prima che qualcuno si faccia gravemente male. O, se qualcuno si farà male, spero sia Hiram. La crudeltà nei confronti del giovane Andrews è esagerata.
Dopo due episodi così interessanti come quelli di queste ultime settimana, mi aspetto grandi cose da Riverdale.
Anche per questa settimana è tutto, alla prossima
Halleloo!