Bentornati con la recensione del quarto episodio della terza stagione di Riverdale, "Capitolo Trentanove: The Midnight Club".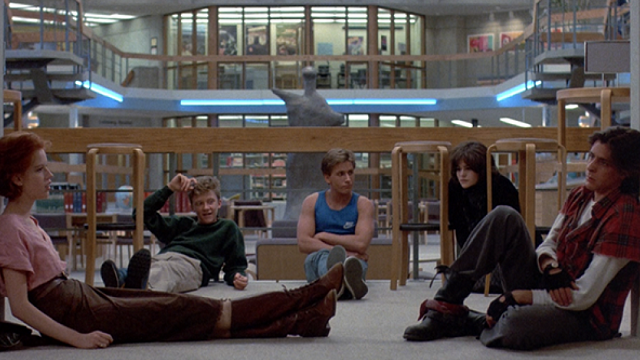 Basta leggere il titolo dell'episodio per capire i continui riferimenti al capolavoro di John Hughes del 1985, The Breakfast Club. Nel racconto di Alice Cooper sentivo le note di Don't You (Forget About Me) dei Simple Minds risuonare forti e chiare nella mia testa. E posso affermare di aver recitato quasi a memoria queste parole, quando i ragazzi vengono costretti a scrivere un saggio mentre sono in punizione.
Caro Mr. Vernon, accettiamo il fatto che abbiamo dovuto sacrificare un intero sabato in punizione per qualunque cosa abbiamo fatto di sbagliato. Ma crediamo che lei sia pazzo a farci scrivere un saggio chiedendoci di dirle chi crediamo di essere. Lei ci vede come vuole vederci, in termini più semplici, nelle definizioni più convenienti. Ma abbiamo scoperto che ognuno di noi è un cervello… e un atleta… e una matta… e una principessa… e un criminale. Questo risponde alla sua domanda? Cordiali saluti, il Breakfast Club.
Tornando all'episodio. Giravano già da settimane notizie riguardati questa puntata in particolare. L'idea di vedere Betty, Jughead, Archie, Veronica e il resto della gang nei panni dei loro genitori al liceo ha incuriosito particolarmente i fan, che non vedevano l'ora di poter guardare con i propri occhi questo strano flashback.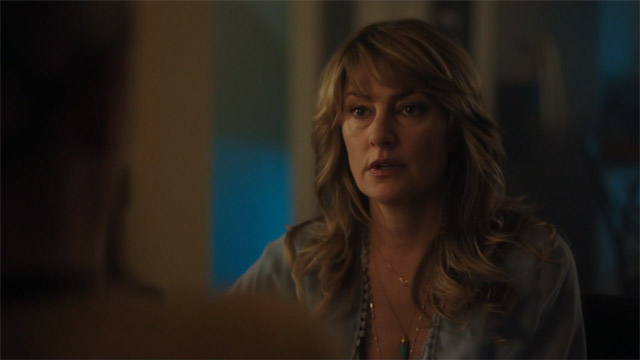 L'espediente narrativo utilizzato mi è piaciuto molto. L'intera puntata è focalizzata sul racconto di Alice Cooper, non ci sono distrazioni. Questa volta non si scappa. Niente mezze verità come contentino. Nel momento in cui Betty e sua madre cominciano a parlare, non c'è nulla che le interrompa. Finalmente arrivano delle risposte e sono soddisfacenti. Certo, non placano la grave curiosità di Betty, ma riescono a riempire il vuoto lasciato da qualche domanda a cui prima non c'era risposta.
Ma andiamo all'episodio di Riverdale. Tutto comincia con la diffusione del manuale di istruzioni di Gryphons and Gargoyles. Nonostante il tentativo di Alice e FP di distruggere le copie, c'è qualcuno che si è divertito a distribuirle ovunque. Come giustamente osserva Betty, dove ne veniva ritirata una copia, ne apparivano altre due. Insomma, un po' come i pidocchi, questo gioco si è insediato a Riverdale.
Tutti sono a rischio. Due su tre ragazzi che ci hanno giocato sono morti. Bisogna fermare questo fenomeno prima che la città si ritrovi senza abitanti. Gli adolescenti sono assuefatti a Gryphons and Gargoyles tanto quanto io sono assuefatta alla Coca-Cola. Mi spaventa vedere quanta gente sia attratta, quasi come falene con la luce, da questo gioco di ruolo. Conoscendo Riverdale, non sarebbe strano se la stagione si concludesse con un suicidio di massa.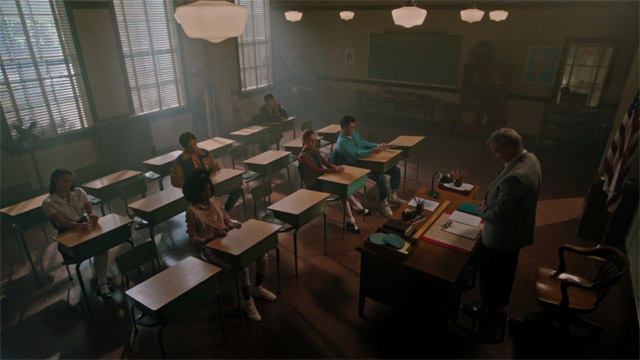 Nel momento in cui comincia il flashback ci ritroviamo catapultati negli anni '80 e le mie aspettative erano molto alte. Captando la paura di Alice e FP per quel gioco, credevo che il mistero alle loro spalle fosse molto oscuro. In realtà, il ricordo di quel periodo, non ha fatto altro che sminuire, ai miei occhi, la gravità della faccenda.
Vi spiego perché. Stando al racconto di Alice, in seguito ad una punizione, un gruppo di ragazzi formato da Alice Smith (ora Cooper), Hermione Gomez (ora Lodge), FP Jones, Fred Andrews, Penelope Blossom (inquietante, ma ci arriveremo) e Sierra Samuels (ora McCoy) si ritrova a passare il sabato in detenzione a scrivere un tema. E qui mi fermo per farvi assaporare ancora una volta la somiglianza con la trama di The Breakfast Club.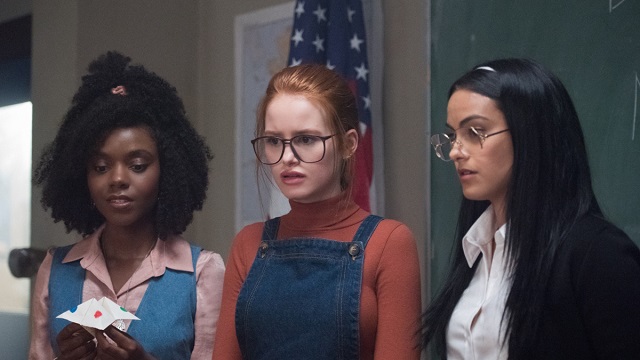 Sfortunatamente o fortunatamente, dipende dalle interpretazioni, da una le giornate diventano quattro. Durante questo tempo scoprono l'oscuro gioco. Grazie a questo si crea un bel gruppo fatto di persone che, altrimenti, non si sarebbero mai parlate. Fin qui è ancora tutto rose e fiori, ma i cachi alla fine arrivano sempre. E, infatti, il giorno della festa di ascensione tutto cambia. Il preside della Riverdale High viene ucciso da un veleno, lo stesso che era nei calici visti da Alice in bagno. Il colpevole non si trova e di quella serata nessuno ha ricordi precisi. La causa di questo fenomeno potrebbe essere la droga portata da Hiram Lodge.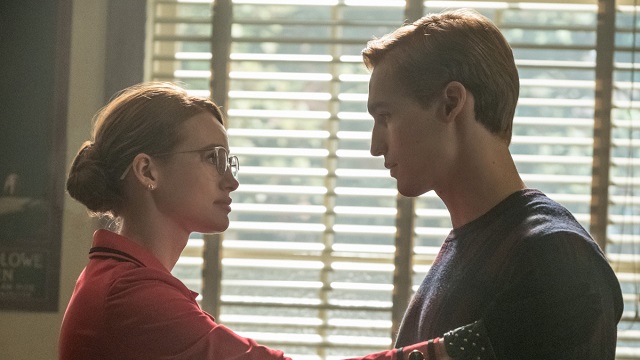 Il gruppo si sfalda. Ognuno va per la sua strada. I ragazzi cambiano e si trasformano nelle persone che abbiamo conosciuto in queste tre stagioni di Riverdale. La cosa è piuttosto inquietante se ci pensate. Abbiamo Alice Cooper che comincia a frequentare Hal Cooper, lo stesso uomo che ha poi sposato. Veronica e Hiram si fidanzano. Tom Keller e Sierra pongono fine alla loro storia d'amore promettendosi di riprovarci da adulti (e così fanno). Penelope prende parte al contorto piano dei Blossom di farla fidanzare con Clifford.
Il pensiero che Penelope sia stata adottata da quella famiglia per assicurare al figlio una moglie, è super inquietante. È la sorella adottiva di suo marito. Chiaramente scoprire questa cosa mi ha disturbato e disgustato come pochissime altre cose. Ma si sa, a Riverdale bisogna aspettarsi di tutto.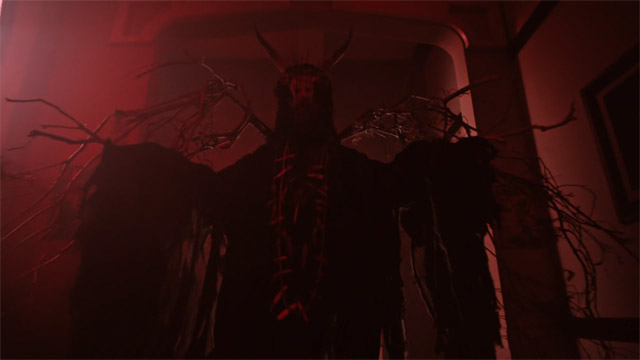 Credevo che il mistero alle loro spalle fosse molto più oscuro. Ero convinta che la morte misteriosa in cui si erano imbattuti i genitori fosse quella di un ragazzo, magari qualcuno del loro gruppo di gioco. In più, Alice stessa indebolisce la possibilità che effettivamente ci sia la magia a Riverdale. Lei è sicura che qualcuno si sia travestito da Gargoyle King e abbia avvelenato i calici dei giocatori. È certa che il colpevole sia da ricercare tra i presenti alla festa d'ascensione. Secondo il suo punto di vista, è la stessa persona, anche questa volta, a causare la morte di quei ragazzi.
Questo ragionamento non fa una piega, è logica pura. Abbiamo parlato di magia troppo presto anche se rimane la questione della fattoria e dei bambini volanti. Una cosa è certa, però, la fattoria non è collegata al gioco, soprattutto se seguiamo i presentimenti di Alice, ovvero che il colpevole delle morti sia uno dei giocatori originali. Nessun membro della fattoria faceva parte di quel gruppo perché la fattoria non esisteva all'epoca.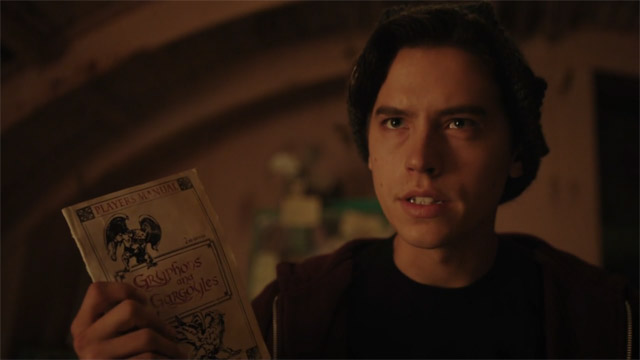 Ho molta paura per Jughead. A fine episodio lo vediamo impegnato a giocare a Gryphons and Gargoyles nel bunker del defunto Dilton Doiley. Sembra fuori di testa. È completamente risucchiato dal gioco. Ho paura che possa finire come Ethel Muggs o peggio, morto. Tra l'altro, seduta al tavolo a giocare con lui c'è Cheryl Blossom e Cheryl Blossom non me la devono toccare perché sennò è la fine. Non si azzardassero a torcerle un capello. Riverdale non avrebbe senso senza di lei.
Ad ogni modo, l'episodio mi è piaciuto moltissimo, soprattutto per i continui riferimenti a The Breakfast Club. C'è una scena che mi ha ricordato la scena finale del film. Parlo di quella in cui ognuno va per la sua strada. È il momento che segna la fine di quell'amicizia e il ritorno alle abitudini. In più adoro il fatto che abbiano deciso di inserire riferimenti proprio a questo film considerando che sia in The Breakfast Club che in Riverdale ci sia Molly Ringwald (Claire Standish nel film e Mary Andrews nella serie, la mamma di Archie).
Già precedentemente avevano omaggiato un altro capolavoro, sfruttando la presenza di un personaggio presente sia nella serie che nell'opera di riferimento. Durante la prima stagione, infatti, i creatori di Riverdale avevano confermato i rumors che vedevano, nella serie, tracce di Twin Peaks. Al Comic-Con di San Diego, durante un'intervista, uno dei produttori disse che avevano inserito volutamente dei riferimenti al capolavoro di David Lynch, e poi, menzionarono anche la presenza di Mädchen Amick (Shelly Johnson in Twin Peaks e Alice Cooper nella serie) nel cast come ulteriore prova a sostegno della loro tesi.
Anche per questa settimana è tutto, alla prossima
Halleloo!
P.S. L'idea di scegliere il figlio di Mark Consuelos, Michael, per interpretare Hiram Lodge adolescente è stata geniale. La somiglianza è impressionante! Vi allego dei collage davvero carini che ho trovato online sulle somiglianze tra i ragazzi e gli attori che interpretano i loro genitori da ragazzi.