Bentrovati con la recensione del nono episodio della sesta stagione di Orange Is the New Black (qui la recensione della 6×01). Cominciamo proprio dall'evento che ha deciso il titolo di questa recensione: il peso delle menzogne comincia a farsi sentire.
Ebbene sì, finalmente gli effetti delle bugie raccontate da Black Cindy cominciano a manifestarsi. Mi spiace per Cindy, ma questa volta l'ha davvero fatta grossa. Ha plagiato Suzanne "Crazy Eyes" affinché confermasse la sua storia e ha condannato la sua amica Taystee. Certo, è vero, non è stata l'unica ad affibbiare la colpa ad altri solo per salvarsi il culo. Già precedentemente, avevamo affrontato lo stesso discorso per quanto riguarda Red e la sua "famiglia".
A distanza di una serie di episodi, rieccoci qui, a discutere dello stesso argomento. Ma forse c'è qualcosa che rende questo tradimento addirittura più terribile di quello della famiglia di Red. Sì, perché il tradimento di Cindy e di Suzanne è completamente ricoperto di codardia e incoerenza. Dopo aver accusato la loro amica, anzi, definirla amica è anche riduttivo, la loro sorella Taystee, hanno continuato a trattarla come se nulla fosse accaduto. La povera ragazza non sa nemmeno che le sue più care amiche siano il motivo per cui si ritrova seppellita nella merda fin sopra la testa. È questo che rende il loro tradimento più infimo e meschino.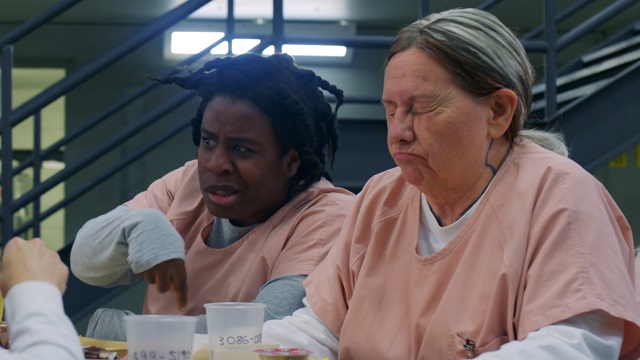 Forse dare la colpa a Suzanne di questa decisione non è nemmeno tanto corretto, considerando che è stata principalmente plagiata da Cindy, ma comunque è anche grazie alla sua testimonianza che Taystee si ritrova in quell'ingiusta situazione. Almeno i membri della famiglia di Red hanno avuto la decenza di confrontarsi con la donna (fatta eccezione per Frieda). Nicky le ha parlato prima di denunciarla e – quasi a malincuore – è stata la stessa Red a farle intuire che le cose tra loro non sarebbero cambiate e che, in parte, l'avrebbe perdonata. Quell'idiota di Piper ha avuto la decenza di avere un confronto con lei dopo l'accaduto, risultando completamente fastidiosa come al solito.
Ma Cindy e Suzanne non hanno detto nulla a Taystee. Le prime ripercussioni di questo gesto si erano fatte sentire nel momento in cui Suzanne viene invitata dalle sue amiche in cortile. La povera Crazy Eyes non riusciva quasi a mantenere il segreto e – anche se involontariamente – ha fatto capire alle sue compagne in Florida di avere qualcosa da nascondere. Per fortuna, a differenza di Cindy, lei non è costretta a dover passare ventiquattro ore su ventiquattro con Taystee con la consapevolezza di averla tradita.
La coscienza però, tira brutti scherzi. E così vediamo una Black Cindy che ha somatizzato il dolore che sta passando mentalmente ed emotivamente. Probabilmente l'è venuta un'ulcera. Il pensiero di aver mentito a una delle sue più care amiche la logora. E – sarà cattivo dirlo ma – ben le sta. Adesso deve assumersi la responsabilità delle conseguenze dovute al suo gesto vile e codardo. Denunciare un'amica e fingere che non sia mai successo nulla, non deve essere facile. Ma non deve essere facile nemmeno scoprire che una tua amica ti ha accusato ingiustamente di qualcosa che non hai fatto solo per salvarsi il culo.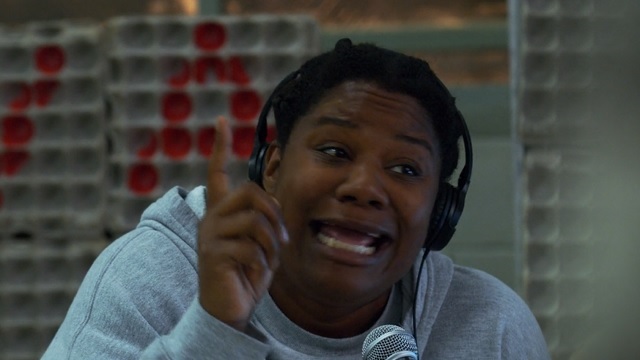 Ho adorato la scena in cui Cindy inserisce il suo biglietto tra le lettere delle fan del suo show radiofonico nella speranza di ricevere consigli dalla sua co-host, Flaca. La reazione e le parole dell'altra conduttrice sono state meravigliose! Flaca non avrebbe mai tradito Maritza e Maritza non avrebbe mai tradito Flaca. Il che mi porta a pensare che siamo al nono episodio e di Maritza non si vede nemmeno l'ombra. Ok, ci sono tante detenute che sono finite altrove, ma perché hanno dovuto separare Flaca e Maritza. Erano il duo più speciale di Orange Is The New Black. Quelle due assieme non facevano un cervello ed era proprio questo che le rendeva estremamente esilaranti. In più adoravo il rapporto di lealtà e la fedeltà che condividevano.
Passando ad altri avvenimenti interessanti accaduti in questo nono episodio di Orange Is the New Black, volevo dire che ancora una volta Nicky Nichols si conferma come uno dei migliori personaggi in assoluto. La maggior parte delle volte penso che lei sia l'unica ad avere una mente razionale in quel posto, soprattutto da quando è sobria. In più il suo sarcasmo e il suo cinismo riportano tutti con i piedi per terra e – molte volte – salvano interi episodi. Fosse per me le dedicherei una puntata di cinquanta minuti in cui dice la dura verità e fa commenti cinici su qualunque cosa.
Durante le scene con Barbara in infermeria mi sono resa conto di quanto il suo sia un personaggio necessario in questa Serie. Vederla guidare Barb durante il suo trip è stato non solo divertentissimo, ma anche assai interessante. Soprattutto per lo scambio di battute che è seguito allo stato di alterazione mentale della regina del braccio D. Quando ha cercato di spronare Barb a uscire dal tunnel della dipendenza, ha dato dimostrazione di quanto sia cresciuta in questi anni. All'inizio di Orange Is the New Black a stento riusciva a sopravvivere ad una giornata senza fare uso di sostanze stupefacenti. E adesso, a distanza di quelli che sembrano secoli, eccola che sprona una donna che non è sobria da trent'anni a smettere. Perché non è mai troppo tardi per smettere. Chissà se ce la farà.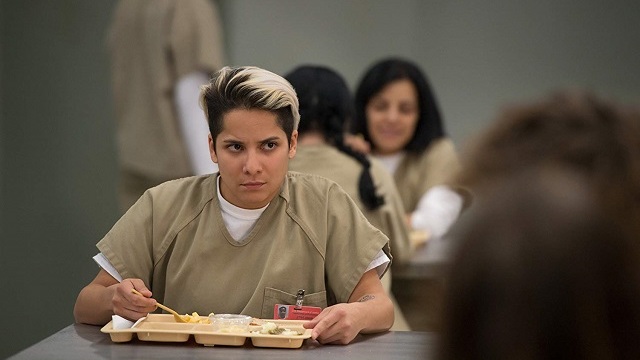 Ma passiamo adesso a Daya che è sempre più immischiata negli affari loschi di Daddy. Ok, capisco che Daddy l'ha aiutata a sopravvivere durante il periodo in cui veniva picchiata dalle guardie. Ma quella donna è anche colei che l'ha iniziata all'uso e abuso di sostanze stupefacenti per superare il dolore. Insomma, Daddy porta solo guai e Daya non sembra capirlo nemmeno quando questi glielo dice chiaramente. Sembra proprio che la Diaz stia cercando un modo per farsi uccidere.
Non mi è piaciuto per niente il fatto che abbia cercato di trascinare Aleida nei suoi piani. E per un attimo, ero felice che non ci fosse riuscita. Ma purtroppo, la necessità di riportare a casa i suoi figli, ha portato Aleida a ricadere nello stesso errore che precedentemente l'aveva condannata alla reclusione. Speravo davvero che ne rimanesse fuori. È stato davvero egoistico, da parte di Daya, riportare sua madre in quell'ambiente. Spero solo che non vengano beccate perché mi dispiacerebbe rivedere Aleida in carcere proprio adesso che aveva ricominciato a vivere.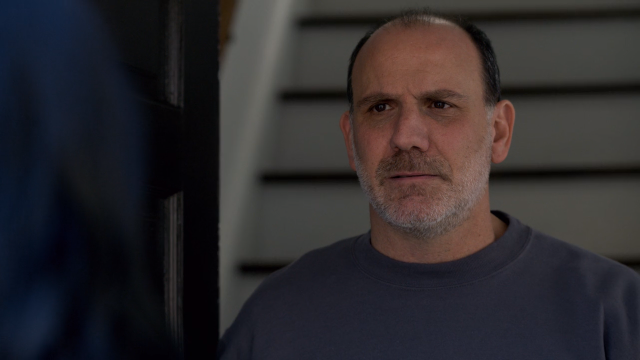 Voglio spendere due parole per Joe Caputo. Quest'uomo nel corso di Orange Is the New Black è cambiato tantissimo e ho imparato ad apprezzarlo sempre di più. L'ho amato durante la deposizione a favore di Taystee. Ma, soprattutto, l'ho amato quando si è licenziato e ha mandato – implicitamente – a fanculo quella rincoglionita della Ferguson. Era ora! Quella tizia è completamente fuori di testa. Per fortuna c'è Caputo che non le permetterà di insabbiare la faccenda e non permetterà che la storia di Taystee venga taciuta.
E infine voglio spendere le mie ultime parole per Gloria Mendoza. Sembrava davvero che Gloria avesse trovato la sua tranquillità lì in massima sicurezza. E lo aveva fatto grazie soprattutto al corso di danza che teneva per le altre detenute durante l'ora di palestra. Ora a causa di Badison ha dovuto lasciarlo. Speriamo solo che non finisca nei guai con le bulle del braccio C, oppure per lei saranno guai. Mi spiace davvero perché sembrava aver trovato la sua pace.
Per questo episodio è tutto.
Alla prossima
Halleloo!