Bentrovati con la recensione dell'ottavo episodio della sesta stagione di Orange Is the New Black (qui la recensione della 6×01). Finalmente è arrivato il momento di conoscere in modo più approfondito il rapporto che lega Taystee e la secondina Tamika Ward.
Sin dall'inizio di questa stagione, era chiaro che tra le due ci fossero dei trascorsi. Da quanto ci era dato sapere, erano state colleghe in passato. Finalmente capiamo di che natura era il loro rapporto. Le due lavoravano in una specie di fast food e Taystee era quasi la mentore di una giovanissima e alquanto esuberante Tamika. La ragazza era assai diversa da come la vediamo nel carcere. Di certo non era così rispettosa delle regole come appare adesso. Sarà anche a causa del ruolo che ricopre, ma Tamika sembrava molto più divertente prima. Certo era assai meno lucida, ma comunque meglio di ora.
Ancora una volta, proprio grazie ai flashback, Taystee dà prova di essere una ragazza con i contro c***i. Durante un turno di lavoro, vediamo che un ragazzo cerca di rapinare il fast food in cui le due lavorano. E con freddezza spaventosa, Tasha riesce a mandarlo via quasi a mani vuote, mentre Tamika, codarda, si nasconde. Tra l'altro la Jefferson rinuncia alle sue scarpe nuove per poter dare un contentino all'imbarazzante rapinatore. Mentre l'amica non fa assolutamente nulla.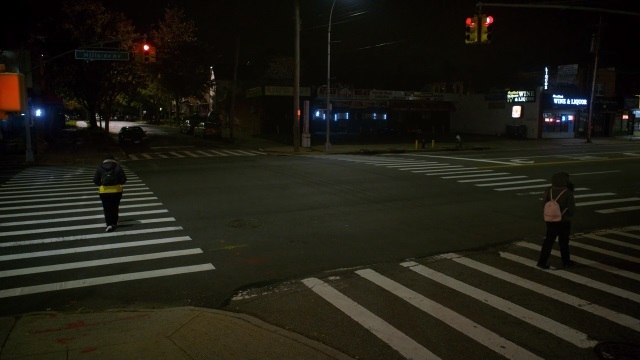 C'è una scena in particolare del flashback che mi ha colpito. A fine turno, quando le ragazze escono dal locale, vediamo Taystee senza scarpe e Tamika che continua a ricordarle quanto sia stata fantastica mentre si difendeva dal rapinatore. Poi, ad un certo punto, riceve una chiamata da sua madre e le due si salutano prendendo due strade completamente diverse. Leggiamo negli occhi di Taystee la tristezza di essere sola, di non avere nessuno che la chiamasse a fine turno per ricordarle di tornare subito a casa.
Tra l'altro – probabilmente è solo una mia stupida teoria – secondo me, il momento in cui cominciano a camminare nelle due direzioni opposte è una metafora. È la metafora delle loro vite che prendono direzioni diverse. Infatti, abbiamo visto quali sono le loro attuali esistenze: una è finita in carcere e l'altra è una secondina. La metafora delle strade diverse serviva a marcare questa differenza.
Taystee è uno dei miei personaggi preferiti in Orange Is the New Black. E continua a darmi prova di quanto sia preziosa. In questo episodio l'ho apprezzata soprattutto durante l'intervista che la stessa Tamika le aveva consigliato di fare. Come ho continuato a ripetere nel corso di queste recensioni, i veri animali sono le guardie e non le criminali. Soprattutto per via di quel fanta-detenute che hanno messo in piedi. E proprio durante l'intervista, Taystee denuncia quegli stronzi e dice queste parole che ho amato all'infinito:
Credo che i rimpianti siano per chi ha un'altra scelta. I rimpianti sono un privilegio di chi gode di libero arbitrio. I rimpianti non sono per chi è intrappolato all'inferno e cerca di sopravvivere ad anni di abusi per mano delle guardie e a un sistema carcerario che fa finta di niente. Per cui no, non ho rimpianti. Nonostante ciò che subisco qui. Non è un segreto. Gli abusi. Le guardie qui credono che abbia ucciso uno di loro e io so che non è così. Ma so che loro hanno ucciso la mia amica. La sola differenza è che io non ho alcun potere. Ogni giorno le guardie sputano nel mio cibo, mi insultano, censurano la mia posta, mi picchiano e io posso solo sperare in un processo. Posso solo conviverci. Siamo chiuse in gabbia, ma sono loro gli animali.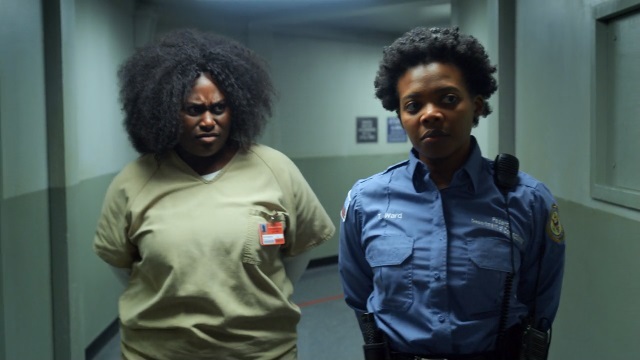 Che altro aggiungere dopo un discorso del genere. Forse solo che Tamika è una stronza. Perché sì, è vero, lei si è sempre comportata bene con Taystee. E forse è l'unica guardia di Orange Is the New Black che lo fa, ma la sua reazione alle parole dell'ex collega, è stata assurda. Non può prendersela perché Taystee ha denunciato anni di abusi da parte delle guardie. Certo, lei è una dei buoni, ma i suoi colleghi non lo sono.
Non è a lei che si riferiva la Jefferson quando ha avanzato quelle accuse. Tasha si riferiva a tutti coloro che continuano a picchiare le detenute, a tutti coloro che scommettono sulle loro vite e che sono colpevoli della loro miserabile condizione. Perciò la sua reazione a quell'intervista è stata da stronza. Tamika sei una stronza. E probabilmente non meriti l'amicizia e il rispetto di Taystee. Probabilmente meriti di stare con i tuoi simili, quei secondini animali.
Ma andiamo avanti con il commento di questo episodio di Orange Is the New Black alleggerendo un po' i toni e passando a parlare dello strano duo formato da Blanca e Nicky. Già nello scorso episodio Blanca aveva menzionato il suo desiderio di maternità. E dal primo momento, Nicky si è dimostrata intenzionata ad aiutarla. Se non altro avrebbe aiutato una conoscente a realizzare uno dei suoi più grandi desideri mentre attorno a loro si stava creando il campo di battaglia fra le due fazioni: il blocco C e il blocco D. Ho riso tantissimo durante la scena in cui il fidanzato di Blanca cerca di masturbarsi nel bagno della prigione eccitandosi con la frase "sono un unicorno". Super inquietante. Ma – ripeto – divertente.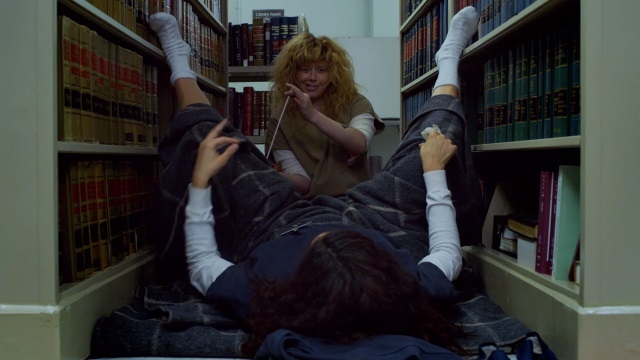 La scena in cui Nicky cerca di aiutare Blanca a rimanere incinta, mi ha fatto morire dal ridere. Innanzitutto per l'assurdità della cosa, ma soprattutto per la sua vena inevitabilmente sarcastica anche nel momento in cui vengono accerchiate dalle pazze del braccio C, pronte a farle a pezzi. Che Nicky sia uno dei gioielli più preziosi di Orange Is the New Black era chiaro e fortunatamente continua a darci dimostrazioni della sua preziosità insuperabile. Chissà come andrà a finire questa faccenda.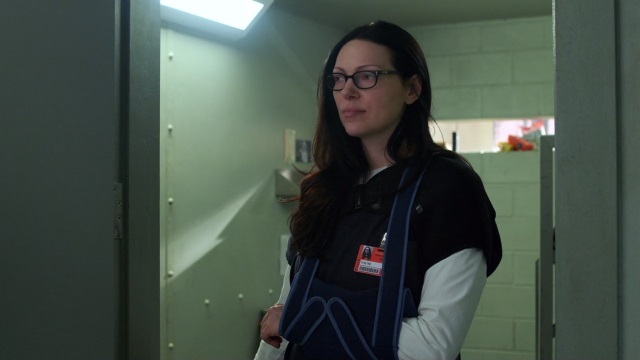 Ma passiamo adesso a parlare brevemente di quanto sia fortunata Alex Vause. Ok, forse fortunata è un po' esagerato come termine, but still. Le guardie hanno interrotto la perquisizione proprio un istante prima che scoprissero il cellulare che nascondeva nelle scarpe. Mi dispiace solo che adesso si sia immischiata ancora di più con Badison e Carol. Penso proprio che le cose non miglioreranno.
Prima di lasciarvi voglio parlare di Red. Red che, dopo essere stata tradita, si ritrova a cercare vendetta nei confronti di Frieda. Certo, fossi stata in lei avrei preferito concentrare le mie forze cercando di distruggere ed eliminare dalla faccia della terra Piper, ma ognuno ha le proprie priorità. Tornando alla puntata. Abbiamo visto la nostra rossa preferita vagare per la prigione alla ricerca di colei che è stata tradita da Frieda tanti decenni prima. E dopo svariate ricerche trova l'alleata perfetta. Niente poco di meno che Carol, colei che comanda il braccio C. Tra l'altro Carol è anche una dei personaggi più spaventosi che abbia mai visto in Orange Is the New Black. Soprattutto durante i flashback che la riguardavano, ha dato dimostrazione di essere completamente fuori di testa. E non conosciamo ancora tutta la sua storia.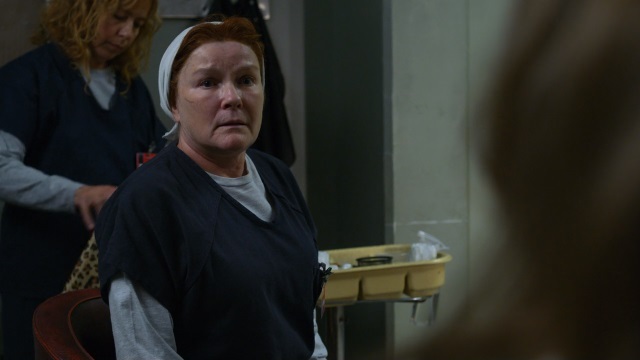 Speriamo solo che questo tentativo di vendetta non si rivolti contro Red. Ormai è l'unica cosa in cui investe le sue energie. Prima almeno si distraeva con la cucina. Frieda è parecchio pericolosa e ingegnosa, nonché emotivamente fredda con chiunque. Ho paura di ciò che potrebbe inventarsi questa volta e degli effetti che queste sue qualità potrebbero avere sulla povera Red. Che dire, non ci resta che continuare a guardare e a sperare che tutto si risolva per il meglio.
Per questo episodio è tutto.
Alla prossima
Halleloo!