Il carcere più chiacchierato di Netflix è tornato con un primo episodio più no sense che mai. Ecco la nostra recensione di Orange Is The New Black 6×01.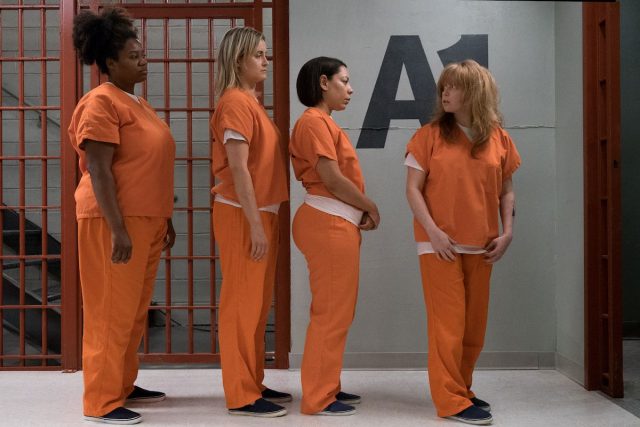 Le detenute, le cui vite sono state totalmente scombussolate nella quinta stagione, approdano in un nuovo centro di detenzione.
Sono divise in gruppi distinti e in celle singole, oltre a essere sotto indagine e torchiate in interrogatori volti a chiarire le dinamiche della ribellione a Litchfield, ma soprattutto a dare una spiegazione all'omicidio dell'agente Piscatella. Quest'ultimo infatti era rimasto ucciso da un collega nella stagione precedente. Così Piper Chapman (Taylor Schilling) e le altre si trovano in uno stato del tutto nuovo e disarmante.
I primi minuti della sesta stagione di Orange Is The New Black ti lasciano letteralmente perplessa riguardo lo show che stai guardando. Is this real o what? Suzanne (interpretata da una sempre più brillante Uzo Aduba) è così disorientata nel luogo in cui è stata trasferita da avere allucinazioni da Oscar. Attraverso la sua psiche ormai borderline, ci anticipa tutto ciò che le altre compagne stanno più o meno provando e cosa ci aspetterà.
Una macabra televisione trasmette uno show irriverente e assurdo, che tramuta le vicende reali in una romanzata vita da spettacolo televisivo.
Ad esempio, se nella Suzanne-Tv vediamo Daya ballare una danza violenta con le guardie, nella trasposizione reale la vedremo pestata da queste ultime in quanto assassina di una guardia. E così via per il resto delle detenute: Freida che tenta il suicidio, Gloria e Maria che hanno ancora conti in sospeso che le guardie usano per i propri tornaconti etc.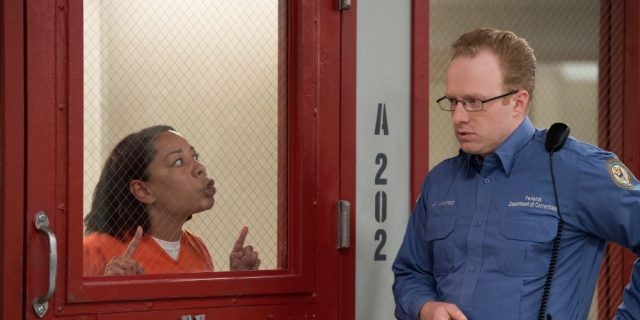 Grazie all'introduzione di Occhi matti, sappiamo che il tema principale della stagione riguarderà la morte di Piscatella. Non che ci volesse poi un genio o una chissà quale premessa per capirlo. In un flashback scopriamo che la morte dell'agente è stata insabbiata e riplasmata in modo tale da ricadere sulle detenute.
I 4 soldati che avevano scortato fuori le prigioniere dalla piscina sono successivamente ritornati all'interno portandosi dietro il cadavere di Piscatella per concordare la loro versione dei fatti.
Le uniche a conoscenza della verità sono Cindy e Suzanne che, nascoste sotto un telone, hanno assistito a tutta la scena. Una verità che purtroppo condiziona le loro vite, perché troppo importante per essere nascosta e allo stesso tempo troppo azzardata per essere rivelata.
In fondo,  chi crederebbe mai a delle pregiudicate?
Così Cindy tenta di tenere zitta l'amica pazza affinché non dica nulla, non sapendo come gestire la situazione e cosa potrebbe succedere loro se si scoprisse cosa hanno visto.
Ma volgendo lo sguardo verso i nuovi arrivati, troviamo personaggi che rimpinguano le fazioni di guardie e prigioniere. Le guardie non sono molto positive, anzi fanno quasi rimpiangere il caro pornobaffo dei primi tempi. Alcune sembrano giocare a fantacarcere, fino ad arrivare alle controparti più sadiche, i violenti che abusano del loro potere per soggiogare le detenute.
Tra queste ultime abbiamo Badison, piantagrane violenta e folle che finisce in cella con Red (scontro tra bulle in arrivo) e Daddy, una capobanda che prende a benvolere Daya per quel che ha fatto a Lichtfield. Inoltre a sorpresa ci ritroviamo tra le detenute Lolly, la pazza cospirazionista incastrata nella quarta stagione per l'omicidio della finta guardia. Un ritorno che ancora è da delineare: bisognerà capire se sia un semplice cameo o se avrà un qualche ruolo di rilievo in questa stagione.
A conti fatti, questo pilot di Orange Is The New Black è stato delirante ma abbastanza esaustivo nel farci da apripista in questo nuovo carcere. Eppure, arrivata alla veneranda stagione numero 6, la serie comincia a dare segni di stanchezza, nonostante la voglia di cambiare e continuare il suo percorso. Il primo episodio spinge a proseguire la visione per il semplice fatto che alcune delle rinomate prigioniere mancano all'appello. Prima fra tutte quella che Piper continua a cercare per l'intero episodio in una cantilena estenuante, ma comprensibile, che si può riassumere con un semplicissimo meme: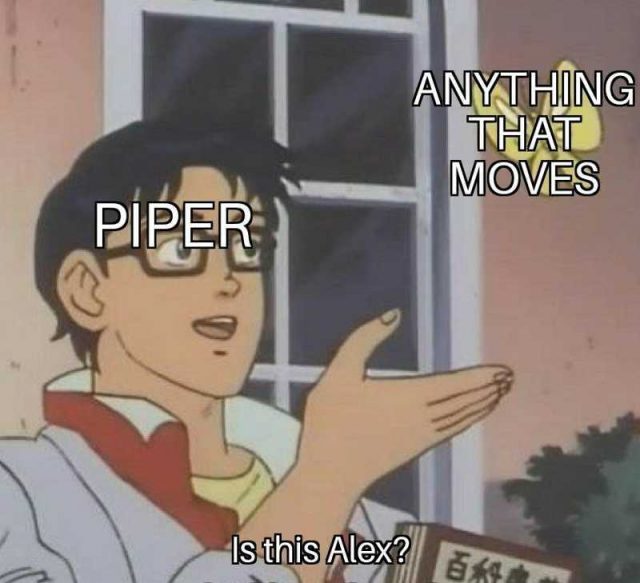 Il rimescolamento delle detenute, l'assenza di alcune e la nuova ambientazione non saziano, rendendo quindi l'inizio stagione un po' incerto. L'ironia non sembra più molto pungente e i flashback sono ormai obsoleti addosso a personaggi che conosciamo bene.
In fin dei conti è comunque un buon inizio. Orange Is The New Black non scalda appieno i motori ma lascia il beneficio del dubbio che qualcosa in più arriverà.