Bentrovati con la recensione di Orange Is The New Black 6×02. Dopo un episodio tanto surreale quanto intenso come quello della scorsa settimana, che vedeva come protagonista la meravigliosa Suzanne "Crazy Eyes", questa settimana l'attenzione si sposta su Black Cindy.
Ci troviamo ancora in massima sicurezza. Ormai la tranquillità del Litchfield è assai lontana. Le detenute sono trattate con lo stesso rispetto riservato a una zanzara che ti ronza nelle orecchie d'estate e la cosa mi rende sempre più nervosa. Nello scorso episodio Daya e Taystee erano costantemente maltrattate dai secondini che cercavano vendetta per gli uomini caduti durante la rivolta del Litchfield. Peccato che proprio loro dovrebbero essere un esempio di integrità. A questo giro è più esemplare il comportamento delle carcerate di quello delle guardie che cercano di farsi un po' di giustizia da sole.
Inutile menzionare poi il fatto che Piscatella era un rifiuto di essere. Non mi va nemmeno di definirlo umano, perché l'umanità è una caratteristica che non ha mai sviluppato. Perciò, sembra strano da dire, ma i veri animali chiusi in gabbia sembrano essere proprio le guardie.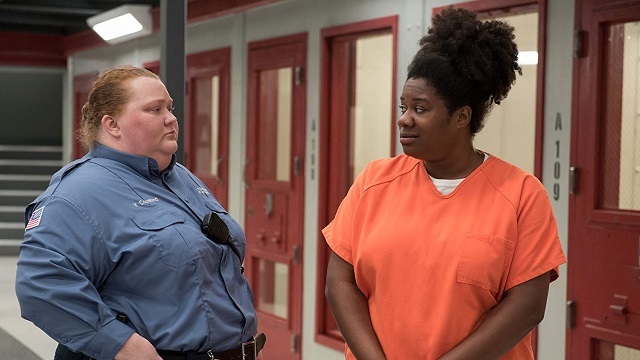 Ma passiamo alle vicende di questo secondo episodio.
Riuscire a superare la profonda bellezza della mente di Suzanne è quasi impossibile. Ma grazie alla bravura e alla simpatia di Cindy anche questo episodio è stato meraviglioso. Leggero, interessante, pieno. L'unica pecca che ho trovato – e che poi è la stessa che ho riscontrato nel primo episodio – è Piper Chapman. Fosse per me, le avrei fatto scontare quell'anno in prigione e poi l'avrei fatta sparire di scena più in fretta di quanto io faccia sparire una pizza dal piatto.
Piper è estremamente noiosa, fastidiosa, monoespressiva e talmente irritante che alle volte vorrei semplicemente saltare tutte le scene in cui c'è, oppure fare in modo che per lei venga applicata la damnatio memoriae. Le sue vicende sentimentali e personali mi interessano quanto mi potrebbe interessare un documentario su come sono fatte spugne per lavare i piatti. Preferirei invece sapere di più su quei personaggi che ancora non conosciamo abbastanza.
In questo episodio, per esempio, abbiamo scoperto un altro po' della vita di Cindy di cui non sapevamo quasi completamente nulla.
A quanto pare la nostra meravigliosa Cindy ha avuto un bambino.
Ecco, di questo io vorrei sapere di più. Vorrei sapere cosa gli è successo, considerato che in sei anni di Orange Is The New Black non aveva mai accennato a un figlio. Vorrei capire in che rapporti sono rimasti, se il piccolo è ancora vivo, insomma, vorrei saperne di più.
Piper invece ci ammorba dalla prima stagione con questa storia ripetitiva e infinita di Alex. Prima odio Alex, poi voglio Alex, poi litigo con Alex, poi tutto dall'inizio e infine dov'è Alex? Non ce ne può fregare di meno di dove sia Alex. C'è gente che rischia di passare una vita in prigione semplicemente per essersi nascosta o per aver cercato di far valere i propri diritti in carcere. Gente che ha iniziato una rivolta perché una detenuta è morta schiacciata dal peso di un secondino. Queste sono le cose che voglio sapere, queste sono le cose che mi interessa approfondire. Non di certo la stupidissima e noiosissima storia d'amore tra Alex e Piper.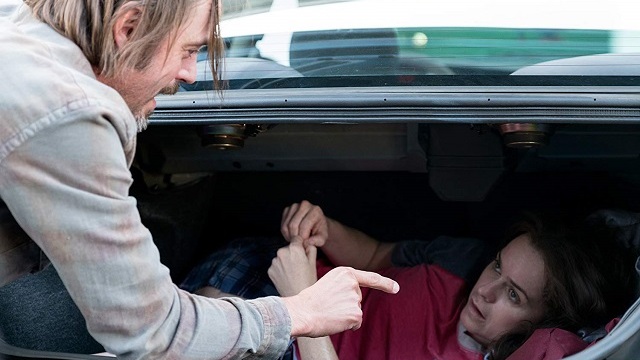 Tra tutte le storie d'amore di Orange Is The New Black, è più interessante quella di Nicky e Morello, è più interessante quella di Morello e Vinnie, ma addirittura è più interessante quella di Pennsatucky e Donuts se messe a confronto con Alex e Piper. E vi ricordo che Donuts ha stuprato Pennsatucky prima che lei si innamorasse di lui (che poi avrei tantissimo da ridire su questo, ma lasciamo la questione per un'altra volta).
Tornando all'episodio, a parte Piper Chapman l'ho adorato.
Ho adorato soprattutto la parte in cui Gloria viene chiamata a testimoniare e decide, giustamente, di salvarsi, attribuendo tutte le colpe a Maria. Io non avrei fatto diversamente, perché Maria ha effettivamente dato inizio alla rivolta, non tanto per amore della giustizia – come invece ha fatto Taystee -, ma soprattutto per imporsi in carcere.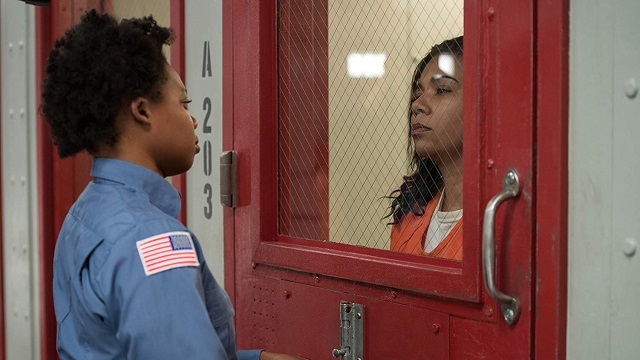 E ha anche sferrato un colpo bassissimo alla povera Gloria che tutto ciò che voleva era fare la cosa giusta per tornare dai propri figli. A questo punto è arrivato il momento per Maria di prendersi la responsabilità delle sue azioni. Come dice sempre mia nonna "Hai voluto la bicicletta? E ora pedala". Ed è tempo che Maria si metta a pedalare perché, ora come ora, la strada per lei è tortuosa ed è più pericolosa della Salerno-Reggio Calabria.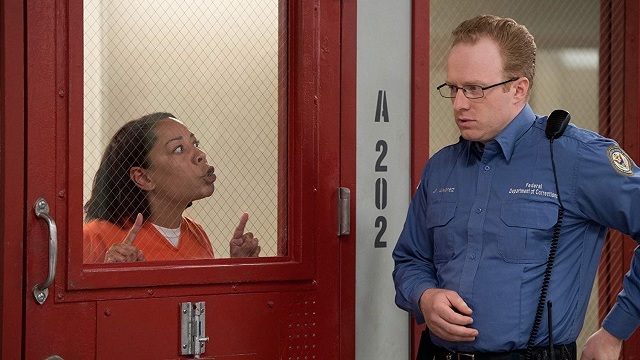 Ho adorato l'espediente usato da Gloria per portare Blanca dalla sua parte. L'intera scena, assieme a quelle della vita passata di Cindy, ha alleggerito i toni di un episodio che altrimenti sarebbe potuto sembrare pesante. La cosa che adoro di Orange Is The New Black (qui tutte le indiscrezioni sulla sesta stagione) è l'alternarsi di scene quasi demenziali e comiche a scene tragiche, che arricchiscono la Serie e rendono tutta la storia più facile da digerire.
Mi ha fatto un sacco piacere rivedere il signor Caputo.
All'inizio lo detestavo. Era uno di quei personaggi – e in Orange Is The New Black ce ne sono tanti *coff coff* Alex Vause *coff coff* – che avrei voluto prendere a schiaffi in faccia così forte da fargli dimenticare il proprio nome. Però col tempo ha avuto un'evoluzione non indifferente. È riuscito a stravolgere l'opinione che avevo di lui. Spero davvero che adesso riesca a ottenere giustizia, denunciando quella cretina di Figueroa, e che riesca a riportare le ragazze a casa.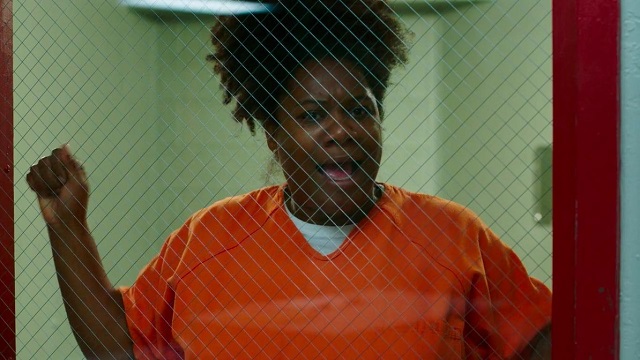 Tornando un attimo a Black Cindy – che adoro – non capisco davvero perché riporti la conversazione che lei e Suzanne hanno sentito mentre erano nascoste. Così facendo non si ritroverebbe a dover puntare il dito contro le sue compagne, perché a quel punto basterebbe ricostruire, con l'aiuto delle altre, la dinamica dei fatti. E poi chiaramente Piscatella non è un problema loro. C'è gente che rischia l'ergastolo a causa della morte di un violento, un pazzo che le ha maltrattate, e non sono loro le assassine.
Se l'avessero ucciso loro, nonostante gli abusi psicologici e le violenze fisiche subite, sarei stata dell'opinione che avrebbero dovuto pagare. Magari non con la reclusione a vita, ma avrebbero dovuto pagare per le proprie azioni. Ma queste povere martiri non hanno fatto nulla. Non sono le responsabili della sua morte. Penso che non debbano pagare il conto di qualcun altro, semplicemente perché non sono tutelate come dovrebbero. Questo non è How To Get Away With Murder, 'ste persone sono innocenti. Fine.
Questo è tutto per il secondo episodio.
Alla prossima
Halleloo!