Bentornati con la recensione del sesto episodio della sedicesima stagione di Grey's Anatomy: Whistlin' Past the Graveyard.
Esattamente come è successo la scorsa settimana, sono relativamente pochi gli elementi davvero importanti della puntata e tanti quelli insignificanti. Chiaramente bisogna mettere in conto che è andato in onda l'episodio di Halloween (qui i costumi più trash) quindi, necessariamente avremmo avuto un po' di scene inutili per onorare la festività. E fin qui, va pure bene. Ma c'è una cosa che proprio mi ha fatto storcere il naso e riguarda la nostra carissima Meredith Grey.
Nella scorsa puntata abbiamo avuto la notizia che sarebbe dovuta finire in carcere per scontare tutte le ore di servizio sociale che aveva saltato. Ora, come ho già detto la scorsa settimana, avrei voluto vedere la Grey nel contesto carcerario. Avrei voluto seguire la sua breve, ma sicuramente interessante, avventura. Peccato che, quando l'episodio si apre, viene immediatamente chiarito dalla stessa Grey, che si trova dietro le sbarre, che uscirà proprio quel giorno. Ha scontato la sua pena e non abbiamo assistito nemmeno a un secondo.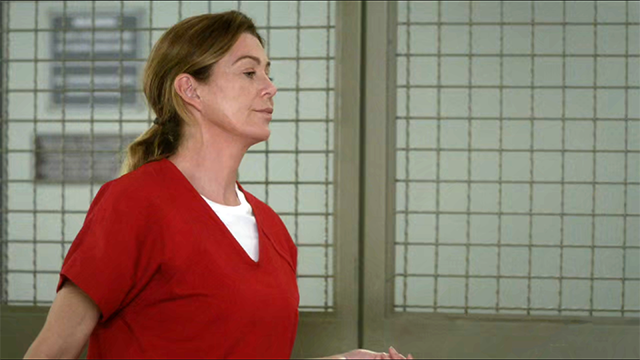 Errore! Errore grandissimo! Perché, mentre aspetta di essere rilasciata, la Grey ha un'epifania e, secondo me, sarebbe stata più narrativamente coerente se avessimo potuto assistere al suo percorso in carcere. Non fraintendetemi, ho adorato la sua realizzazione, il suo risveglio, mettiamola così. Ma, detto francamente, mi è rimasto un po' d'amaro in bocca. Meredith ha finalmente capito che ciò che le è accaduto non è la fine del mondo e che c'è gente che è messa molto peggio, ma che, non avendo le sue stesse possibilità, è costretta a dei sacrifici ben più grandi dei suoi.
L'intera conversazione con la sua compagna di cella è puro oro. È la denuncia di un sistema che non funziona. Meredith, che non ha mai dovuto preoccuparsi di altro fuorché la sua carriera e la sua licenza, riceve una secchiata d'acqua gelata in faccia che la riporta con i piedi per terra. Apre gli occhi e si rende conto che, per quanto possa essere terribile e possa far male l'idea di non poter più esercitare come chirurgo, ha ancora la sua famiglia e di certo potrà reinventarsi in qualche modo.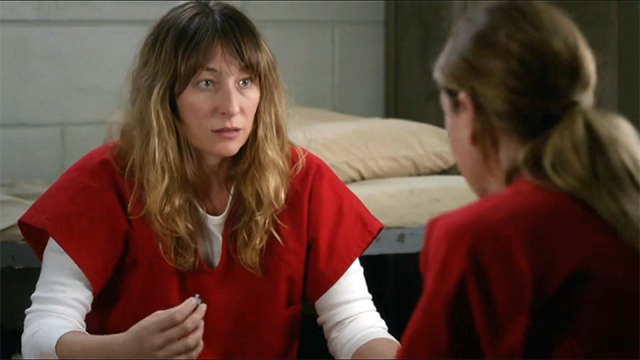 La testimonianza di una madre che fa due lavori per poter assicurare un tetto sulla testa e un pasto caldo ai suoi figli e che, nonostante gli sforzi, si ritrova a scontare una pena esagerata perché non ha la possibilità di assumere un'avvocato competente, è terribile. È tremendo pensare ai suoi figli finiti nel sistema tanto criticato dei servizi sociali mentre lei, chiusa in carcere, aspetta che qualcuno miracolosamente le paghi la cauzione che non può permettersi o l'aiuti ad ottenere un'udienza.
Ho amato la decisione della Grey di pagarle la cauzione. Ma ripeto, nonostante mi sia piaciuta questa storyline, mancava qualcosa. Mancava il contesto, mancava il percorso che ha compiuto Meredith durante il tempo in carcere prima di arrivare a questa realizzazione, prima di svegliarsi e di rendersi conto che ha sempre vissuto una vita da privilegiata e che è arrivato il momento di tornare con i piedi per terra e prendere a camminare tra i veri esseri umani, tra la gente comune.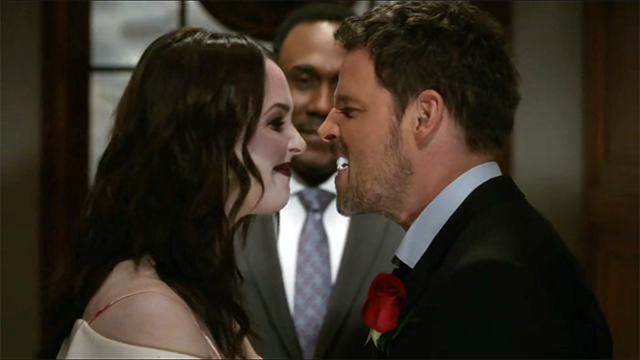 Passiamo adesso a un altro pilastro di Grey's Anatomy, Alex Karev. Alex, che da bravo Max Goodwin (qui tutto ciò che sappiamo sulla 2×01 di New Amsterdam), cerca un modo per salvare e rivoluzionare il suo ospedale. Sto apprezzando tantissimo la sua dedizione al lavoro e la storia del cimitero laddove dovrebbe esserci la nuova ala dell'ospedale è stato l'elemento più interessante relativo ad Halloween. Personalmente avevo già pensato a uno scenario ben più macabro, credendo di trattasse di vittime di qualche omicidio di massa. Ho adorato l'imitazione di Alex fatta da Jackson Avery e la presenza di Jo sposa cadavere che spaventa gente random in ospedale.
Parlando proprio di Jo Karev. Mentre lei e Alex convolano ancora a nozze, si dice che la terza è quella buona, si lascia scappare di essere incinta. E per tre secondi mi è sembrato che Grey's Anatomy avesse perso anche l'ultima briciola di credibilità. Sarebbe salito a tre il numero delle dottoresse incinta. Ma si trattava solo di uno scherzo. Il che, col senno di poi, mi ha fatto un attimo dispiacere. Mi ha fatto dispiacere perché i Karev sono forse gli unici ad essere in quel punto della loro relazione e della loro vita in cui avrebbe senso avere un figlio. Chiaramente gli sceneggiatori la pensano diversamente.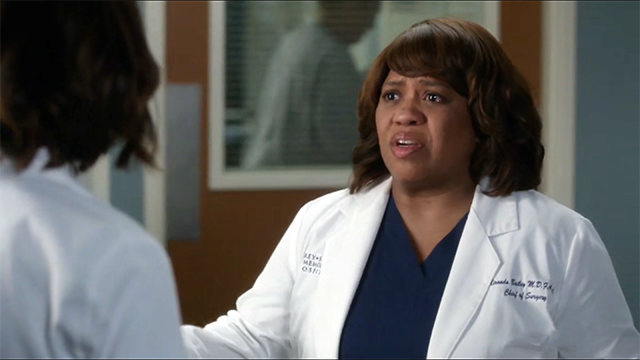 Passando brevemente alle altre due gravide. Vederle scambiarsi consigli nei corridoi è tenerissimo e Miranda che a causa degli ormoni è sull'orlo del pianto per quasi tutto l'episodio è esilarante. Per quanto riguarda Amelia, un post di Caterina Scorsone potrebbe aver giustificato la scelta degli sceneggiatori di Grey's Anatomy di farla restare incinta. La Scorsone ha pubblicato una foto su Instagram che ritrae la sua famiglia mascherata da Famiglia Addams per Halloween. In questa mostra un evidente pancione e annuncia la gravidanza con l'hashtag #pumpkinintheoven (ovvero zucca nel forno), versione più azzeccata, considerando l'occasione, del classico bun in the oven (pagnotta nel forno). Perciò potrebbe essere questo il motivo che ha spinto i creatori a decidere di farle avere un bambino anche nella serie.
Visualizza questo post su Instagram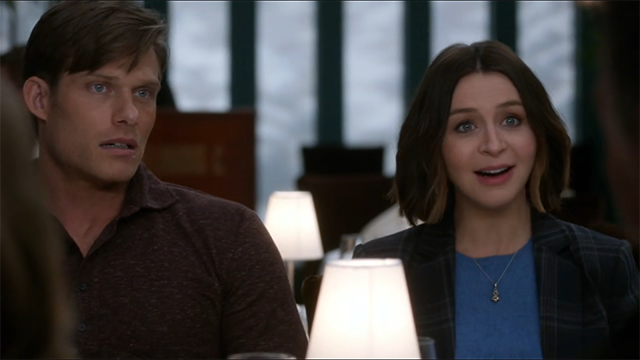 Rimanendo sempre su Amelia, ma quanto sono belli lei e Link? Continuano a darmi gioie. L'incontro con i genitori di Atticus è stato abbastanza scontato. Sin dal momento in cui la madre ha annunciato che si sarebbe risposata, era chiaro che lo avrebbe fatto con l'ex marito. Ciononostante, vedere Link così irritato è stato interessante. Lo abbiamo sempre visto calmo, tranquillo, pacato e dolce. Vederlo sotto questa nuova luce mi incuriosisce e poi, diciamolo, era estremamente sexy.
Insomma, che dire, l'episodio nel complesso è stato carino. Niente di troppo entusiasmante, ma sicuramente interessante per via della realizzazione di Meredith. Aspetto di vedere come sfrutterà questa nuova consapevolezza e in che modo proseguirà il suo cammino di vita.
Per questa settimana è tutto, alla prossima, halleloo!