ATTENZIONE SPOILER – Il seguente articolo si aprirà con uno spoiler importante sulla quarta stagione di Poldark. Non proseguite nella lettura se non volete sapere cosa succede nella quarta stagione di Poldark
Nella quarta stagione di Poldark, al netto di tutte le trame e sottotrame della serie, c'è un cerchio che si chiude in un destino che si compie: quello di Elizabeth Poldark, maritata Warleggan. Una storia stupenda, a coronare un ciclo di puntate che non ha deluso le aspettative.
Sapere, già prima che una stagione inizi, che un determinato personaggio andrà via, focalizza lo sguardo su tutte le connessioni che lo stesso avrà nel corso delle puntate, rendendo la visione una caccia al tesoro alla ricerca di un'eredità in continuo divenire. E quello che ci regala la donna col volto di una Heida Reed dalla bellezza illegale, alla fine di Poldark 4, si rivelerà uno scrigno colmo di ricchezze, di cui godere puntata dopo puntata.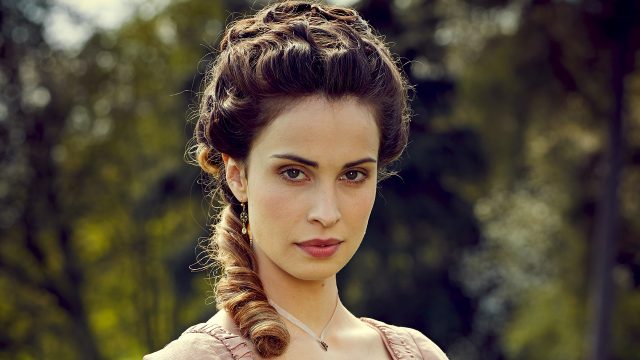 All'inizio della quarta stagione, Elizabeth Warleggan è un personaggio concluso e, soprattutto, vincente.
È padrona della propria famiglia (sì, è George a decidere, ma chissà perché la decisione è sempre la migliore per lei…) e la sua mentalità ha permeato anche i personaggi principali. Ross e Demelza, nell'ennesimo rimestare tra i reciproci tradimenti, son costretti ad ammetterlo:
un uomo può avere due donne nel cuore e una donna può amare due uomini
Ma c'è il senso della colpa, che li rende vittime, quando lo stesso concetto – espresso da quella che era ancora Elizabeth Poldark – traboccava di gioia sensuale.
Elizabeth inizia la quarta stagione da vincitrice, dicevamo. Ma Poldark ci insegna che il successo dura quanto un'onda che si increspa sulle scogliere. Abbiamo appena il tempo di vedere come la moglie di George gestisce la sua nuova situazione, che arriva la prima caduta. Ross Poldark  (che, per la gioia degli occhi femminili, è interpretato da un Aidan Turner spesso particolarmente svestito) conquista straordinariamente il seggio della Cornovaglia al parlamento inglese. È il fallimento dei Warleggan, è il fallimento di Elizabeth, le cui arti cortesi di convincimento si sono dimostrate meno efficaci dei sorridenti magheggi della coppia formata da Demelza Poldark e Caroline Penvenen. Ma chi sa di esser nato vincente non si rassegna!
Non rovineranno i nostri piani

Nessuno dei nostri piani
Quello sguardo dice tutto ma, se unito ai gesti, schiude un mondo e una prospettiva nuovi. Il percorso di Elizabeth non può prescindere dall'affermazione del marito, e la sua funzione è fondamentale: lei deve nobilitare George, deve "rendere sistemata" agli occhi del mondo l'anima misera e gretta che il Warleggan riserva agli altri che non siano lei (e che ho tentato di rendere in questo articolo). Esattamente come fa in privato con quel vestito stropicciato dalla delusione della mancata elezione.
In poche parole, Elizabeth diventa la donna angelo degli stilnovisti, nobilitando tutto ciò che gravita intorno a lei: situazioni, sentimenti, uomini.
Mentre Demelza e Caroline si "sporcano" dei loro nuovi impegni, lei rende la classe e l'eleganza il suo obiettivo. Se George è il ragno, lei è la tela splendente che ne attira e irretisce gli obiettivi. E – come vediamo nella 4×03 – acquista il predominio anche nei confronti di Ross: dal loro incontro ("d'istinto" dirà lui a Demelza, che solo per miracolo non lo prende meritatamente a padellate) lui torna stranito, lei sorridente, sorniona e ineffabile.
Da qui scatterà una nuova fase del loro rapporto: complici segreti nell'educazione di Geoffrey Charles, rinsaldati da un singolare punto in comune, la capacità di mozzare le conversazioni spiacevoli.
Come Elizabeth risponde ai sospetti di George su Ross…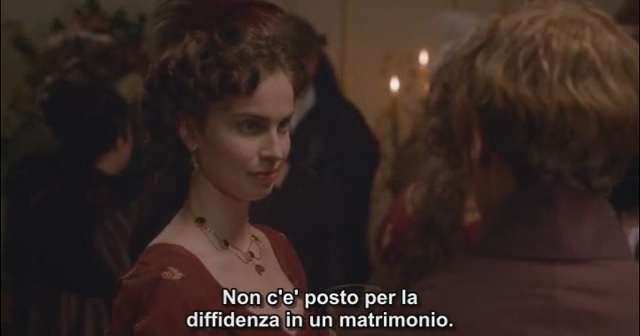 …così Ross chiude il discorso con lei su Geoffrey Charles che si azzuffa al casinò. Non c'è bisogno che nessuno sappia, tranne loro due… ormai su un altro piano
E le restanti esitazioni di George sono messe a tacere con una frase perentoria
"Se dai valore al mio amore…"
È lì che Elizabeth tiene sotto scacco il coniuge: usando sottilmente contro di lui quel sentimento che lui stesso le aveva confidato piangendo. Senza per questo togliere nulla alla sua grazia: salomonica Elizabeth, che gioca sporco con chi gioca sporco e si apre con chi fa lo stesso con lei.
La nostra signora Warleggan ha ritrovato e ricomposto il suo equilibrio, con ogni personaggio del suo mondo. Nulla potrebbe rompere quest'armonia, eccetto…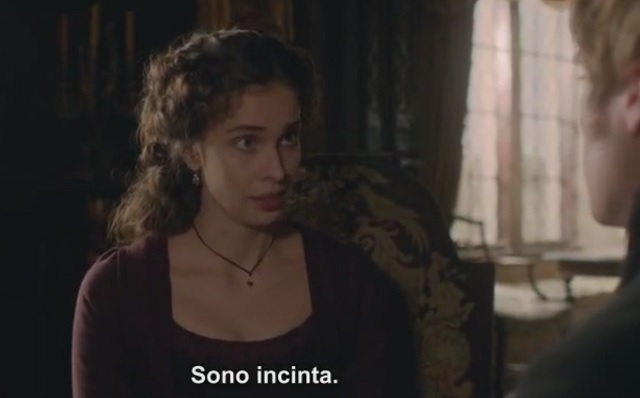 La notizia della gravidanza è un fulmine a ciel sereno, che in realtà colpisce soprattutto George, costringendoci a una lettura nuova – e sconvolgente – del personaggio. Nel cuore del Warleggan l'ambizione è stata ormai scalzata dalla gelosia e tutti i suoi gesti nella quarta stagione sono fatti, a ben vedere, per acquisire merito e onore agli occhi di Elizabeth. Al centro la faida con Ross, anche e soprattutto perché il nostro villain è l'unico a essersi accorto che i rapporti tra il capitano ed Elizabeth sono tornati ottimi.
George diventa una bomba pronta a esplodere di gelosia, e un accenno sul figlio Valentine da parte di Geoffrey Charles è l'innesco letale: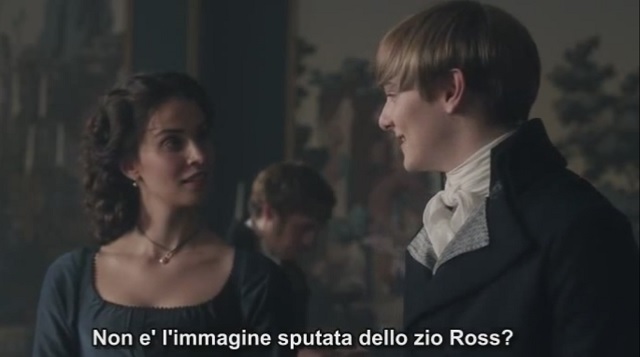 Che scherzo ha tirato il destino a Elizabeth. Averle donato l'arte di saper mediare ma anche di scatenare passioni indomabili sembra una prerogativa più da dèi che da uomini.
E come la divinità, Elizabeth si prepara all'ultima missione: lasciare la pace per donare la propria pace. Da questo punto di vista la 4×08 è un gioiello: in diverse circostanze, la signora Warleggan incontra tutti i protagonisti della serie, prima di chiudere il suo destino, in maniera tragica, atroce e inaspettata.
Morte dura, durissima e solo all'apparenza evitabile. La fine di Elizabeth chiude un cerchio narrativo perfetto, durato quattro stagioni, in cui il personaggio è gradualmente passato da un'antagonista – che non ha mai voluto realmente esserlo – a protagonista assoluta, presente nei pensieri e nei destini di chiunque l'abbia conosciuta.
Perché Poldark 4 è la stagione di Elizabeth, più di tutti gli altri personaggi della serie. E lei chiude così, sacred to the memory, consacrata alla memoria, sbeffeggiando chiunque cerchi di darle un'ultima identità.
Non era una Warleggan

No, era una Poldark
Geoffrey Charles, per l'ennesima volta, e Verity sbagliano entrambi. Elizabeth è sempre stata solo di sè stessa. Come l'amore, che ha solo schiavi e non padroni. Come il tempo, a cui la nostra protagonista si è consacrata, nella vita come nella morte. Il volto dolce e purissimo di Heida Reed abbandona il mondo dei vivi non lasciando alcuna questione irrisolta, ma la più candida e triste eredità di sé. Un pargolo, che forse sarà giudice silenzioso di chi, una donna come Elizabeth, non ha mai saputo meritarla davvero.
In Poldark Elizabeth muore e vive da nobile: prerogativa esclusiva, per un personaggio indimenticabile.
E poiché l'idea di chi vi scrive è sempre quella di lasciare un piccolo dono a fine pezzo per ringraziare i lettori, ecco come il cast di Poldark ha voluto dire addio a Elizabeth, e ringraziare Heida Reed. In due versioni: quella originale…
⚠️Caution: Spoilers Ahead⚠️ #PoldarkPBS' cast and crew weigh in on saying farewell to a beloved cast member ? pic.twitter.com/TSiVfcraC9

— Masterpiece PBS (@masterpiecepbs) 19 novembre 2018
… e quella con traduzione italiana in cima, a opera di "Poldark Italia". Provate a non commuovervi.
P.p.s.: un altro piccolo dono per voi…
Has Elizabeth finally found happiness? #PoldarkPBS' @ReedHeida discusses her character's story arc throughout the series. pic.twitter.com/JKH8QfgAVg

— Masterpiece PBS (@masterpiecepbs) November 5, 2018