Finalmente possiamo dirlo: Ross Poldark è tornato!
La prima puntata della quarta stagione della Serie Tv scritta da Debbie Horsfield è stata mandata in onda il 10 giugno sul canale della BBC. La scommessa era alta: rispondere a tutte le porte aperte da un finale di stagione incredibile e contemporaneamente aprire un mondo tutto nuovo. Personalmente ho trovato la puntata più che soddisfacente, non potevo aspettarmi di meglio. Ci sarebbero davvero tantissimi punti su cui soffermarsi, ma cercherò di riprendere quelli essenziali.
Fin dalla primissima scena, che molti considereranno pura manna scesa dal cielo – compresa la sottoscritta – : un monumentale Aidan Turner in tutto il suo splendore.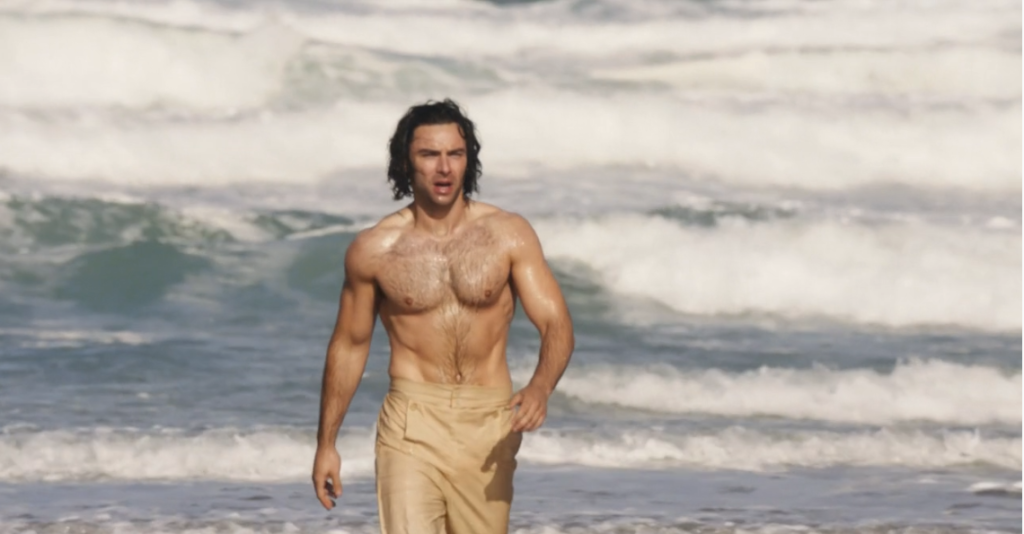 A parte il fattore puramente estetico e ampliamente approvato, l'aspetto selvaggio, naturale che una scena così fornisce è completamente in linea con il personaggio. Ross, tormentato dai fantasmi di Armitage, trova conforto solamente nella sua terra, la Cornovaglia. Cosa essenziale in questa scena è che per la prima volta Ross sembra davvero sommerso dai sensi di colpa. Prima era impossibile stabilirlo. Mr. Poldark è un personaggio dai grandissimi pregi, è un eroe. Ma ha un unico difetto: i silenzi. Gli enormi, pesanti silenzi che ha lasciato cadere fra lui e Demelza sono stati l'inizio della fine per questa coppia.
Nel mondo della sceneggiatura, vige la regola "Less is More" cioè è meglio spiegare attraverso le immagini che attraverso le parole: pertanto i dialoghi devono essere ridotti al minimo ed essenziali. In questo caso il primo scambio di battute di Ross e Demelza rispetta a pieno questa regola, anzi sembra riassumere in poche semplici parole ciò che è davvero la loro relazione:
I am still here.

And I.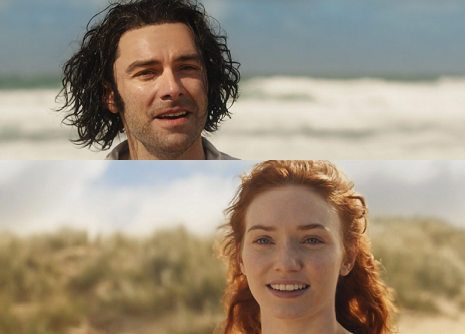 Demelza e Ross ci sono ancora. Resistono. Ed è tutto quello che ci serviva sapere per continuare. Questa scena potrebbe non considerarsi l'inizio della stagione, ma una sorta di momento di transizione. Un passaggio necessario e atemporale tra la terza e la quarta stagione.
Ovviamente anche in questa stagione non poteva mancare il confronto con il famigerato Warleggan. Ritroviamo George consapevole della sua situazione, in seguito alla struggente scena della bibbia nel finale di stagione,  e meno preoccupato nei confronti di Ross. Sicuro che nessuno può toglierlo dalla sua ormai soddisfacente vita. Ma come ben sappiamo, le strade di Ross e George sono profondamente incrociate, se non lo stesso cammino: la sfida si sposta sul piano politico.
Ross ha sempre rifiutato la carriera politica, considerando quel mondo sporco e irrimediabilmente corrotto. Preferisce combattere le sue battaglie sul campo reale, quello del popolo. Tutto cambia quando fa la sua entrata in scena un personaggio che fin da subito si prospetta un combina guai: Jago Martin.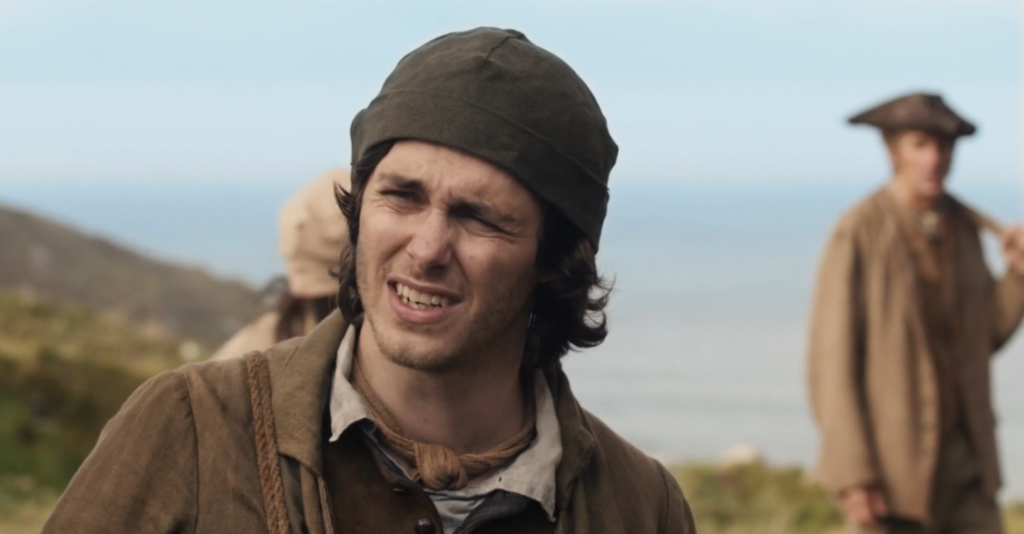 Figlio del Capitano Martin, fin dalle primissime battute è facile inquadrarlo: figliol prodigo, ribelle, passionale. Tutte le caratteristiche in regola per stravolgere l'apparente equilibrio. Le nostre speranze non vengono disattese, perché in men che non si dica scoppia una rivolta, c'è un omicidio e Martin viene denunciato insieme ai fratelli Carne. Esatto, a quanto pare Drake e Sam non sono soddisfatti se almeno una volta per stagione non rischiano la vita.
Ross cerca di salvare i cognati tenendo all'oscuro Demelza, per paura di distruggere l'armonia instabile tra loro due. La mossa che sta per compiere è rischiosa, sa che potrebbe perdere Demelza. Piuttosto di preoccuparla per il destino dei fratelli è disposto a lasciarla andare dritta tra le braccia di Armitage. Fin dai primi minuti il bello e dannato eroe di guerra viene presentato come il candidato rivale di George per l'unico seggio disponibile in parlamento. Ma il problema alla vista, già presente nella stagione precedente, sembra peggiorare. Hugh potrebbe essere gravemente a rischio.
Contemporaneamente ritroviamo Morwenna che riesce, seppur molto debolmente, a imporsi contro i desideri di suo marito, uno dei personaggi più sudici e grotteschi dell'intera Serie. La giovane Chynoweth appare più che mai ancora innamorata di Drake, tanto da recarsi sul luogo dell'esecuzione per verificare che sia davvero lui.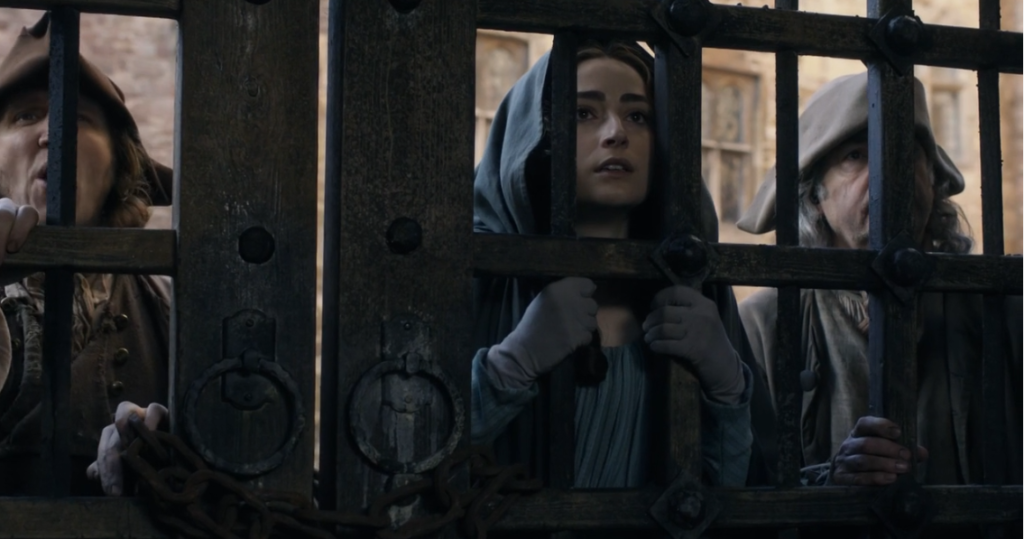 Centrale e molto importante è la scena dell'esecuzione. I due fratelli Carne fortunatamente  all'estremo ricevono la grazia. Tutto merito del cognato che riesce per l'ennesima volta a salvare la situazione, applicando la sua retorica e la sua forza per convincere il popolo a mostrare pietà. Ross ha la capacità di mostrare, di rendere evidente la scelta non più giusta, ma più umana.
To show mercy now will be not a sign of weakness. A signal that justice, real justice had been served.
La Cornovaglia è in piena carestia e il popolo è in fermento. Per le autorità è comunque necessario dimostrare la propria forza, stabilire un esempio. Quindi Jago Martin viene impiccato sotto gli occhi del padre, impotente di fronte alla morte del figlio. Ed è proprio in tale momento, tra la più completa disperazione dell'amico e la miseria negli occhi del cittadini, che Ross decide finalmente di entrare in politica. Ed è qui che vogliamo vederlo: un selvaggio e impetuoso Poldark destreggiarsi nel mondo della politica, dove finalmente può migliorare la situazione e rendere giustizia. Sarà divertente.
Prima di concludere, volevo segnalarvi due ultimi punti:
1) Il funerale di Zia Agatha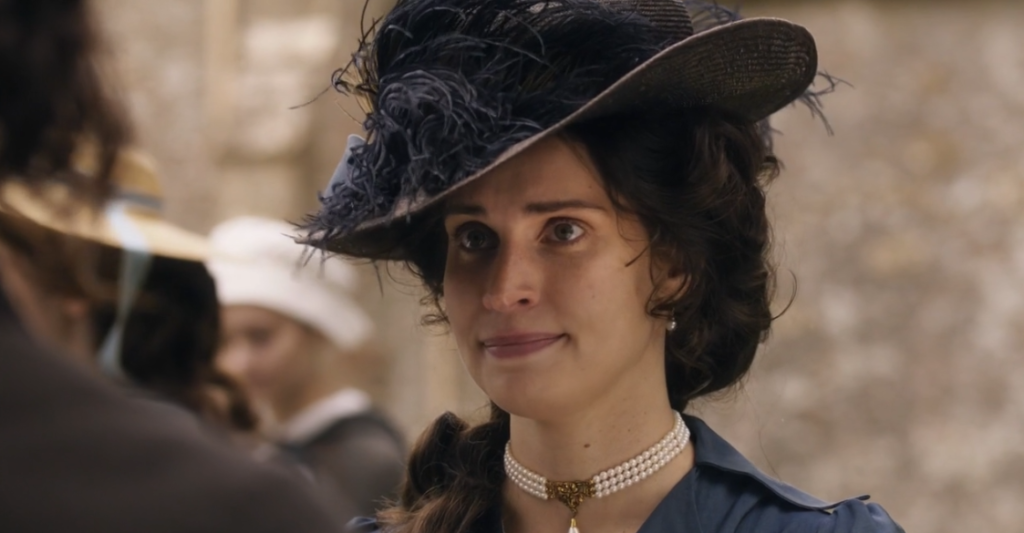 Finalmente alla povera Zia Agatha è stata concessa una lapide. Questa scena, oltre a chiudere definitivamente il capitolo sull'ultima Poldark, è il primo momento della puntata dove tutti i personaggi si trovano riuniti in un unico posto. Una fine e nel contempo un inizio. Lo stesso atteggiamento di Elizabeth nei confronti di Ross e Demelza ne è una prova. Mostra che forse, e dico forse, adesso c'è solamente affetto fra Ross ed Elizabeth. Due persone che si sono amate in passato, ma che la vita ha deciso di portare su due strade diverse.
2) Le parole di Ross
Personalmente, e pecco lo so, ritengo pienamente Ross responsabile dell'attuale situazione fra lui e Demelza. Ross è un uomo dal cuore buono ma è praticamente illeggibile. Non è mai possibile stabilire cosa passi nella testa del nostro protagonista, mai chiarendo, mai esprimendo ad alta voce i propri sentimenti. E finalmente, alla fine di questa incredibile puntata, Ross Poldark dice le parole che aspettavamo da tanto tempo:
I realised that day she never was, never could be what you are to me:

indispensable, irreplaceable.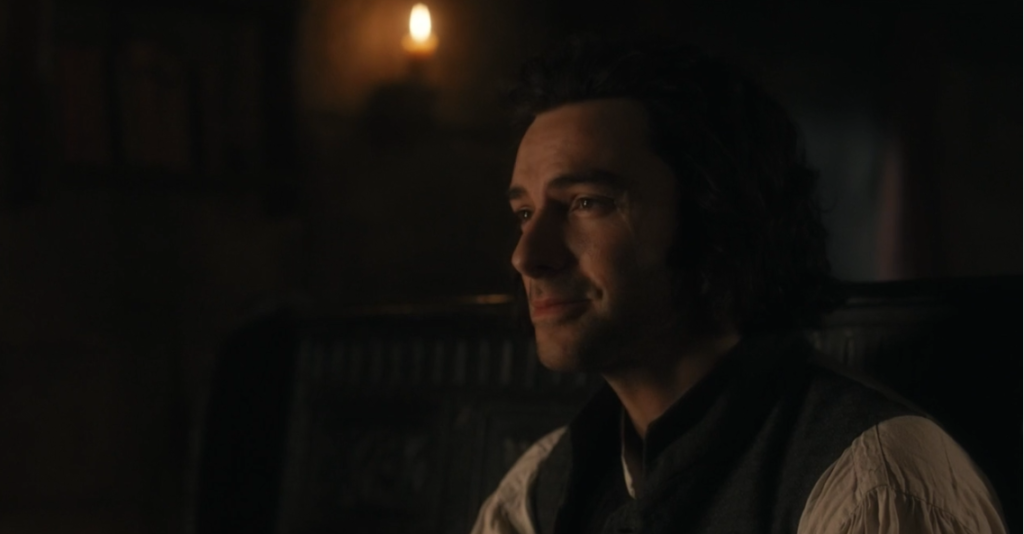 La distanza tra Ross e Demelza è ancora molto forte, resa anche dalla scelta di posizionare i due personaggi ai lati opposti della stanza. Sono lontani, ma si guardano negli occhi e specialmente Ross apre davvero il suo cuore parlando. C'è ancora molta strada da fare, ma questo può considerarsi davvero un ottimo inizio.
Voi invece cosa ne pensate di questa puntata?
Non vediamo l'ora di scoprire come andranno avanti le storie del Capitano Poldark !