Quando si racconta una storia il tempo è una variabile che dipende solamente e unicamente dalle esigenze dell'autore. Ciò consente o di frammentarlo – rendendo un'ora lunga come un giorno – oppure il contrario, condensando mesi e mesi in pochi minuti. Rendendo molto spesso proprio il Tempo elemento attivo all'interno delle vicende, come un personaggio. Ed è proprio qui che iniziamo a parlare della terza puntata di Poldark!
Il tempo è protagonista indiscusso.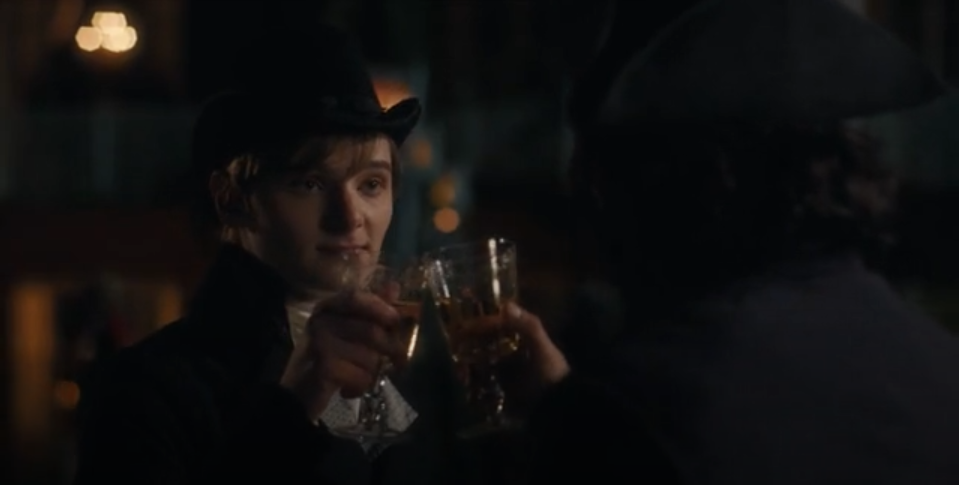 Precedentemente avevamo lasciato  Ross in viaggio per Londra. I mesi scorrono attraverso lettere, parole e immagini delle varie stagioni. Viene utilizzata un'ampia ellissi che ricopre mesi e mesi della storia dei protagonisti. In questa puntata ci vengono offerti solamente pochi frammenti della vita parlamentare di Ross, sappiamo solo il necessario: con passione continua a combattere per l'abolizione della schiavitù.
Oltre questo, c'è una scena dove Ross incontra il piccolo Geoffrey Charles, che ormai tanto piccolo non è. Il tempo sembra quasi fermarsi: i due sono profondamente legati, ma l'assenza di Francis è pesante e viene subito sentita da entrambi. Specialmente dal giovane Poldark. Con un piccolo recupero nel passato, entrambi brindano per rendere omaggio a Francis.
Ross ritorna finalmente in Cornovaglia. Ma la sua lunga assenza lo ha reso praticamente un estraneo agli occhi dei suoi amici e specialmente della moglie. Demelza ha dovuto farsi carico di tutto ciò che prima era nelle mani del marito. La donna è forte e riesce a portare tutto sulle sue spalle. Quando la miniera è davvero a rischio, Demelza capisce che è arrivato il momento di richiamare il Capitano Poldark a casa.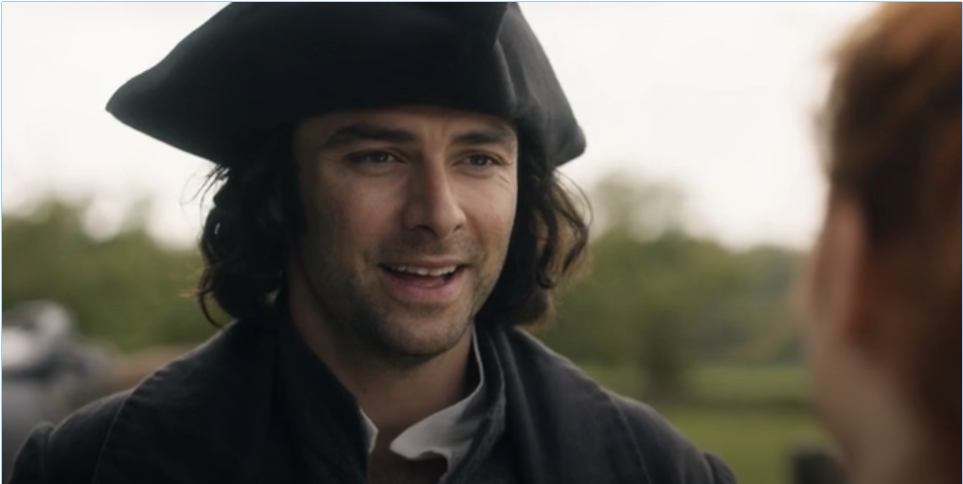 L'incontro tra i due coniugi poteva essere tante cose. Poteva esserci passione, rabbia o addirittura indifferenza. Ma Ross, come sappiamo, sa sempre sorprenderci e rompe il ghiaccio con un:
You look… thinner.
Non una delle sue migliori entrate, sicuramente. L'imbarazzo tra i due coniugi è evidente ed entrambi ne sono consapevoli. Prima della partenza per Londra non c'è stato modo di capire o di chiarire riguardo a tutto quello che era successo. La lontananza spaziale si è legata al pessimo tempismo generando una bomba che apparentemente sembra aver distrutto tutto ciò che era stato ricostruito fievolmente.
Oltre alla difficile situazione sentimentale, Ross deve anche confrontarsi con la possibile rovina della miniera e la dura verità: è stato lontano per molto tempo e non conosce più quella che è la sua terra. La delusione è profonda: si sente un estraneo nella sua stessa casa, nella miniera che lui ha costruito. Ross è in contrasto con il nemico più infimo: il ricordo di se stesso. Il Ross che non era un parlamentare ed era sempre presente in Cornovaglia per risolvere tutti i problemi. I suoi amici, tenendo in mente questo, diffidano dal Capitano Poldark, ritornato dalle splendide aule parlamentari londinesi.
Ross deve dimostrare di essere ancora lo stesso, che in realtà Londra non l'ha cambiato più di tanto e che quella è ancora casa sua.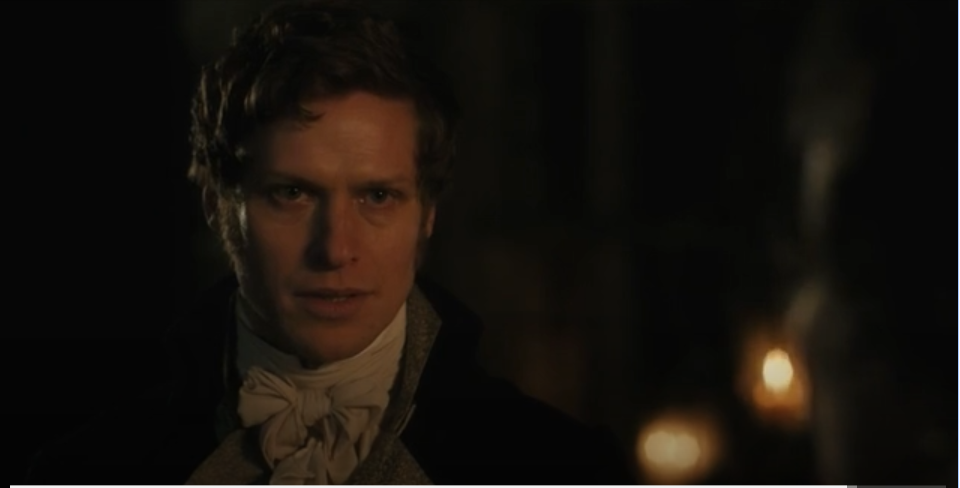 Parallela alla frenetica lotta contro il tempo di Ross, si passa alla manipolazione dello stesso da parte del suo antagonista George, il quale lentamente con grande precisione e cura modifica il tempo, lo asseconda, lo plasma. La sua non è una battaglia feroce, ma un piano calcolato e freddo per raggiungere e ottenere un nuovo posto in Parlamento. Accompagnato da un misterioso Monk Adderley (interpretato da Max Bennet) che sembra trovare di grande interesse Elizabeth. Warleggan sembra del tutto convinto di raggiungere il suo obiettivo.
Il tempo è trascorso anche per Caroline e il Dottor Enys, i quali finalmente sono riusciti a diventare genitori. Caroline continua a essere riluttante nei confronti della sua bambina, molto probabilmente perché crede che vestire i panni di una madre sia la fine della vita sociale. D'altro canto, commovente è la reazione puramente paterna del Dottor Enys, dolcissimo nei confronti della figlia. Ed è proprio grazie alla grande attenzione che rivolge nei confronti di Sarah che si rende conto che qualcosa non quadra.
Un altro momento di contatto fra passato e presente avviene nel dialogo fra Elizabeth e Verity Poldark.
Le due donne, come normale che sia, si rendono conto di quanto le cose potrebbero essere differenti, se in passato non ci fossero state interferenze da parte di altri nelle questioni di cuore. Sicuramente tutto sarebbe stato completamente diverso e capovolto. Ma in questo caso le due si soffermano poco su quello che sarebbe potuto essere, ma sperano in ciò che sarà.
Passato. Presente. Futuro. Tutto in una scena.
Let us vow: in the future, to let nature take its course .
Elizabeth fuori dalla sua tenuta incontra Ross. Il dialogo è pacifico. La situazione tra i due sembra essersi finalmente calmata. La passione e la bellezza di un amore giovanile interrotto sembrano ormai passate e trasformate solamente in un dolce ricordo. Ross ormai conserva solamente la parte migliore di quella che è stata per lui una delle donne più importanti della sua vita ed è possibile vederlo nel suo sguardo colmo di tenerezza per l'ombra di un qualcosa che sarebbe potuto essere ma che non è stato.
La scena finale non poteva che ovviamente svolgersi sempre nello stesso luogo di quelle precedenti. Ross dona a Demelza due orecchini e finalmente il problema appare:
I do not compete with a ghost.

Or I could compete with an ideal.
Elizabeth e Armitage rappresentano per i due Poldark il passato, ma un passato vivo e febbricitante che sembra lontano dall'essere dimenticato. I fantasmi incombono sulla coppia, la quale si sente già sconfitta in partenza. Devono confrontarsi con ciò che la vita ha imposto da sola: un ideale e un defunto. Il passato non è mai stato così vivo.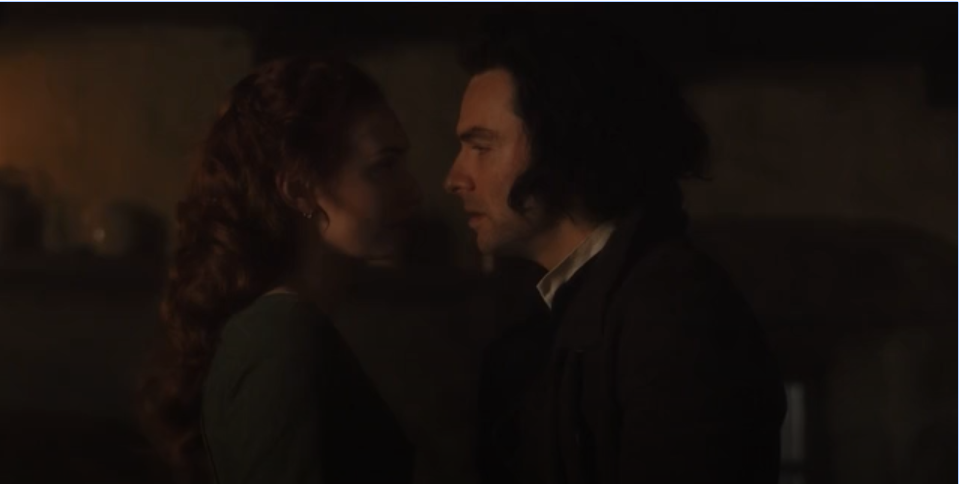 Nella loro piccola casa, nel loro piccolo e intimo ambiente domestico, Ross e Demelza si sentono estranei. Ognuno di loro ha sempre preferito rimuginare sul passato dell'altro piuttosto che dimenticare e guardare avanti. Ross sembra davvero portare cucito sulla sua pelle il legame indissolubile e dipendente tra passato e presente. A lui sono legati Geoffrey Charles – il ragazzo che rimanda irrimediabilmente al passato – il suo primo amore Elizabeth e Demelza, una relazione distrutta dai fantasmi di ciò che è stato. 
Perhaps we should begin again from that.
Per adesso il Capitano Poldark sembra davvero aver sistemato i conti e chiuso la maggior parte delle porte, pronto davvero a lasciarsi il passato alle spalle.