Da Penny Dreadful a The Frankenstein Chronicles: un viaggio nell'Ottocento inglese.
Romantica, cupa, elegante. L'Età Vittoriana, ovvero il periodo del regno della Regina Vittoria compreso tra il 1837 e il 1901, è da sempre circondata da un alone di mistero e fascino quasi incomprensibile. Si tratta di un'epoca florida per la Gran Bretagna da moltissimi punti di vista: dall'espansione coloniale allo sviluppo di un'immensa rete commerciale, dalle grandi scoperte scientifiche alla presa di posizione di numerosi letterati in ambito sociale. La classe e lo stile di questo momento storico sono riusciti a trafiggere le barriere spaziotemporali, e proprio per questa ragione il contesto ottocentesco è divenuto lo sfondo di numerose serie degli ultimi anni, conquistandosi un proprio spazio nel vastissimo panorama televisivo. Penny Dreadful è solo uno degli esempi più lampanti della rappresentazione (in chiave gotica) dell'Inghilterra dell'800, ma questa affascinante atmosfera è diventata il teatro di moltissime (e bellissime) produzioni per il piccolo schermo, più o meno conosciute.
Quali sono dunque le serie che hanno saputo emergere valorizzando le caratteristiche dell'epoca vittoriana? Quali sono i loro principali punti di forza? Scopriamolo.
Penny Dreadful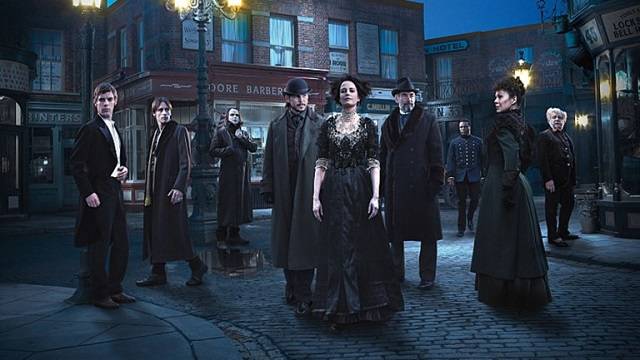 Penny Dreadful di John Logan, ambientata nel 1891, è una delle serie tv più amate degli ultimi anni. Vi è da tenere ben presente che, come già accennato, la letteratura inglese ha fortemente beneficiato delle influenze e dei cambiamenti sociali dell'epoca, con l'affermarsi di alcuni autori acclamati ancora oggi: Edgar Allan Poe, Oscar Wilde, Arthur Conan Doyle, Bram Stoker, Mary Shelley e molti altri. Le menti di questi scrittori non hanno solo elaborato narrazioni incredibili, ma rimaneggiato interi generi letterari, tra cui quello gotico. Possiamo dunque affermare che il titolo della serie rappresenta una vera e propria nota di stile, rimandando alle omonime pubblicazioni settimanali horror, lette nel XIX secolo dai lavoratori inglesi di classe medio-bassa.
Penny Dreadful si ispira proprio alle storie dell'orrore più conosciute di sempre, costruendo una Londra in cui coesistono personaggi come Frankenstein, Dorian Gray, il Dr. Jekyll e molti altri ancora. Tra gli opulenti balli e i fumi delle prime fabbriche si districa una trama avvincente, dark e ricca di suspense. Nel cast esemplare spicca la magnifica Eva Green nei panni di Vanessa Ives, e tutti i personaggi della serie sono caratterizzati e impersonati ottimamente, dando un quadro psicologico ben definito. Si parla di una ricostruzione storica e ad altissimi livelli: Penny Dreadful vanta una fantastica scenografia, costumi da sogno e ambientazioni che rispettano in tutto e per tutto il nebbioso e lugubre stile vittoriano. Infine, Abel Korzeniowski ci regala una colonna sonora da brividi.
The Alienist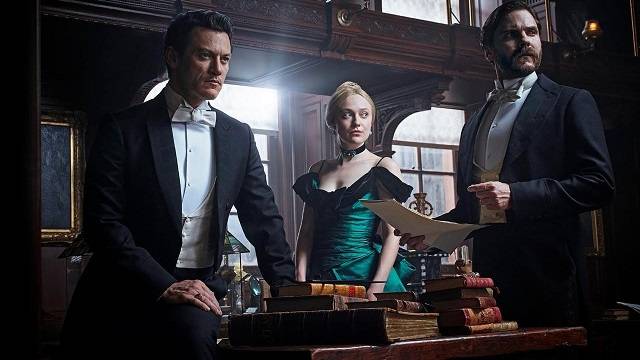 L'adattamento del romanzo di Caleb Carr si colloca a New York, pochi anni dopo le vicende di Penny Dreadful, ma si approccia al periodo vittoriano in modo totalmente diverso. The Alienist si addentra nei meandri della psicologia criminale, la quale vide i suoi primi sviluppi proprio alla fine dell'Ottocento. I tre protagonisti, alla ricerca di un temibile serial killer, devono fare i conti con una realtà ignorante e corrotta in cui sdoganare le vecchie convinzioni sembra quasi impossibile, e in cui si crede che una persona affetta da malattia mentale sia necessariamente alienata dalla propria natura.
The Alienist è a tutti gli effetti un poliziesco del XIX secolo che aggiunge alla brutale violenza degli omicidi seriali il complesso argomento della psichiatria. Siamo di fronte a una ricostruzione storica che presenta fedelmente l'Età Vittoriana nei bassifondi newyorkesi, dove l'aria di cambiamento si mescola alle esalazioni delle industrie. Ambientazioni, regia e scenografia rendono perfettamente lo scenario di miseria, povertà e speranza nel futuro che hanno caratterizzato questo periodo. Degna di nota è anche la recitazione di Luke Evans, Daniel Brühl e Dakota Fanning.
The Frankenstein Chronicles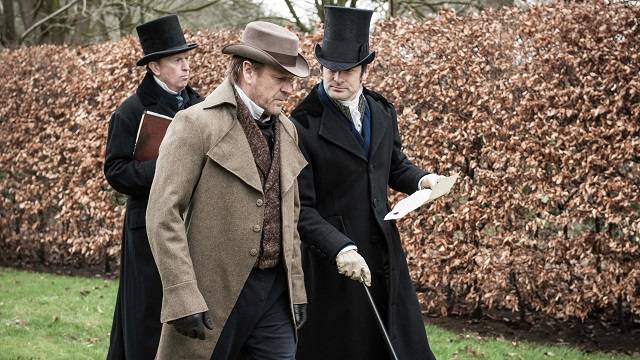 Torniamo ancora una volta in Inghilterra, in compagnia del frutto della mente di Mary Shelley: Frankenstein.
The Frankenstein Chronicles (serie di cui non si parla ancora abbastanza), sull'impronta di Penny Dreadful, recupera i personaggi e gli elementi tipici della letteratura gotica per trasportare lo spettatore in un universo dalle tonalità oscure in cui fantasia e realtà si fondono (persino la stessa Mary Shelley ha un ruolo attivo nella storia). Proprio a questo proposito, la serie cerca di proporre un punto di vista nuovo: forse le storie non nascono sempre dalla pura immaginazione, forse alcune si ispirano ad avvenimenti realmente accaduti.
Lo sguardo innovativo nulla toglie allo stile puramente vittoriano della serie tv, espresso sia nella rappresentazione che nel linguaggio elegante e forbito. Le scelte registiche e le ambientazioni contribuiscono a costruire un'atmosfera cupa, sebbene non sia macabra come quella di Penny Dreadful. Se tutto ciò non dovesse bastare, Sean Bean in costumi ottocenteschi è una visione che non potete assolutamente perdervi.
Oltre a questi tre gioiellini gotici, meritano una menzione d'onore anche alcune produzioni che per qualche specifica ragione non ho menzionato nell'articolo e di cui vi consiglio vivamente la visione se siete degli appassionati del genere. Tra di esse ricordiamo Destini in Fiamme, da poco uscita su Netflix, non evidenziata prima in quanto ambientata in Francia e dunque non esattamente "vittoriana". Houdini & Doyle invece si svolge nel 1901, proprio al termine del regno della Regina Vittoria, e narra della vera amicizia tra Harry Houdini e Arthur Conan Doyle, anche se purtroppo è stata cancellata dopo la prima stagione.