Vorrei iniziare questo articolo con un incipit profondo, uno di quelli che vorreste copiare e incollare sulle vostre bacheche Facebook. Ma non succederà, non questa volta almeno. Per una sola, semplice, irriverentissima ragione: non siamo qui a parlare di cose profonde oggi. L'unica profondità che incontreremo sarà quella dell'ignoranza che taluni momenti di Orange Is The New Black hanno raggiunto. Picchi di ignoranza che nemmeno i Gallagher nei loro giorni migliori riescono a ottenere in alcuni casi.
Ovviamente, se non avete ancora guardato la quarta stagione di Orange Is The New Black, leggete con cautela, perché ci sono spoiler sparsi qua e là!
Di fatto, Orange Is The New Black, nonostante offra i suoi buoni spunti di riflessione, spesso non disdegna la possibilità di scendere nel becero.
E siccome non è sempre necessario essere seriosi e tristi, oggi vi proponiamo i 10 momenti più ignoranti di Orange Is The New Black.
10. Il razzismo becero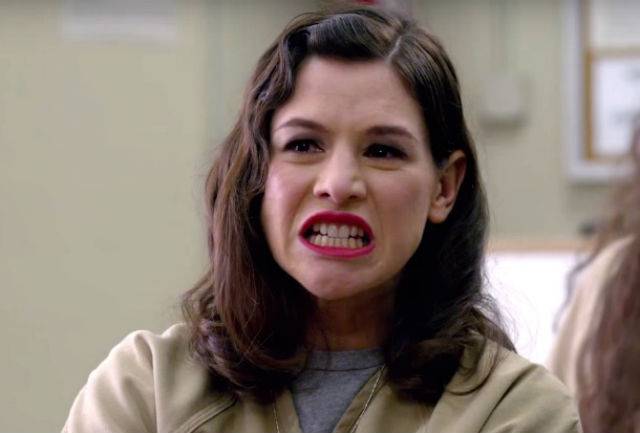 Le inquiline del Litchfield raramente se le mandano a dire, nè tanto meno si astengono dal professare le loro discutibili idee razziste. Un esempio su tutte: Morello. Piper è appena arrivata in carcere quando una tranquillissima Morello ammette con tutto il candore di questo mondo che lei difficilmente ha mai a che fare con le ragazze di colore.
Con Piper si dimostra gentilissima, procurandole beni di prima necessità e mostrandole come funzionano le cose un po' in giro. Alle nuove arrivate di colore, invece, fa capire che si dovranno arrangiare. Lei non ha intenzione di fare nulla per loro.