Dopo aver scampato la cancellazione da parte dell'emittente televisiva NBC, la Serie Televisiva Timeless si prepara ad andare in onda con la sua seconda stagione.
Le riprese sono iniziate da poche settimane, ma la produzione della Serie Televisiva ha voluto fare un regalo ai numerosi fan che non li hanno abbandonati.
E quale regalo migliore in prossimità di Natale? Grazie al sito TvLine è già in circolazione una prima foto promozionale.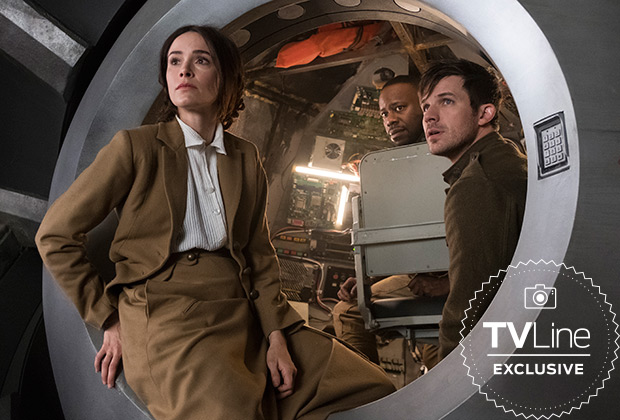 La prima stagione ci aveva lasciato con una certa suspense, con Flynn (Goran Visnjic) in manette e la madre di Lucy (Abigal Spencer) che si rivelava Rittenhouse, non dimenticandoci che Jiya (Claudia Doumit) era in pericolo!
Guardando la foto promozionale che è stata pubblicata, possiamo già farci un'idea in quale periodo i nostri protagonisti finiranno. Da come sono vestiti e dal titolo dell'episodio – già diffuso – "The War to End All Wars", sappiamo che finiranno durante la prima guerra mondiale.
Inoltre, in questa nuova stagione, ci sarà l'introduzione di un nuovo personaggio, interpretato dall'attore Michael Rady (conosciuto nella Serie Jane The Virgin). Un soldato americano, dal nome di Nicholas Keynes, il quale dopo essere stato ferito malamente durante la battaglia, trova rifugio in una fattoria.
All'interno della struttura, incontrerà Emma (Annie Wersching) e Carol (Susanna Thompson), che si prenderanno cura di lui, cercando di salvargli la vita.
Malgrado sembri senza speranze, il ruolo che avrà il personaggio Nicholas Keynes, risulterà particolarmente importante.
Malgrado non sia stata ancora annunciata una data precisa, i creatori di Timeless, Eric Kripke e Shawn Ryan, hanno comunicato che la Serie ritornerà ufficialmente sul piccolo schermo in primavera o in estate del 2018.
Non ci resta che aspettare questi dieci episodi – già confermati dalla NBC -, sperando che arrivino nuove informazioni su questa seconda stagione!