Il regalo perfetto: una ragazza dentro una scatola. Balla solo quando qualcuno apre il coperchio… Quando qualcuno glielo permette. Se quella che sto raccontando è una storia, devo raccontarla a qualcuno. C'è sempre qualcuno, anche quando non c'è nessuno. Non sarò come quella ragazza nella scatola.

The Handmaid's Tale, June/Difred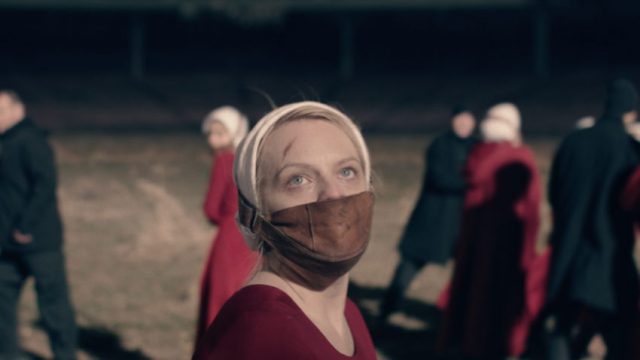 Il regalo perfetto per noi fan, invece, è il rinnovo della nostra serie tv preferita. La promessa di poter viaggiare ancora dentro una storia che ci fa ormai sentire, in qualche modo spesso anche angosciante, a casa.
Oggi il regalo ce lo fa Hulu che annuncia il rinnovo della quarta stagione di The Handmaid's Tale.
Tratta dal romanzo distopico di Margaret Atwood (Il racconto dell'ancella, appunto), la storia di June e della sua ribellione ha una forza straordinaria ed è capace, come poche altre serie, di entrarci dentro e lasciar sedimentare in noi delle domande e un senso di intolleranza nei confronti delle ingiustizie.
In una società maschilista e misogina, June ha il coraggio di ribellarsi e di cercare un futuro migliore per sè e per la figlia Hannah, che le è stata strappata dal regime. Ci troviamo negli Stati Uniti d'America e il potere è in mano alla società di Gilead, uno stato totalitario capitanato da estremisti religiosi che sfruttano le ancelle come macchine "sforna pargoli". Nelle ultime stagioni, June cambia piano: non più scappare e rifugiarsi in Canada, bensì affrontare quel sistema tanto spregevole nel tentativo di sconfiggerlo una volta per tutte. "Benedetta sia la lotta", è quanto ci viene da ripeterci di fronte a certe iniquità sociali.
In Italia, la serie è disponibile grazie a TIMVision. Il cast è costituito da personalità di spicco come, Elisabeth Moss, anche Samira Wiley, Alexis Bledel, Ann Dowd, Max Minghella, Madeline Brewer, O.T. Fagbenle e Amanda Brugel, Joseph Fiennes, Yvonne Strahovski.
E voi, siete pronti per i nuovi Racconti dell'ancella?