# #
The Good Doctor, medical drama americano, ha ottenuto un successo strabiliante alla sua prima apparizione sulla tv italiana!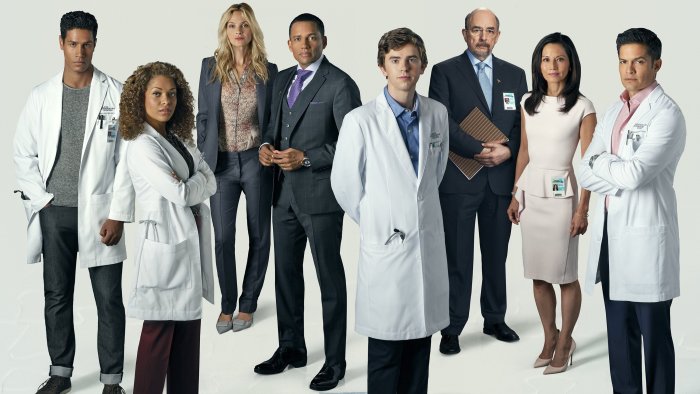 # #
The Good Doctor ha debuttato ieri sera su Rai 1 e i numeri sono da record!
# #
La Serie Tv ha avuto una media di 5.230.000 spettatori pari al 27.8% di share nella media dei tre episodi (primo episodio: 5.407.000 – 25.8%. Secondo episodio: 5.235.000 – 27.3%. Terzo episodio: 5.016.000 – 31.7%).
Traguardo raggiunto anche grazie allo scarso palinsesto messo in onda ieri sera: con Canale5 che ripropone Ti amo in tutte le lingue del mondo (1,7 milioni e 8,9% share), Italia1 con Transformers (1,145milioni e 6,5%), Rai3 con Rocky (946mila e 4,8%), Rai2 con lo show di Cesare Cremonini (802 mila e 4,1%) e infine Rete4 con Il mistero del corpo senza testa (748mila e 3,8%). Un successo sicuramente dovuto alla bellezza di tale Serie Tv, ma anche grazie alle scarne proposte  delle altre reti.
Un numero elevatissimo considerando, appunto, il periodo estivo in cui è messa in onda: infatti, le uniche altre Serie che si avvicinano a tali risultati, sono tutte andate in onda ormai molto tempo fa come E.R., Dottor House, Streghe e Lost. Pur contando sul fatto che i medical drama in Italia hanno sempre funzionato molto bene e sono sempre apprezzati, con The Good Doctor si apre uno spiraglio di speranza per il futuro di altre Serie Tv in Italia in chiaro.
The Good Doctor, con milioni di telespettatori anche negli Stati Uniti, narra la storia di Shaun Murphy (Freddie Highmore), giovane chirurgo autistico affetto dalla sindrome del Savant. Shaun viene da una piccola cittadina del Wyoming e ha avuta un'infanzia difficile (raccontati attraverso dei flashback sulla sua vita). Decide di trasferirsi al reparto di chirurgia del San Jose St. Bonaventure Hospital, dove dimostra di avere delle doti straordinarie.
Lo show è stato creato da David Shore, creatore anche di NYPD – New York Police Department e Law & Order e Dr. House – Medical Division.