Siamo abituati a vedere i supereroi come figure positive, ma The Boys ribalta la situazione: i supereroi ci vengono descritti dal loro lato più oscuro. The Boys 2 continuerà a darci la stessa atmosfera, a giudicare dalla prima foto condivisa da Eric Kripke, lo showrunner.
Kripke (che conosciamo anche per aver creato Supernatural) ha condiviso su Twitter un piccolo regalo per i fan di The Boys.
La prima foto della seconda stagione. Come potete vedere, siamo tornati ai vecchi trucchi.
La foto ci fa intuire che, così come la prima stagione, anche The Boys 2 sarà piena di violenza e crudeltà esplicita.
La serie tv nasce dai fumetti di Garth Ennis e Darick Robertson, in cui i supereroi sono persone reali che, invece di salvare le persone per ragioni morali, sono corrotti dai loro poteri e usano i loro atti eroici per mascherare comportamenti molto più psicotici. I più pericolosi sono I Sette; I Ragazzi (the Boys), un gruppo di vigilanti, sono gli unici a combatterli.
Nel cast della seconda stagione c'è una new entry confermata: Aya Cash (You're the Worst) interpreterà la versione femminile di Stormfront (un uomo nei fumetti), un "incrocio" tra Thor e Captain Marvel.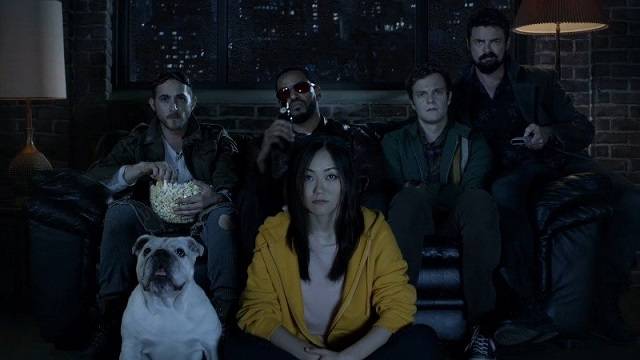 In merito a The Boys 2, Kripke ha detto:
Una volta che avete visto il cliffhanger della prima stagione, sapete cosa succederà nella seconda, sapete che la morte di Stilwell coprirà una grande parte della seconda stagione, e parleremo anche dei supereroi che sono entrati nell'esercito.

Cerco sempre di scrivere un finale di stagione che è un po' un pilot di quella successiva e mi assicuro che tutte le tematiche di cui parliamo siano interessanti da esplorare.
Amazon Prime Video ha annunciato che The Boys è stata una delle serie tv più viste sulla sua piattaforma nelle due settimane successive al rilascio.