Sono dodici anni che conosciamo i protagonisti di The Big Bang Theory e li amiamo, con i loro pregi e difetti. E con le loro particolarità. Una domanda che tutti i fan della serie almeno una volta si sono posti è: "Perché gli autori non hanno il coraggio di parlare esplicitamente di malattie come Autismo o DOC?". Sheldon ha caratteristiche che potrebbero fargli diagnosticare entrambi i disturbi (bussare tre volte, mancanza di empatia…), ma non è l'unico etichettabile. Leonard soffre d'ansia, soprattutto a causa della madre; Raji, fino a qualche stagione fa, non riusciva a parlare con le donne; Howard aveva un attaccamento morboso alla madre e Stuart soffre probabilmente di depressione e bassa autostima. Amy non è a suo agio in situazioni sociali, è sessualmente repressa e potrebbe appartenere anche lei allo spettro autistico.
Mayim Bialik, l'attrice e neuropsichiatra che interpreta proprio Amy, è d'accordo con la linea intrapresa dagli autori di The Big Bang Theory:
La mancanza di etichette del nostro show è importante per numerose ragioni. Prima di tutto, non conta con quale nome chiamiamo le cose. Se non per necessità mediche, ovviamente. Ma nella vita, soprattutto quando raggiungiamo l'età adulta, ormai siamo quel che siamo. Dobbiamo svolgere il nostro lavoro. Ci facciamo degli amici, o no. Ci innamoriamo. Assaporiamo le gioie e patiamo le perdite. Tutte queste cose accadono, che noi abbiamo un'etichetta o no.
Le ragioni di Mayim Bialik sono molto valide, ed è ovvio che nessuno deve essere definito dai suoi comportamenti, seppur un po' eccentrici.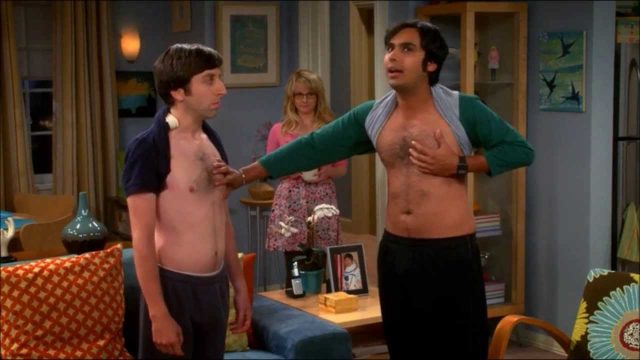 Inoltre, non dimentichiamo che stiamo parlando di personaggi di una serie tv, e il ritmo comico della stessa sarebbe di certo rallentato se Penny e Leonard stessero lì a sottolineare ogni stranezza di Sheldon attribuendola a un disturbo psichiatrico. L'attrice continua dicendo:
In secondo luogo, il nostro show si concentra su delle persone che vivono la loro vita così come sono. Noi ci occupiamo di mostrare i loro rapporti e le loro interazioni. Certo, Sheldon è fastidioso. E ci sono cose che vorremmo cambiare anche in qualcun altro. Ma, alla fine dei conti, The Big Bang Theory è una serie che parla di persone che stanno insieme, nonostante i difetti, accettandosi per quello che sono. I personaggi scherzano, si dicono "Odio quando fai così!", ma nello show la soluzione non è mai stata e mai sarà: "Va' a farti curare".
Alcuni potrebbero dire che è un dovere della serie sdoganare lo stigma attorno a certe malattie e diagnosticare i suoi protagonisti.
Ma non è sufficiente mostrare che persone con peculiarità possono svolgere una vita normalissima anche senza dar loro un'etichetta? Il produttore esecutivo Bill Pardy ha chiuso la questione così:
Mary, la madre di Sheldon, nonostante abbia fatto visitare il figlio più volte, non ha mai parlato di una diagnosi. Allora non lo faremo nemmeno noi.