Un'uscita fresca fresca di ieri sera: è stato rilasciato il nuovo trailer di Shadowhunters, che torna sui nostri schermi dal prossimo 25 febbraio.
Va bene, per schermi intendo l'arrivo di una puntata a settimana su Netflix, ma so che avevate già capito. Nell'arco di un minuto e mezzo, Shadowhunters riesce a darci una panoramica parecchio ampia di ciò che ci aspetta, e ci lascia veramente con il fiato sospeso.
Come già sappiamo, la serie tv è stata cancellata la scorsa primavera, concludendosi a metà della terza stagione con dei cliffhanger allucinanti (qui di seguito potete trovare le recensioni delle ultime due puntate). Tutti si aspettavano di vederla ritornare in autunno, ma invece è stato annunciato che Shadowhunters era stata cancellata.
Fortuna vuole che si sia comunque scelto di dare una conclusione degna alla storia, perciò l'ultima parte della stagione andrà in onda a fine mese, con l'aggiunta di due episodi speciali, per un totale di dodici episodi invece di dieci.
Ma cosa abbiamo capito davvero da questo trailer? Diciamo pure che ci ha lasciato più domande che risposte. Sappiamo che Clary è stata portata via da Jonathan durante la sua resurrezione ad opera di Lilith. Ad Edom? Piuttosto probabile, ma non certo. Inoltre, nel trailer vediamo diverse scene in cui Clary si riunisce agli altri Shadowhunters, ma la domanda è: come farà a tornare?
Ad aggiungere un maggiore alone di mistero ci pensa la scena finale, in cui gli occhi della giovane Frey diventano neri, come Jace una volta posseduto. Che Jonathan riesca effettivamente a reclutare la sorella nella sua battaglia? Dopotutto la sentiamo dire più volte che sta crescendo l'oscurità dentro di lei.
I can feel it, this darkness is growing
C'è da dire che una certezza però il nuovo trailer di Shadowhunters l'ha portata: Clary non è morta nell'esplosione. È viva e vegeta, e dovrà lottare con le unghie e con i denti per riacquistare la purezza che il suo sangue angelico le consente di avere. Anche perché, seppure con spot molto veloci, la vediamo persino combattere contro i suoi stessi amici.
Riusciamo comunque ad avere qualche dettaglio anche delle altre coppie dello show. Tolti alcuni momenti romantici tra Clary e Jace, che ancora dobbiamo capire dove collocare, ritornano le nostre amate scene Malec. Magnus è infatti vivo e vegeto, lui e Alec sono più innamorati di prima, ma capiamo anche che non saranno poche le difficoltà che dovranno affrontare.
Inoltre, vediamo sorgere progressivamente anche la coppia formata da Simon e Izzy. Ed è proprio la giovane Lightwood, nel regno Seelie, che tenta di salvare la vita del Diurno. Pare infatti che il marchio di Caino lo stia distruggendo.
Come back to me, Simon! You have so much more to live for!
Ultimo, ma di certo non meno importante, alcune scene del nuovo trailer di Shadowhunters riguardano un matrimonio. Che sia effettivamente il tanto atteso matrimonio tra Magnus e Alec?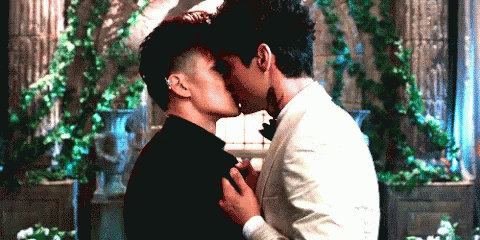 Questa attesa ci sta davvero distruggendo, ma nel dubbio abbiamo già cominciato il conto alla rovescia. Siete pronti per assistere a questo gran finale?