Gli ultimi Emmy Awards, Oscar della televisione, si sono conclusi confermando Game of Thrones come vincitrice assoluta in ogni categoria. Ve li abbiamo raccontati in diretta, e vi abbiamo aggiornato tempestivamente sui vincitori.
Quello che non immaginavamo, però, è che la mania di tatuarsi degli attori del cast di Game of Thrones non conoscesse fine. Al punto di tatuarsi, addirittura, un personaggio diverso dal proprio. Sì, avete capito bene: Nikolaj Coster-Waldau, interprete di Jaime Lannister, continua la tradizione degli attori di Game of Thrones di farsi un tatuaggio ispirato alla Serie.
Ma non si tratta di un lupo con una scritta, "The pack survives", come Sophie Turner, o di tre draghi in volo, come Emilia Clarke.
Pare che il bel Jaime abbia scelto un soggetto tutt'altro che banale, per un tatuaggio tutt'altro che discreto. Dalle foto postate dallo stesso attore, durante la serata degli Emmy, si capisce che il tatuaggio occuperebbe una bella porzione dell'avambraccio, e raffigurerebbe Tyrion Lannister, con lo sfondo della città di Approdo del Re.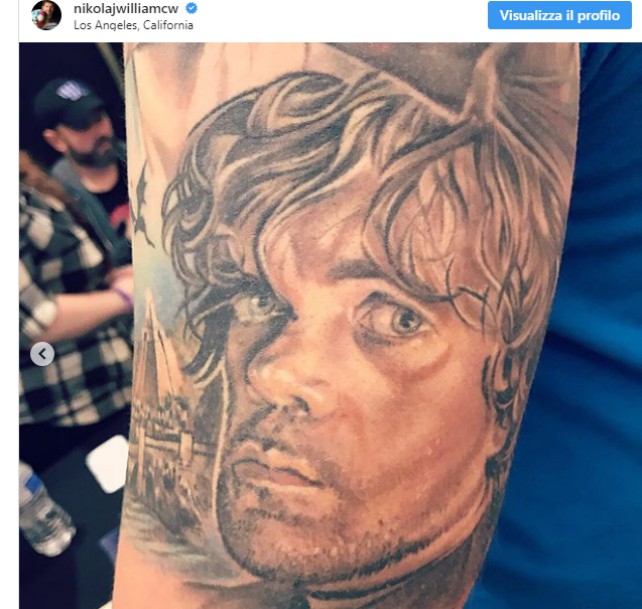 Insomma, una scelta bizzarra e tenera insieme per l'attore di Game of Thrones, che sembrerebbe rinsaldare il suo legame con il collega Peter Dinklage. La foto, postata dallo stesso Nikolaj, insieme alla didascalia "oggi mi sono fatto un tatuaggio", sembrerebbero far supporre di sì.
Ma non fatevi ingannare: dalla foto non è possibile capire a chi appartenga quel braccio, e potrebbe trattarsi solo di uno scherzo di Nikolaj.
Certo, se non fosse così sarebbe davvero un bel gesto verso Peter. Pensate che, dopo la premiazione di Dinklage come miglior attore non protagonista (per cui lo stesso Nikolaj aveva ricevuto una nomination), l'ha ringraziato pubblicamente, definendolo un fratello.
Ma anche se si trattasse di uno scherzo, sarebbe altrettanto singolare: dopotutto, cosa possiamo aspettarci da uno che non riconosce neanche il suo stesso sedere?