Nel corso degli anni in cui Game of Thrones è andato in onda sono state moltissime le teorie e le supposizioni apparse su internet che hanno intrattenuto i fan nei tempi morti tra una stagione e l'altra. Alcune hanno avuto una risposta con la conclusione di Game of Thrones, altre invece si sono rivelate degli enormi e folli buchi nell'acqua. Potete trovarne 12 tra le più bizzarre in questo articolo.
Ma una di queste teorie non era totalmente campata in aria e faceva leva su alcuni spunti interessanti apparsi durante la settima stagione. Si tratta dell'ipotesi che Daenerys fosse rimasta incinta al termine della stagione, durante la prima notte passata con Jon Snow.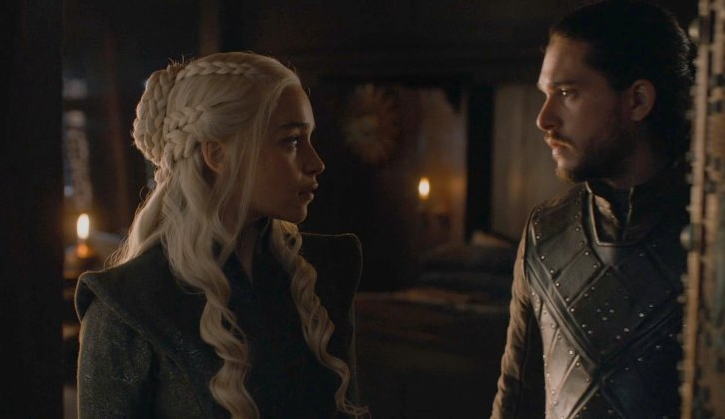 I fan sostenevano che ci fosse la possibilità che, in qualche modo, la maledizione di Mirri Maz Duur fatta nella prima stagione a Daenerys fosse stata spezzata. A sostegno di ciò ponevano l'attenzione su alcune insistenti affermazioni fatte da Tyrion e da Jorah sulla questione degli eredi al trono di spade una volta che Daenerys fosse diventata Regina dei Sette Regni.
La teoria acquisì poi una forte credibilità quando apparvero in rete alcune foto rubate dal set, in cui Emilia Clark indossava un cappotto al contrario sopra i vetiti di scena, come se dovesse nascondere le chiare forme di una donna incinta.
Ma tutti ricordiamo la tragica fine della sfortunata coppia e niente di tutto questo è avvenuto nella stagione finale di Game of Thrones. Ma i fan non si sono dimenticati di quella che è stata rinominata la Figlia che fu Promessa. Un utente Reddit ha infatti creato un immagine della ragazza, unendo i volti di Daenerys e Jon e chiamandola Lyanna Targaryen.
Game of Thrones continua dunque a far parlare di sé, nell'attesa di saperne di più riguardo allo spin-off attualmente in produzione House of the Dragon.