The Big Bang Theory sta per giungere al suo finale. Dopo 12 stagioni, mancano solo 3 episodi alla conclusione. Sulla trama dell'ultimo episodio sappiamo ancora poco se non che durerà un'intera ora e avrà una guest star speciale che farà un cameo. Tutti gli indizi ci portano ad ipotizzare che il personaggio ad apparire sarà il padre di Howard.
Negli anni la relazione tra Howard e la sua ormai defunta madre non ha avuto nessun segreto. Su suo padre invece le informazioni sono veramente poche. Sappiamo che Sam Wolowitz ha abbandonato la sua famiglia quando Howard aveva solo 11 anni per motivi ancora sconosciuti e da quel momento è sparito dalle loro vite.
Sam Wolowitz cercherà Howard?
Nelle dodici stagioni della serie, il padre di Howard è stato nominato solo in una manciata di episodi. Nell'episodio 19 della sesta stagione abbiamo un assaggio più grande di quello che il suo rapporto con il figlio quando Howard ritrova, grazie a Sheldon, una lettera scrittagli dal padre in occasione del suo diciottesimo compleanno. Il ragazzo decide di bruciare la lettera senza aprirla e gli amici cercano di consolarlo immaginandone il contenuto. Sfortunatamente il reale contenuto della lettera rimane un mistero anche per noi spettatori.
Durante il corso di The Big Bang Theory emerge un altro importante legame familiare per Howard, che scopre di avere un fratello di nome Josh. Josh, studente di oceanografia a San Diego, è appunto il figlio minore di Sam, il che fa presupporre che l'uomo si sia creato un'altra famiglia ma non ci assicura che stia ancora con loro.
L'esperienza traumatica con la figura paterna riemerge nuovamente quando Howard deve affrontare il mondo dell'essere padre con il figlioletto Michael. Grazie alla moglie Bernadette, il problema è presto superato ma questa particolare sotto trama, che tanto ha caratterizzato Howard negli anni, non è ancora risolta del tutto.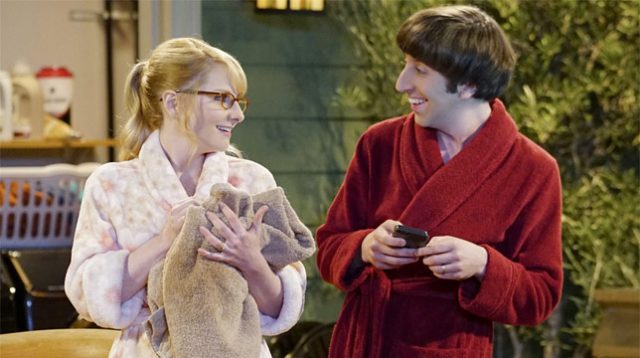 Quindi l'annuncio di questa speciale figura che verrà introdotta proprio nell'ultimo episodio, ci fa pensare che sia proprio lui. Sam Wolowitz potrebbe arrivare per chiudere l'arco narrativo del personaggio di Howard e mostrare l'evoluzione del personaggio attraverso l'intera durata della serie.
Un'altra star di prima categoria per il finale
The Big Bang Theory è sempre stata ricca di apparizioni di grandi star quali ad esempio Bill Gates, Mark Hamill, Stan Lee e Stephen Hawking. Niente impedisce che questo ruolo di un solo episodio sia assegnato a una celebrità di prima categoria.
Non resta che aspettare il 16 maggio per scoprire chi sarà l'ultimo ospite di The Big Bang Theory e dare un saluto finale ai suoi personaggi.