Mayans MC è appena iniziata e, ammettiamolo, ci ha già conquistati (qui la nostra recensione del primo episodio). Con questo spin-off di Sons of Anarchy, Kurt Sutter ci invita di nuovo nel mondo dei biker, in cui abbiamo già colto molti riferimenti alla serie madre.
Mayans MC è ambientata nella città fittizia di Santo Padre, situata al confine tra il Messico e la California. Le tensioni che caratterizzeranno la serie sono già visibili nel primo frame dell'episodio pilota: sul muro che divide gli Stati Uniti dal Messico c'è la scritta "Divided we fall" (Divisi cadiamo), sia in inglese che in spagnolo. Kurt Sutter ha raccontato a The Hollywood Reporter che queste parole hanno un'origine personale:
Quando stavo lavorando al primo episodio pilota, circa un anno e mezzo fa, ho visto questa scritta su un muro sul confine messicano e ho pensato "È molto figo!". Quando l'ho vista era solo in spagnolo. E ho pensato "Beh, è una cosa molto bella. La metterò sul confine americano", perché al tempo ciò che mi ha colpito è stato un commento circa il confine, le due culture e le due nazioni.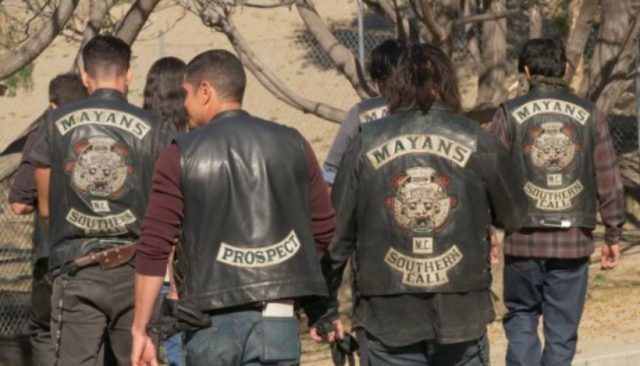 Secondo Sutter queste parole descrivono il conflitto interiore di EZ, un giovane uomo che un tempo aveva un futuro brillante, prima che la prigione lo portasse a entrare nel club come un prospect. Sutter non ha dubbi sul significato di queste parole:
Parlano al mondo del club. Si riferiscono a tutto ciò che questa serie è in termini di fratellanza e lealtà. Per questo ho deciso di includerle nella storia.
In un periodo in cui circolavano news relative alla separazione di bambini e famiglie al confine tra Stati Uniti e Messico da parte dell'amministrazione Trump, Sutter ha capito che il significato di "Divided we fall" poteva essere frainteso. L'autore non avrebbe mai preso in considerazione questa interpretazione.
Ho realizzato che se non voglio che siano altre persone a raccontare la mia storia, non posso nemmeno invertire il processo. Non posso pensare "Ho paura che questa scena possa essere vista attraverso lenti sbagliate", perché così facendo inverto il processo. Quindi me ne sono allontanato e ho lasciato che la frase venisse percepita in qualsiasi modo. Ha tuttavia una sapore diverso rispetto alle intenzioni iniziali.

Non è una serie che vuole fare politica. Nessuno porta avanti un'ideologia politica o si schiera a destra o a sinistra. Ma il mondo è il mondo, l'atmosfera politica rimane. Le tensioni rimangono. Ci sono persone di colore che stanno subendo molto in questo periodo, quindi avranno un punto di vista personale.
Il plot twist finale ha infatti a che fare con la politica. Angel, fratello di EZ e membro dei Mayans, è contro la leadership del club. Supporta una donna chiamata Adelita, leader di un gruppo di resistenza del Messico in guerra col cartello di Galindo.
"Divided we fall. Divididos caemos." Il primo frame chiarisce quindi il tema centrale di Mayans MC: il conflitto interiore, la divisione politica all'interno del club e la guerra tra un potente cartello messicano e le persone costrette a subirne le ingiustizie. Saranno queste tensioni, unite al chaos e alla corruzione, ad alimentare la serie.